Mother's Day is around the corner, and it's time to look into a special gift for that special person(s) in your life. The good news, gifting while keeping your vegan values intact has never been simpler.
This blog article highlights 7 vegan gift ideas to show mom some love in 2020:
1. Vegan Card
Every great gift comes with a card, right? Tell mom just how much she means to you in a gorgeous vegan-friendly card adorned with adorable animals and catchy one-liners. Two Trick Pony is an excellent source for beautiful vegan cards and they donate 5% of their profits to animal welfare and vegan advocacy groups. A definite win, win!   
Equip mom with the coolest in vegan fashion accessories like this Pura Botanica designer cosmetic bag. It's made from faux "ostrich texture," is super stylish, and it's perfect for beautifully stowing cosmetics. You may ask, "is fashion still relevant as a quarantine mother's day gift?" We think that a thoughtful, vegan gift that is practical yet beautiful is always appreciated.
Most states are home to one or more sanctuaries for rescued or previously farmed animals. If you've never been to an animal sanctuary, you'll soon learn that these sanctuaries serve such an important purpose and make a difference to lives of thousands of our animal friends. Donating to an animal sanctuary as a gift for Mom is really a double gift – one for the animals and their caretakers too – especially in the current times with the economic downturn related to COVID-19. For some ideas of Sanctuaries to support, checkout the Vegancuts Donation Program page where you can learn about a variety of Sanctuaries that we ourselves support. 
That's a gift for the record books.
4. Vegan Shoes
Help the person who brought you into this world ditch those leather-bound, wool-laden shoes of hers and get them to step into a fresh pair of vegan kicks. Vegan shoes are becoming more mainstream by the day, and they're not just moccasins and hemp slippers anymore. Check out Will's Vegan Store, Tom's vegan collection, or Veja.  
Who doesn't love chocolate? If your mom has a sweet tooth, there are stellar vegan chocolate products sure to have her grinning cheek to cheek with delight. If you're lucky, maybe mom will share the goodies with you.
 6. Vegan Apparel
When it comes to clothing, we love Herbivore Clothing so much. They craft apparel that is amazingly witty, extremely aesthetically pleasing, and unbelievably comfy to boot. Browse their lineup and we guarantee you'll find a design mom will love.
The gift that keeps on giving. Whether your mom is new to the vegan world, a vegan veteran or just loves gifts in the mail, the monthly a Mother's Day Beauty Box subscription or Makeup Box subscription from Vegancuts is packed with vegan goodness. Is your Mom a foodie? Check out the Vegancuts Snack Box subscription.
BONUS:
If your budget doesn't allow you to lavish mom with purchased gifts, you know she'll always love something handmade and from the heart. Perhaps your mom was the first person to tell you that, when life hands you lemons, you should make lemonade. As an ode to our mothers' wisdom, I like to hand out small jars of homemade Lemon Sugar Hand and Lip Scrub on Mother's Day. It's quick and inexpensive to make, and works wonders on dry and chapped skin.
Lemon Sugar Hand and Lip Scrub
Materials
2 1/2

cups

sugar

make sure it's vegan

1

cup

extra virgin olive oil or unrefined coconut oil

melted

4

Tbsp

lemon juice
Instructions
Stir all ingredients together in a large bowl.

Scoop into clean, dry containers.

Store in a cool, dark place or in the refrigerator.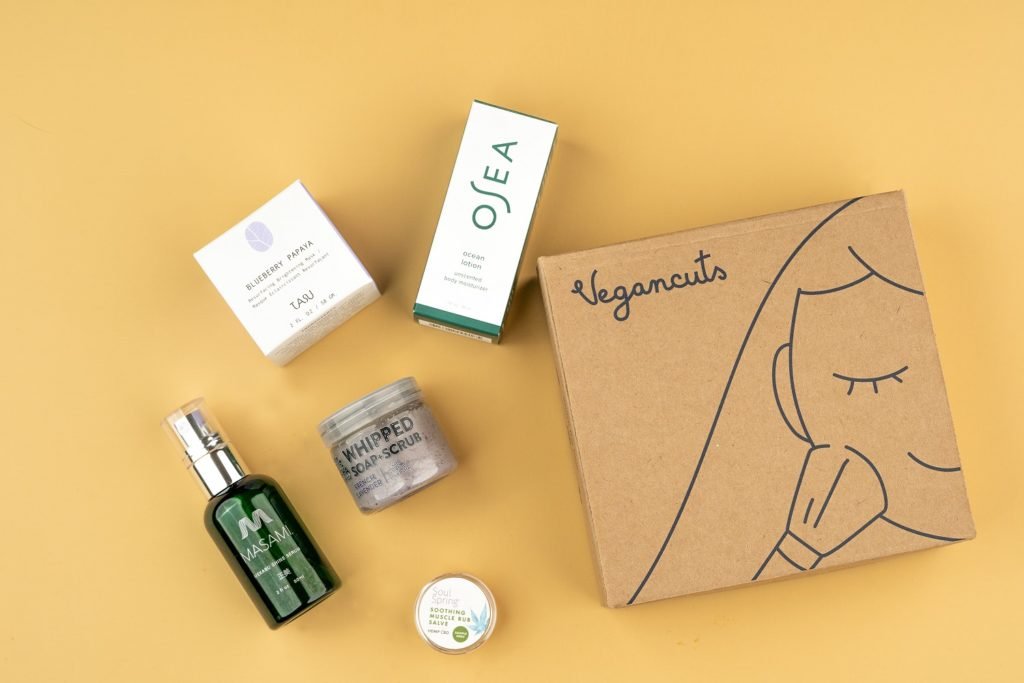 does the hard work for you every month by bringing you 4+ of the most unique and luxurious vegan and cruelty-free skin and body care products through the Vegancuts Beauty Box. Learn more about the Beauty Box here.