The temperatures have started dipping and dropping, but it doesn't mean you have to stow away your salad tongs! We love autumn salads, especially when they feature our favorite hearty greens (more kale, anyone?), a sweet and savory vinaigrette, and a protein-filled seed mix. Here's a recipe for an vegan autumn-inspired kale salad featuring Eat Seed. You can rely on this green salad any night of the week!
This awesome fall salad features the Six Seed Blend from Eat Seed, combining pumpkin, sunflower, flax, chia, sesame and hemp seeds to power up your salad with extra protein and nutrients.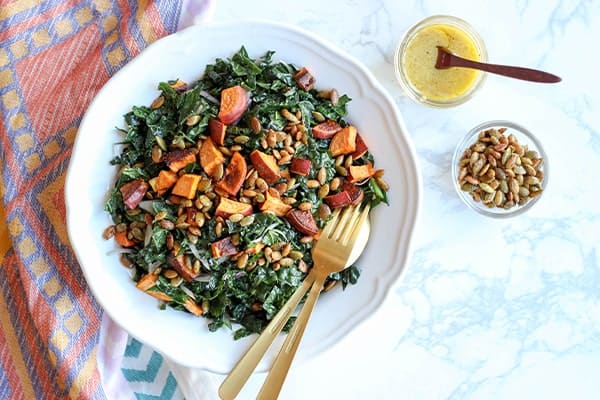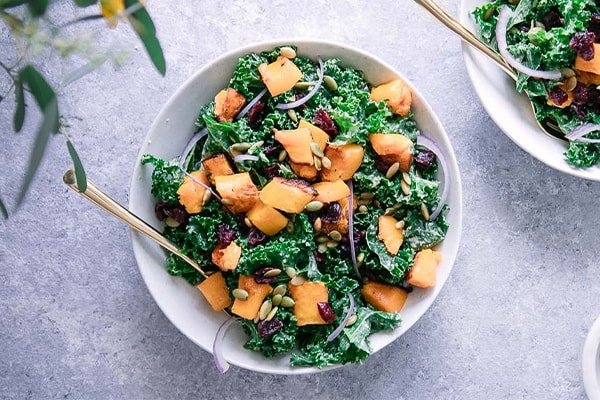 Autumn Kale Salad Recipe
This is a refreshing, massaged kale salad served with sweet citrus vinaigrette. Make it an impressive and colorful main course for a lighter meal, or serve as side dish with your favorite hearty autumn entree.
Ingredients
1 ½ lb. Sweet Potatoes, Chopped

¼ C. Fresh Orange Juice

2 T. Olive Oil

1 T. Agave Nectar

1 T. Apple Cider Vinegar

½ tsp. Dijon Mustard

⅛ tsp. Ground Ginger

Pinch Ground Cinnamon

Pinch Salt

1 Bunch Kale (I used a mix of Red & Green Curly Kale)

3 T. Dried Cranberries

3 T. Eat Seed: Six Seed Super Blend
Instructions
Preheat your oven to 350°F. Spread the chopped sweet potato over a baking sheet lined with parchment paper or a silicone mat. Bake for 20 minutes, and then remove from the oven

In a small bowl, whisk together the orange juice, olive oil, agave nectar, apple cider vinegar, Dijon mustard, ginger, cinnamon, and salt.

Rinse the kale thoroughly, then tear it from the stems into bite-sized pieces. Place the pieces in a large bowl and pour the vinaigrette over them.

Massage the kale with dressing until it has reduced in size by half and is softer. Massaging the leaves just means squeezing and tossing at the same time.

Mix the sweet potatoes, cranberries, and seed blend into the salad and transfer to a serving bowl.

There will be excess vinaigrette in the bottom of the mixing bowl. Pour it into a spouted vessel and keep on the side if you'd like to add more to your salad while eating.
About our Blogger Friend, Jackie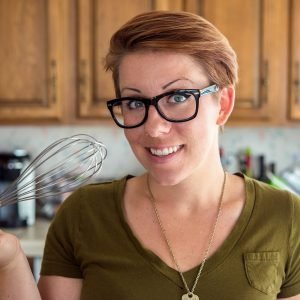 Jackie Sobon is the chef and photographer behind the blog Vegan Yack Attack, cooking food and taking beautiful pictures of it is her passion and "Camera Eats First" is her motto. She has worked for Vegan Cuts for 3 years, photographed cookbooks for Happy Herbivore and Cupcakes & Kale, and for her own eBook, The Great Vegan Pumpkin. She has been featured on VegNews.com, KTLA, as well as many top vegan blog lists and Chickpea Magazine.