Stocking up with some delicious snacks, candies, or other tasty treats is almost a ritual when going to the movies.
While it can be tricky if you are a vegan, it turns out that there are many accidentally vegan-friendly snack options when going to the movies!
Keep reading to find 15 of the best vegan movie snacks to satisfy your munchies at the movies, including vegan movie theater candy & various healthy options.
Let's get snacking!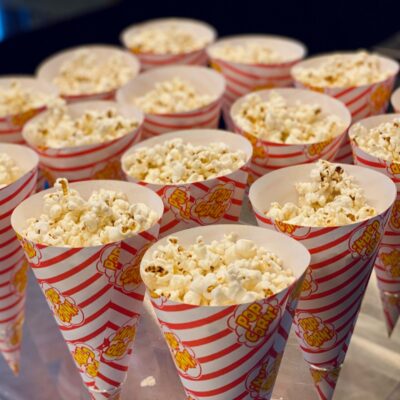 How can I not start with the all-time classic – popcorn.
Not always, but very often, the popcorn at the movie theaters is vegan. Most movie theaters don't use butter but plant oil.
However, remember that the topping ingredients may vary depending on the location, so you should always double-check with your local movie theater about the ingredients.
Depending on where you live, the concession stand may offer other toppings such as cheese powder (not vegan), pepper, garlic, or other spices.
Alternatively, you can always bring your own popcorn bag. Some great options include:
SuperPretzels are salty, soft, delicious, and often totally vegan at many theaters.
Unlike chips, pretzels make little to no sound when you eat them in public, which is why they are a great option when going to the movies.
Many movie theaters have Airheads Candy – chewy non-melting candy that will satisfy your sweet tooth and is accidentally vegan!
Dots candy is a vegan-friendly all-time loved snacking staple for both moviegoers and candy lovers that's easy to find in most movie theaters.
Yep, Sour Patch Kids is another commonly found option you can get at most movie theaters, and that happens to be vegan, too.
Fruity, colorful, chewy, and vegan-friendly, Skittles are a popular movie candy choice loved by kids and adults!
For a Soft and chewy indulgence, get a bag of Swedish Fish. This fat-free, fruit-flavored candy makes the perfect movie theater candy for satisfying your sweet cravings.
Sweet Tarts are delightful candies that are sweet, delicate, and iconic candy for movie time. In addition, the delicious, bite-sized candies are free of gluten, dairy, or other animal products, making them vegan-friendly.
More Vegan Snacks At The Movies:
You may have a wider choice of vegan movie snacks at your local movie theaters, such as:
fresh foods and fresh fruit

snack boxes that contain things like hummus

crackers and other pre-packed snacks (make sure to check the ingredient list before purchasing)
Best Vegan Movie Snacks To Bring With You
While it is an excellent start that theaters offer a surprising variety of vegan movie snacks, sometimes, it can also be a limited choice. Often, most of the items they offer aren't very healthy or ethical.
That's why you can choose to bring your own snacks, too! While it isn't always allowed (more about that in the FAQ section), you can always explain that you have a specific dietary needs. (or smuggle it in your bag 👀)
Puffs are a much better option than other crunchy snacks. They aren't as noisy as chips, and you need to be careful not to make a lot of rustling with the plastic bag!
An ideal snack for movie theaters because these almonds are gently infused and not coated with spices so that you won't create any unnecessary mess! No sticky fingers and crumbs when indulging in this yummy snack.
These super flavorful almonds are not just tasty but also a great protein source. It is made with the best California almonds with locally sourced ingredients.
You can choose between:
If you aren't a huge almond fan, and you are more on the cashew team, they stock up with those super yummy, sweet, air-roasted cocoa-dusted cashews!
A delicious, healthy, and allergy-friendly cookie dough bar that is naturally sweetened and contains whole grains and chickpeas.
Sodas may be off-limits, depending on your theater's offerings. Many colas and sodas contain animal-derived ingredients like ester gum or gelatin, often used in the filtering process.
Most movie theaters now sell bottled water, juices, and occasionally bottled iced teas and other beverages.
Many of those options will be vegan by default, but keep an eye out for honey as an added ingredient.
For alcoholic beverages, Barnivore is the best resource for determining if a particular beer, wine, or liquor is vegan-friendly.
Even a few mobile apps use Barnivore's database to help you make vegan drink choices on the go.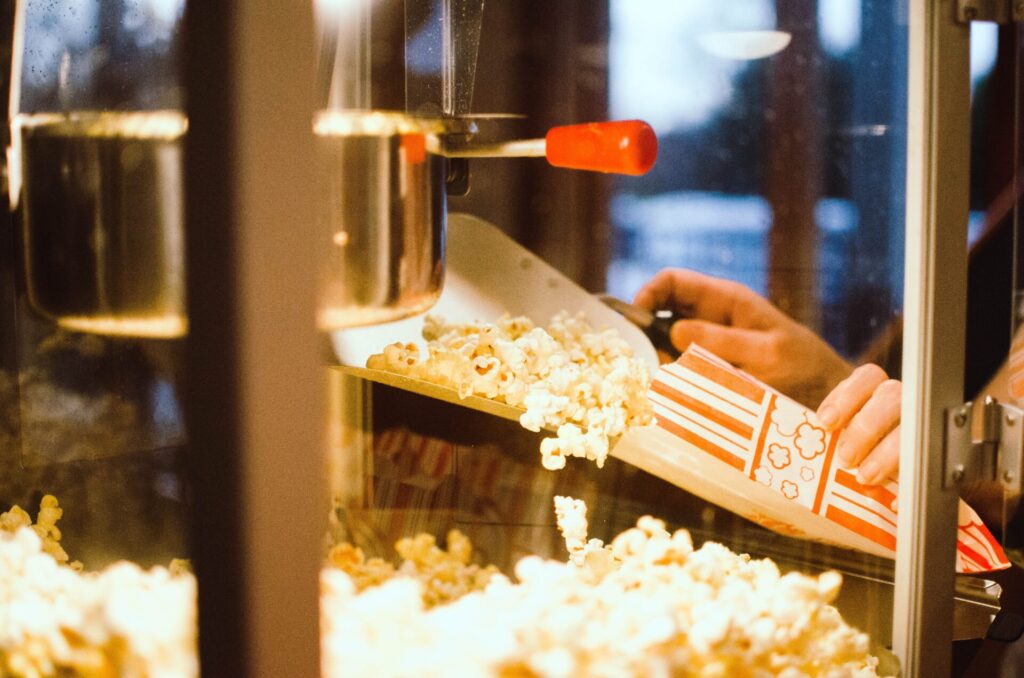 AMC is a theater chain located across the country, and their allergen statement states that their plain popcorn without butter is vegan.
However, their popcorn seasoning contains dairy, so make sure you ask for a batch of popcorns without seasoning.
Additionally, since they use the same kettle for popping the popcorn, there can be slight contamination, so if you are severely allergic to dairy, it's best to skip AMC popcorn and bring your own.
Is Regal Cinemas Popcorn Vegan?
Regal Cinemas are a popular movie-theater chain that uses coconut oil to pop its popcorn, so they are vegan-friendly.
However, it can vary from one movie theater to another. That's why it is best to check at the individual theater you're visiting.
Is Cinemark Popcorn Vegan?
The popcorn salt they use to pop the corn contains dairy, so their popcorn isn't vegan-friendly.
Is Cineplex Popcorn Vegan?
Cineplex popcorn is vegan-friendly; however, similarly to AMC, it may not be prepared in a vegan-friendly kettle.
Is It Allowed To Bring Your Own Snacks To The Theater?
It depends on the location. For example, some movie theaters won't allow you to enter with food, but many others won't mind and will allow you to take your food and drinks.
But if they don't offer any vegan options, it is entirely fair for you to bring your munchies.
Additionally, if you don't know if your local movie theater offers vegan snacks, you can contact them directly by:
Giving them a call

Writing to them on their website, or over Facebook, since most of them respond to messages quickly
There is an increasing interest in vegan movie snacks and foods everywhere, so chances are you can find even more plant-based snacks in your local movie theater.
That's a great and clear sign of increasing demand for vegan-friendly alternatives.
To be sure, always double-check with your local movie theater staff, as things often differ at each location. The same goes for the ingredients list of packaged snacks.
Do you think I've missed your favorite vegan movie snacks? Let me know in the comments below!
Vegancuts curates monthly Discovery Snack Boxes that always include 100% vegan, carefully selected products such as – chocolate to avocado chips, hummus crackers, and superfood smoothies.