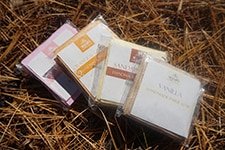 Go Natural: Ayushi Product Review
Finding natural, paraben-free, cruelty-free products is a top priority for me. The problem is, not all products are made the same. I've waded through some watery/sticky/poorly packaged/downright terrible products in my day, so I'm thrilled to be able to share some awesome new favorites from Ayushi. Ayushi's products are natural, organic, vegan, non-GMO and handmade, so we know you'll love them just as much as we do.
Speaking of love, I'm loving Ayushi's Facial Glow Lotion. It somehow manages to strike the perfect balance of a light cream that packs a seriously powerful punch of moisture. It's chock full of antioxidants like vitamins B1, B2, B3, C and E, so you can feel good about using a product that is helping to protect your skin from pollution and free radicals.
Also very high in antioxidants, The Shangrila Neem Basil Organic Face Wash offers a nice, gentle cleanse for the skin and is the perfect companion to the Facial Glow Lotion.
Ayushi knows what they're doing when it comes to hair care. Their Summer Herbal Shampoo leaves my hair super soft and shiny. It's especially great for getting rid of residue left by other hair products.
Another favorite is Ayushi's Paper Soaps. They're the perfect on-the-go option for travel, camping or the gym. These little sheets lather up with water just like regular soap and have a lovely light scent.
Simply head on over to Ayushi's website and load up your basket with goodies.