In-Office Snacks & Corporate Gifts to Delight the Team
The Vegancuts Snack Box subscription allows you to discover delicious snacks, drinks, and meal kits every month. Treat yourself or send it as a gift.
Show Employees Appreciation With Corporate Vegan Gift Boxes
Employees will enjoy a positive WFH experience when they feel supported by their team.
You can foster a sense of belonging by sending them a Vegancuts Snack or Beauty Box – a popular values based gift, curated with clean, sustainable and high quality products.
We now offer one-time corporate gift box orders. Perfect as virtual-event gifts!
From plant-based chocolate and oat-milk lattes, to sriracha chips, hummus crackers, and superfoods, the Vegancuts Snack Box is your Team's source of the best vegan snacks and drinks on the market. Stay fueled with a Work From Home snack box!
100% Vegan
Prices range from $25 to $60 a Box
11-13 Snacks (Standard) or 18-20 Snacks (Oversized)
Tested for Exceptional Taste Profiles
Features Artisan and Mainstream Brands
Every box donates to an Animal Sanctuary
Work-From-Home Beauty Box
Discover how amazing clean, cruelty-free skin care can feel. We cover your skin and body care, from luxurious exfoliating cleaners to nourishing hydrogels to deodorants, face rollers, botanical serums and more. This is the perfect gift to pamper your employees.
100% Cruelty Free
Prices range from $25 to $75 a box
4+ Deluxe And Full-Sized Items
$60-$200+ retail value per box
Non-Toxic Ingredients
Every box donates to an Animal Sanctuary
Our Vegancuts boxes were such a hit and everyone loved everything - it made their holiday.
Almost every individual who received one of your boxes reached out and said how fun and enjoyable it was. Kudos to Vegancuts for putting together such a stellar box.
The box components are AWESOME. Not one bad thing to say about the product you guys included, so great job.
The snack boxes were a hit. I really appreciate your help in accommodating a pretty quick turnaround mailing.
My boss was actually one of the folks that got the Vegancuts Snack box and she loved it! She said her husband who's not even vegan really loved it.
Elevate Your In-Office Snacking Experience with the Vegancuts Office Snack Program
Is your team back in the office? Let our Snack Experts do the work for you and manage your end-to-end office snacking needs. We supply offices with an assortment of best-rated + unique discovery snacks and drinks that your team will love and respect.
We provide anywhere from 100 to 10,000+ snacks a month, depending on your firm size. Every month our vegan gift box will feature new brands! Prices start at $200 a month.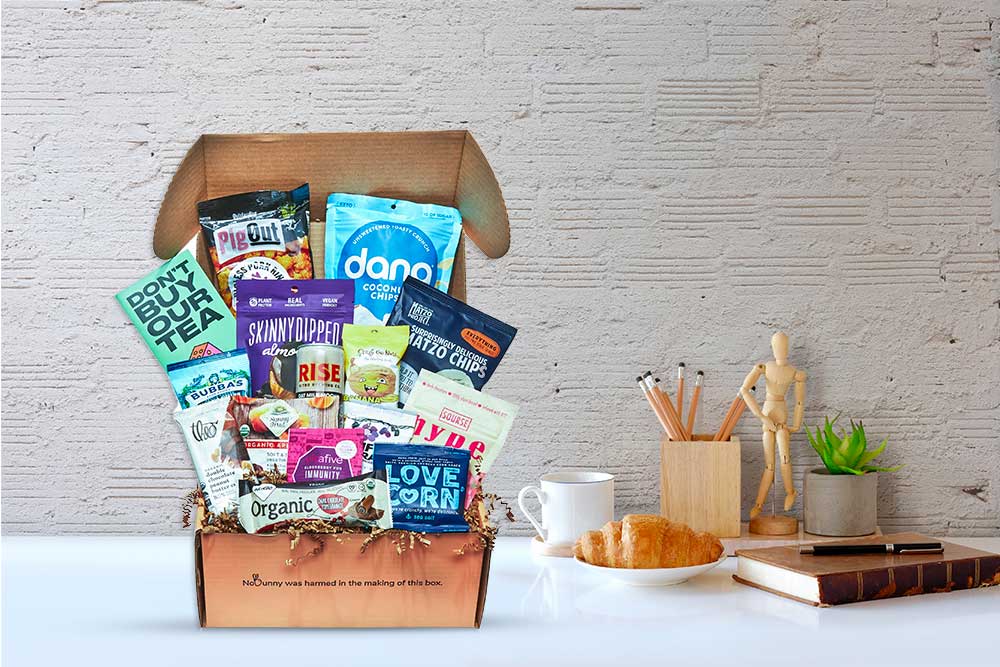 Here's What Differentiates Our Corporate Snack Program
Unique Assortment of Best Rated + Discovery Snacks
Rare Artisan Brands Featured
Personalized Curation and Amazing Customer Care
Affordable and Caters to any Budget
Clean and Sustainable Ingredients ONLY
Corporate Clients We Have Served
Explore more unique ways our Boxes can be used in a virtual environment