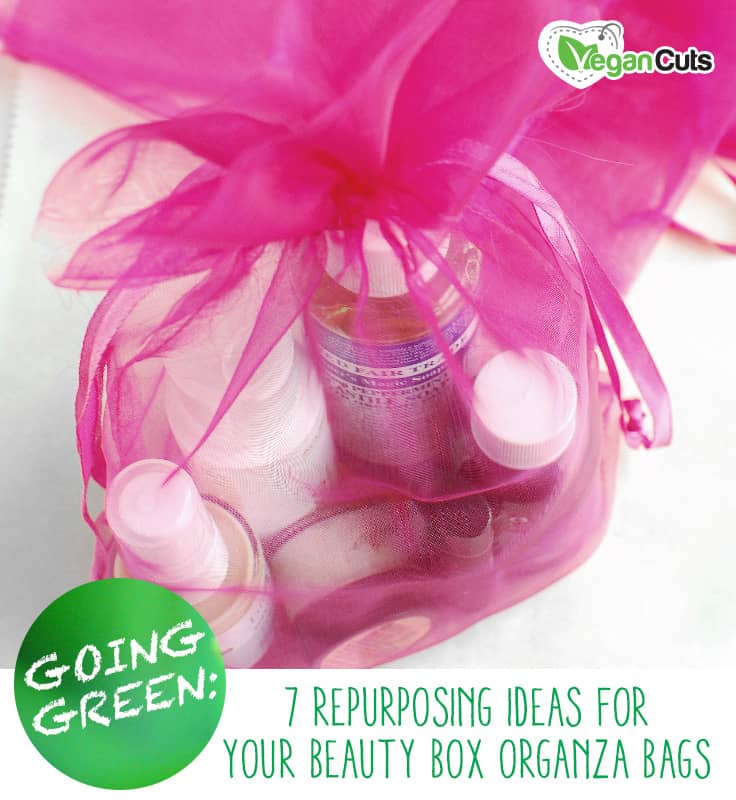 Going Green: 7 Repurposing Ideas for Organza Bags
If you're a Vegancuts Beauty and Snack Combo subscriber, you probably have a stash of organza bags sitting around someplace. If you're green like we are, then you know they don't need to be used once and then thrown away! Today we're sharing a few ideas for re-purposing these flashy little bags.
7 Clever Ways to Re-purpose Your Beauty Box Organza Bags
1. Bulk Foods Bag
Even though people might look twice as you fill your organza bags with lentils, rice, nuts, and beans, you can smile knowing you're not using bulky plastic bags that are destined to end up in a landfill. Who knows, you might even get some compliments!
2. Gift Bag/Party Favor Bag
There's no need to buy mass-produced gift bags. Use your organza bags as a way to "wrap" small presents or as party favor bags for birthday bashes, baby showers, or other celebrations.
3. Potpourri Satchet
Simply fill an organza bag with your favorite potpourri and tuck in a dresser drawer or hang in a closet–you'll have lovely-scented clothes and linens in no time!
4. Candy Bag
Sweet tooth? Hide your favorite candies and treats from fellow sugar enthusiasts. Lollipops, caramels, mini chocolate squares, and bubblegum fit nicely (and stay camouflaged) in an organza bag.
5. Games Bag
Taking a road trip with the kids? Keep them busy and entertained by filling an organza bag with small games and toys. Examples include a deck of cards, markers, small pad of paper, stickers, figurines, building blocks, and little tubs of modeling clay.
6. Toiletries 
Why not re-purpose your organza bag the way you received it? It's just right for travel-sized toiletries and beauty products. Airport security won't be happy, so make sure to stow it in your checked luggage. Or, place items in an approved ziplock first if it's going in your carry-on.
7. Clothespin Storage 
Hopefully I'm not the only person who still uses clothespins to hang laundry. I live in an apartment building with a drying room and having clothespins keeps my wet laundry from falling on the floor. One organza bag holds just enough clothespins for a small load of laundry.
What uses have you found for your Beauty Box organza bags? Share in the comments below!