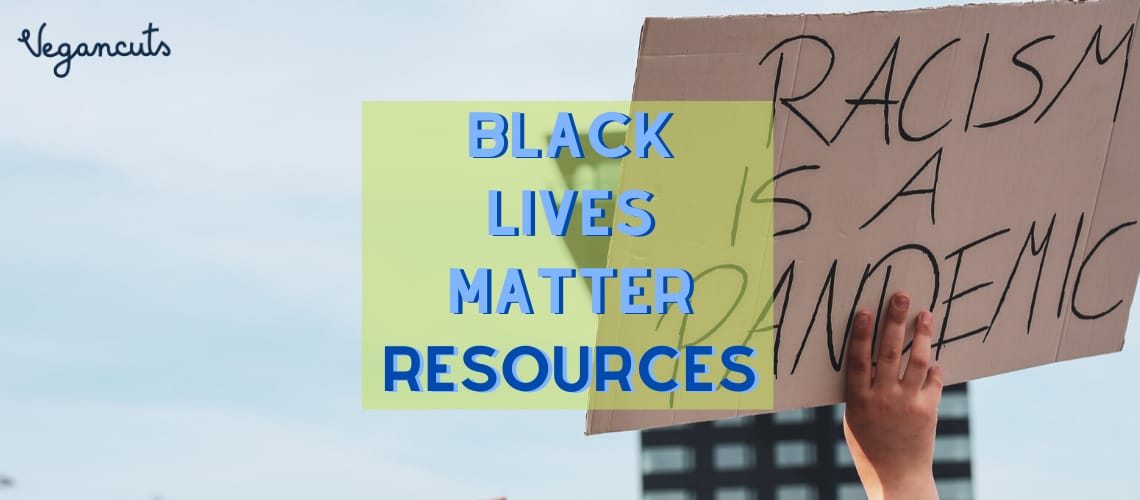 Black Lives Matter: Useful Resources to Educate and Support
We are listening, understanding, and taking meaningful action to help a movement gain momentum. In that spirit, we wanted to share some resources that have been helpful in our own learning journeys, along with a list of Black-owned vegan grocery stores and vegan & cruelty-free beauty brands.
Guiding Our Own Learning
Books
It's important that we gather resources to guide our understanding and inform how we show up for the Black community. For many, it starts with reading, but not everyone learns in the same way.
The books in the following image (wonderful graphic by @Jane_mount) are a great starting point. If you're not much of a reader, many are available on Audible.
A Different Mirror (for Young People): A History of Multicultural America by Ronald Takaki & Rebecca Stetoff
A Very Large Expanse of Sea by Tahereh Mafi
All American Boys by Jason Reynolds & Brendan Kiely
All the Stars Denied by Guadalupe García McCall
An Indigenous People's History of the United States (for Young People) by Roxanne Dunbar-Ortiz, adapted by Jean Mendoza & Debbie Reese
Children of Blood and Bone by Tomi Adeyemi
Dear Martin by Nic Stone
Fire From the Rock by Sharon Draper
Hearts Unbroken by Cynthia Leitich Smith
Homegoing by Yaa Gyasi
I Am Alfonso Jones by Tony Medina, illustrated by Stacey Robinson & John Jennings
I Know Why the Caged Bird Sings by Maya Angelou
Internment by Samira Ahmed
It's Trevor Noah: Born a Crime (Adapted for Young Readers) by Trevor Noah
Just Mercy (Adapted for Young Adults): A Story of Justice and Redemption by Bryan Stevenson
Kindred: A Graphic Novel by Octavia E. Butler, adapted by Damian Duffy, illustrated by John Jennings
March Book One by John Lewis & Andrew Aydin, illustrated by Nate Powell
Monster: A Graphic Novel by Walter Dean Meyers, adapted by Guy A. Sims, illustrated by Dawud Anyabwile
Noughts & Crosses by Malorie Blackman
Piecing Me Together by Renée Watson
Slay by Brittney Morris
Stamped: Racism, Antiracism, and You by Jason Reynolds & Ibram X. Kendi
Swing by Kwame Alexander
Tell Me Who You Are by Winona Guo & Priya Vulchi
The Bluest Eye by Toni Morrison
The Hate U Give by Angie Thomas
They Called Us Enemy by George Takei with Justin Eisinger & Steven Scott, illustrated by Harmony Becker
This Book Is Anti-Racist by Tiffany Jewell & Aurélia Durand
Turning 15 on the Road to Freedom by Lynda Blackmon Lowery
Warriors Don't Cry by Melba Patillo Beals
We Are Not Yet Equal by Carol Anderson, illustrated by Tonya Bolden
More Resources to Further Our Knowledge and Understanding:⠀
Here is a short list of other places to start if you are on your own learning journey as well. ⠀
Engage in real discussions with those in the Black community to understand their experiences.⠀
Here are some insightful videos on the origins and evolution of the Black Lives Movement:

Get connected with advocacy groups. A few that we've personally found insightful:

Black Women Radicals is a fantastic organization that works to advocate for Black women's political activism. They regularly host informative online events, which can be seen here: https://www.blackwomenradicals.com/events⠀
The National Association for the Advancement of Colored People (NAACP) regularly holds virtual town halls featuring leaders in the community: https://www.naacp.org
For Freedoms uses art as a path to discuss civic issues. This has included recent online discussions with daughters of the leaders of the Civil Rights Movement on their Facebook page. https://www.forfreedoms.org

⠀Watch:

13th – A documentary that explores the history of racial inequality in the US, focusing on the prison system ⠀
The Invisible Vegan – Explores veganism in the Black community
Becoming – A look into the experiences and achievements of former First Lady Michelle Obama
I am not Your Negro – A visual essay that explores racism, inspired by poet and activist James Baldwin
Teach Us All – A documentary that highlights educational inequality and modern day school segregation
Black America Since MLK: And Still I Rise – A personal journey through the past 50 years of Black history in the US
Whose Streets – Documenting the killing of 18-year-old Michael Brown and the Ferguson uprising
Say Her Name – An investigation into the death of activist Sandra Bland, who died while in police custody
American Son – Film featuring Kerry Washington that highlights modern issues with police violence and the Black community
When They See Us – Miniseries from Ava DuVernay about the 5 Black men falsely accused of a Central Park murder in 1989
Supporting Local Black-Owned Businesses
One way to back a movement is through our daily choices. Supporting local Black-owned businesses helps to uplift the Black community through empowerment, employment, economic opportunity, and more.
⠀
Here is a list of Black-owned vegan grocery stores, but this is a good time to take a look in our neighborhoods to find and support any Black-owned business. Thanks to @vmarkstheshop for compiling this list and @vegnews for adding to it.
Black-Owned Vegan & Cruelty-Free Beauty Brands
Did you know these beauty brands are run by amazing entrepreneurial women, and are all vegan and cruelty-free?⠀
⠀
Thanks to @veganmakeupshare for putting together this list and our community for adding to it.