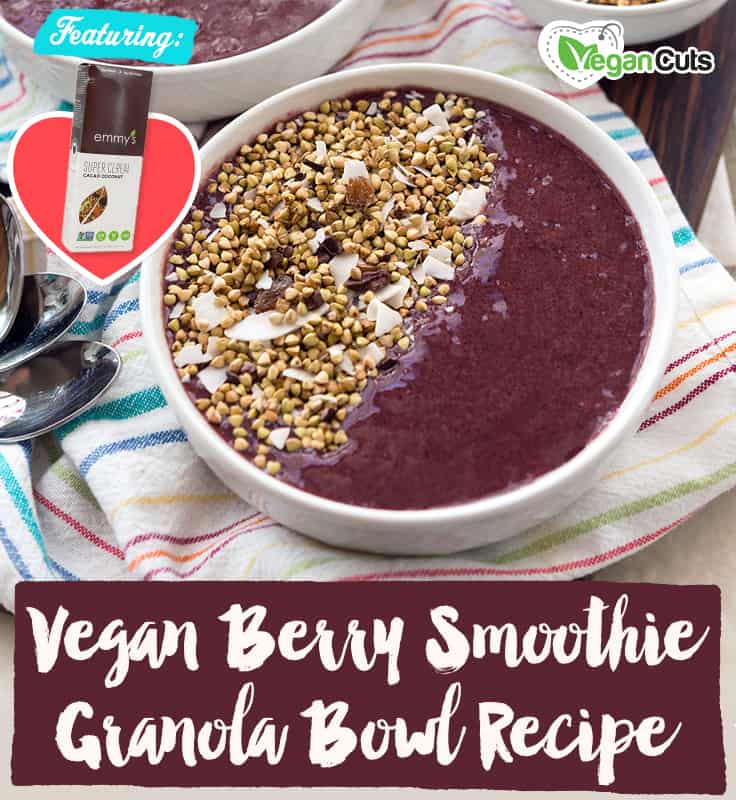 Vegan Berry Smoothie Granola Bowl Recipe
You've probably had your fair share of green smoothies for breakfast, but if you've never had a smoothie bowl you are seriously missing out! Smoothie bowls are usually made up of a tasty smoothie base, a granola-type topping and sometimes fruit or nuts on top. In this case, we have a cacao-berry-spinach-smoothie base and
Emmy's delectable Cacao Coconut Super Cereal
to top it off.
This
Super Cereal
is made up of sprouted buckwheat groats, coconut nectar, raisins, raw cacao nibs, raw almonds and coconut pieces. It's all raw, gluten-free and gives a good protein boost to your smoothie bowl. Plus, buckwheat contains all 8 essential amino acids, is rich in magnesium and zinc, and is high in fiber.
All that sounds great on paper, but for real, this stuff is good! The berry/cacao combination is sweet with a little tartness from the berries, which are perfect because Spring is almost here. Using frozen fruits for this is essential to get a thicker smoothie, otherwise you will have a fruit soup topped with Super Cereal. While that would also be good, a thick smoothie makes this kind of like an ice cream sundae, but healthier.
So, make this recipe to start off your morning with a winning combo that will give you a boost of vitamins and minerals, plus some energy to get through the day.
Cacao Berry Smoothie Granola Bowl
Recipe Type
:
Breakfast, Healthy
Author:
Prep time:
Cook time:
Total time:
A smoothie bowl perfect for Spring with its use of berries and spinach, topped with Emmy's delicious Super Cereal.
Ingredients
1 1/2 cups baby spinach
1/3 cup cacao nibs
1 large frozen banana, very ripe and chopped
1 1/2 cup frozen strawberries
1 cup frozen blueberries
3/4-1 cup water, coconut water, or non-dairy milk
2/3 cup Emmy's Super Cereal Cacao Coconut, divided
Instructions
Place the spinach, cacao nibs, banana, strawberries and blueberries into a blender, in that order. Then add 3/4 cup liquid of your choice, and blend until very smooth. You may need to add more liquid if you do not have a high-speed blender.
Divide the smoothie between two bowls, then top each one with 1/3 cup of Emmy's Super Cereal. Serve immediately and enjoy!
About the Chef
Jackie Sobon is the chef and photographer behind the blog
Vegan Yack Attack
, cooking food and taking beautiful pictures of it is her passion and "Camera Eats First" is her motto. She has worked for Vegan Cuts for close to 3 years, photographed cookbooks for Happy Herbivore and Cupcakes & Kale, as well as for her own eBook,
The Great Vegan Pumpkin
. She has been featured on VegNews.com, as well as many top vegan blog lists and Chickpea Magazine.