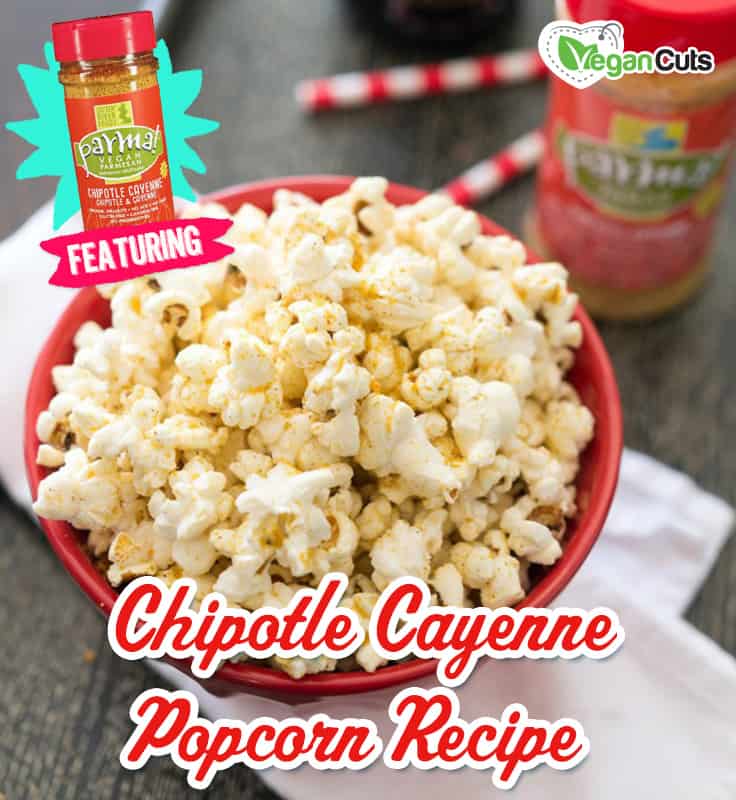 Chipotle Cayenne Popcorn Recipe
Ever since I was little, popcorn has been one of my mom's favorite snacks. Lunch, dinner, snack time? Doesn't matter, she's always down for popcorn. Unfortunately, her go-to popcorn snacks come from the microwave bags and are just plain not good for you. Luckily, she's mostly moved on to a popcorn popper, but even then, the oil/seasoning/popcorn packets you get with them are pretty underwhelming.
This is where Parma comes in; they have three awesome flavors: Original, Garlicky Green and Chipotle Cayenne. These vegan parmesan substitutes are made up of nuts, seeds and seasonings, so there are no sketchy ingredients and they taste great. Plus, they're non-GMO, soy-free and gluten-free.
I went with the Chipotle Cayenne-flavored Parma because it's my favorite and I love spicy food. I will say, the spice is not overpowering, so if you like more mild seasoning, this won't be too overwhelming for you. Of course, you can try this with either of the other two flavors, just in case. 😉 Making highly-addictive popcorn has never been easier!
To make popcorn at home, without a microwave or fancy popcorn popper, you can follow this recipe from Simply Recipes. I will say that I followed the instructions but had to keep my pot over the heat and it definitely took longer than 30 seconds. You can find my process in the recipe below!
Chipotle Cayenne Popcorn
Stovetop popcorn has never tasted better than with Chipotle Cayenne Parma and a healthy dose of love! Gluten-free, soy-free, dairy-free, vegan.
Ingredients
3

tablespoons

organic refined coconut oil

1

teaspoon

sea salt

divided

1/2

cup

organic popcorn kernels

1

tablespoon

organic refined coconut oil or vegan margarine

melted

2

tablespoons

Chipotle Cayenne Parma
Instructions
Warm 3 tablespoons coconut oil with 1/2 teaspoon salt in a large pot on the stove over medium-high heat. Place a few popcorn kernels in the pot and wait until they have popped, this means that the pot should be to temperature.

Remove popped kernels and pour the rest of the popcorn kernels into the pot, covering with a lid. Adjust heat to medium and wait until the kernels start popping, occasionally moving the pot around so that the kernels don't burn.

Once a majority of the kernels have popped, turn the heat off and wait for the rest (or the most possible) to pop. Once you haven't heard/seen a pop for 30 seconds or so, they're done.

Remove the pot from heat and pour the melted coconut oil over the top, along with the Parma and 1/2 teaspoon of salt. Stir together until evenly coated, then serve immediately.
About our Blogger Friend, Jackie
Jackie Sobon is the chef and photographer behind the blog Vegan Yack Attack, cooking food and taking beautiful pictures of it is her passion and "Camera Eats First" is her motto. She has worked for Vegan Cuts for 3 years, photographed cookbooks for Happy Herbivore and Cupcakes & Kale, and for her own eBook, The Great Vegan Pumpkin. She has been featured on VegNews.com, KTLA, as well as many top vegan blog lists and Chickpea Magazine.