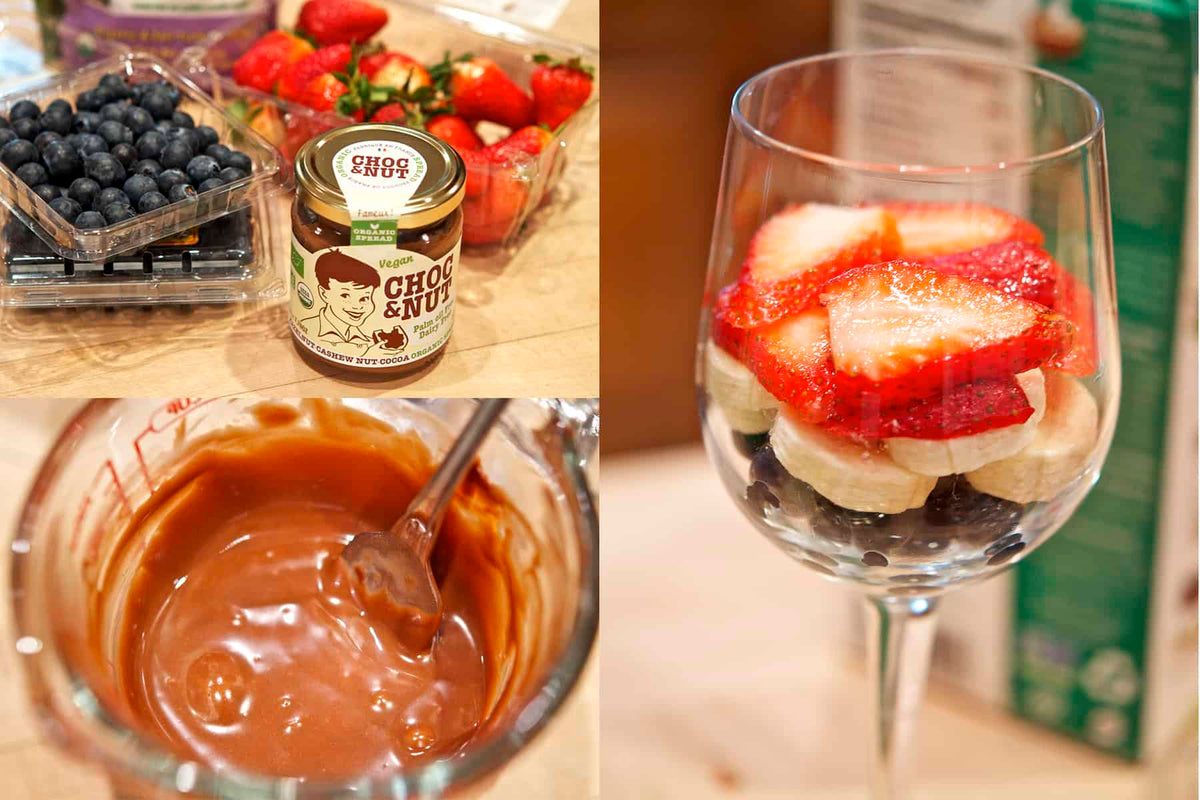 Vegan ChocNut Fruity Parfait Recipe
>>Click here to save on Choc&Nut<<
When you're dealing with something like
Choc&Nut
, it is hard not to be overwhelmed by the endless ways you can enjoy it. You can use it to top cakes, spread over your favorite toasted bread, dip fresh fruit in or even eat it straight out of the jar; it is
that
good. In this recipe, I've combined the rich flavor of the chocolate-nut spread with fresh berries and banana for a great dessert, or even a decadent breakfast.
Choc&Nut Fruity Parfait (Serves 1)
Ingredients:
2 Tbsp. Choc&Nut
1 tsp. Powdered Sugar
1/2 tsp. Arrowroot Powder (or cornstarch, agar agar, etc.)
1 Tbsp. Non-Dairy Milk
1/4 Cup Blueberries
1/3 Cup Banana Slices
1/4 Cup Strawberry Slices (plus one strawberry for garnish)
1 tsp. Finely Chopped Hazelnuts
Directions:
In a small cup, stir together the Choc&Nut spread with the sifted powdered sugar and arrowroot powder. When it is mostly mixed, pour in the non-dairy milk to smooth out the consistency.
Place the mixture in the refrigerator for 15-20 minutes. In the meantime, slice your fruit and start layering it in a narrow glass.
The bottom layer will be blueberries, then banana slices, and topped with strawberry slices.
Once the Choc&Nut Mixture has set, stir it again and top the fruit with it. Sprinkle the chopped hazelnuts on top and garnish with a small strawberry.
>>Click here to save on Choc&Nut<<
Recipe by Jackie of Vegan Yack Attack