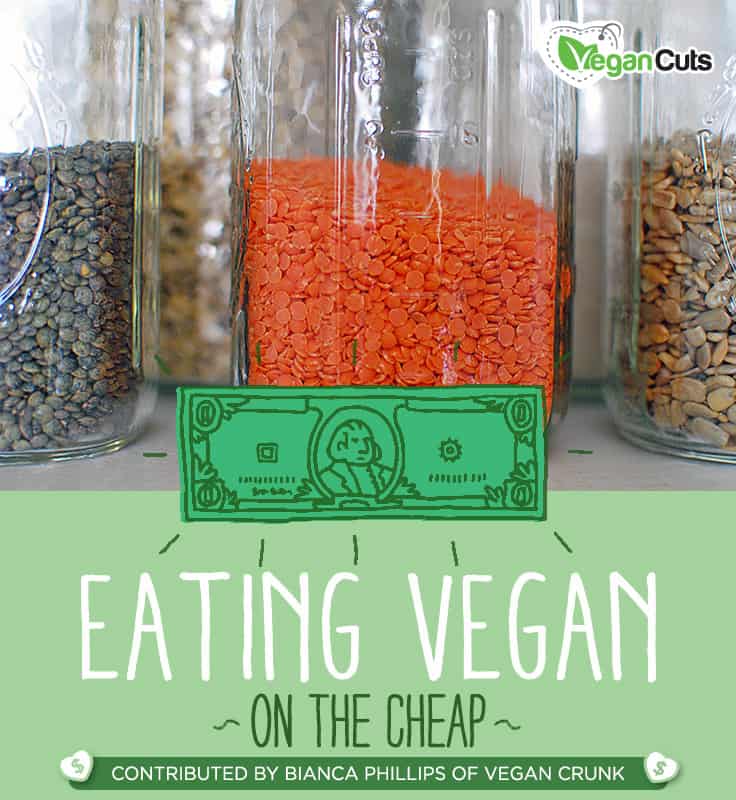 Eating Vegan on the Cheap
If you think eating nourishing, well-balanced vegan meals is challenging because of cost, you're not alone. Brightly-colored produce, organic tofu, and nuts add up! Nobody wants a grocery bill that teeters on the edge of too much so fortunately there are plenty of ways to save on shopping while still enjoying delicious meals. We asked Bianca Phillips, author of the blog Vegan Crunk, and the March Vegan Cuts Snack Box curator, to share her favorite money-saving tips.
When I went vegan in 2004, my first concern wasn't "How will I live without cheese?" or "What can I possibly eat when I stumble home drunk on a Saturday night if I can't have fried egg sandwiches?" Sure, those concerns were there, but my biggest worry was the cost. At the time, I'd been vegetarian for 10 years. I knew one could live happily on cheap frozen cheese pizzas and generic boxes of mac 'n' cheese. But the vegan frozen pizzas I saw in my local health food store were at least four times the price of my cheap-o cheese version. And all those fake meats that looked so delicious in the freezer case were far out of my starting salary price range.
Lucky for me, I found a great (but now out-of-print) zine called The Cheap Vegan by Stephanie Scarborough. In it were tips on making your own seitan using whole-wheat flour and water—We're talking the old school way with tons of rinsing and kneading—and making your own soy milk from beans. In those first few baby vegan years, I did these crazy things.
Fast forward to now: I'm not going to recommend you go so far as to make everything from scratch. But I am going to give you a few money-saving tips that help me, even though I now make (barely) enough money to buy my soy milk in the carton.
1) Freeze your bread.
This is especially important if you live alone or don't share food with your partner (that's my case). There's no way I could go through a loaf of bread in a week before it goes stale or moldy. Since I buy sprouted grain and fresh-baked whole-wheat loaves, I spend a good deal on bread. I typically slice loaves into individual portions before freezing, and thaw as needed.
2) Shop discount aisles, retail outlets, and drugstores.
I feel like this one is a big "DUH," but it needs to be said. I find many natural and organic brands in the "Manager's Special" aisle at my grocery store. I recently scored three huge bags of cashews and almonds for $2 each—They retailed for $7 each! Also, you might be surprised at the "fancy" healthy brands you'll find at closeout retail stores such as Big Lots. I buy all of my spices for around $1 per jar at closeout stores or drugstores.
3) Buy in bulk.
Buying in bulk makes all the difference, especially with grains, flours, and nuts. If you only need 1/4 cup pine nuts for a recipe, save yourself from blowing the bank on a large container. Buy only what you need from the bulk bins.
4) Make your own "meat."
Okay, I said I wasn't going to suggest you spend all day kneading whole-wheat flour into gluten, but making mock meats from vital wheat gluten flour is quick and easy, with only minimal kneading necessary. Make a broth to season your "meat" and then freeze until you're ready to use. I also freeze leftover tofu and tempeh. You'll always have mock meats on hand!
5) Keep it simple.
Quick and easy four- or five-ingredient recipes mean you don't have to go to the grocery store with a laundry list of stuff to purchase. Look in your pantry and see what you can create with a few things you have on-hand.
6) Shop Vegan Cuts!
Sure, this is a shameless plug, but I'm serious! Vegan Cuts offers sweet deals on hard-to-find items. Try their monthly Snack Box, it gives you a chance to sample snacks before making the commitment to buying full-sized items.
About Bianca Phillips, Our Blogger Friend
Bianca Phillips is an 8-year vegan, 18-year vegetarian from the Mid-South, not too far from the muddy banks of the Mississippi River. She currently lives in Memphis, TN and is the author of the popular blog Vegan Crunk. Her first book, Cookin' Crunk, is filled with veganized recipes of soul food and country classics.