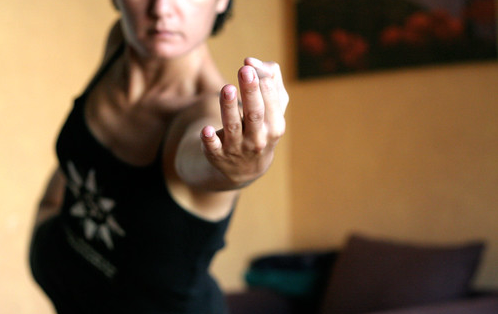 Flex your Heart & Body with Eco-Vegan Yoga Gear
By Perfecto Insecto on flickr
Ah, yoga.
Bastions of calm grace and stretched-out hamstrings, yoga studios everywhere are temples of replenishment where one can go to get one's body, mind, and soul in harmony. 
After a yoga session, one feels both grounded and uplifted, balanced and rejuvenated.
With the western world's rising interest in yoga, there have been countless companies creating all things asana-related to help folks fully embrace a yogic lifestyle, and resources like Yoga Dork and Alignyo that help aspiring yogis with more resources than you can shake a strap at.
 
While you're searching around for the style of yoga that best suits you, it might also be worth delving into the type of materials that many of these items are made from. With all of the damage done to our planet by spilling toxic chemicals around, it's important to make ethical choices with the products that we use. Let's take a lot at some of the eco-friendly yoga gear that's available for every conscientious yogi and yogini to enjoy:
Manduka eKO Mat
Most yoga mats available in sporting-goods or department stores are made of PVC. The benefits of PVC mats are that they're spongy (which is great for floor-work, to protect various bony bits from digging into a wooden floor), lightweight, easy to clean, and tend to be textured so you won't slip when your feet start to sweat. The negative aspects include the smell (a nasty chemical "rubber" smell that often doesn't fade for years, if ever), and the fact that the creation process is very toxic to the entire ecosystem. Consider more eco-friendly mats like the Eco-Mat by Barefoot Yoga, or the Manduka eKO Mat, made of natural, sustainable rubber.
Speaking of mats, they can get super manky after they've been stepped on and sweated over in a hot studio. Keep your mat fresh and odour-free with spritzes made with essential oils, like this one from B. Noel Aromatics.
Alternatively, if you're feeling crafty and have an old spray bottle at hand, you can always make your own with water and a few drops of essential oil like rosemary, lemon, lemongrass, orange, or mint.
Muladhara pants from Grateful Threads on Etsy
When you're moving from pose to pose, it's important to let your skin breathe and sweat as it needs to, and natural clothing fibers are perfect for this.
Grateful Threads has a gorgeous line of organic, vegan clothing that's great for everyday wear as well as the yoga studio, and these pants would be pretty much perfect for hero poses, lunges, and beachside lotus meditations. For tank tops, t-shirts, tunics and more, Be Present has colourful, stylish pieces that are made from organic cotton, recycled wood pulp and spandex. 
Bhakti Ware also has a great line of organic cotton yoga clothes in a variety of styles and colours for both men and women, and $1.08 from each purchase goes directly to one of the charities they support.
Being vegan isn't just about not eating a piece of chicken or choosing hemp shoes over leather, but to also live gently, with conscious awareness of how one's choices affect all forms of life. Pollution from the creation of synthetic materials can cause birth defects, infertility and death to fish and other aquatic animals when the toxins leak into water tables and lakes. Many animals, birds and insects drink that water too, or eat the smaller animals and plants that live in it, and so the peregrination of every water molecule, every drop of pollution, makes its way through all life on earth. By choosing ethical, cruelty-free products, life all over the world reaps the benefits.
Breathe in peace, breathe out light. Know that with every ethical choice, you're doing a whole lot of good for all the life forms that share this incredible planet.
Namaste.