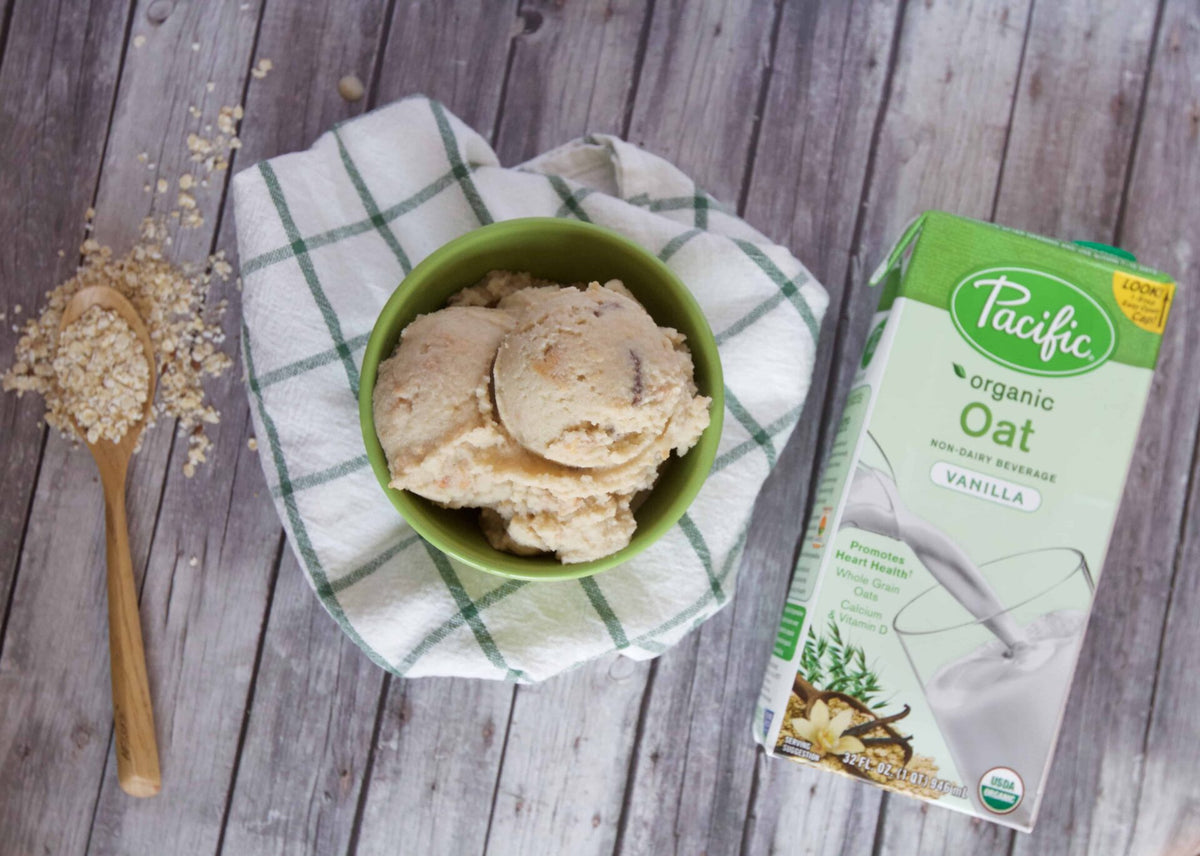 Peanut Butter Chocolate Chunk Oat Milk Ice Cream Recipe
Just like its name, this Peanut Butter Chocolate Chunk Oat Milk Ice Cream is a mouthful.
If oat milk hasn't won you over yet, then be prepared to be blown away. If you're already addicted to oat milk, stay tight – you're going to love this one.
We used Pacific Foods (1) in this recipe, but any oat milk will do just fine.
Oat milk is high in fiber, protein, and is completely free of cholesterol and saturated fat. There are so many wonderful uses for oat milk: biscuits, pancakes, smoothies, oatmeal, sauces, and our favorite of all, ice cream!
Oat milk is becoming increasingly popular and is available in many niches as well as mainstream grocery stores. If you haven't tried oat milk yet, there are plenty of brands available.
We picked up some Pacific Foods Oat Milk and created a sweet and creamy Peanut Butter Chocolate Chunk Ice Cream recipe for you to try and home and change your dessert world for the better.
Give this recipe a try and let us know your experience!
PEANUT BUTTER CHOCOLATE CHUNK OAT MILK ICE CREAM RECIPE
Ingredients
2

cups

- Vanilla Oat Milk

2

cups

- Coconut Cream

1

cup

- Organic Sugar

1

tbsp

- Cinnamon

1/2

tsp

- Salt

16

oz

- Dark Chocolate

2

heaping tbsp - Peanut Butter
Instructions
Add Pacific Foods oat milk, coconut cream, organic sugar, cinnamon and salt to a medium sauce pan and heat on low until the sugar is dissolved.

Refrigerate the mixture for 30 minutes.

Break up pieces of your favorite (vegan) chocolate in small crumbles and add to the mixture.

Add two heaping tablespoons of peanut butter and stir.

Add the mixture to ice cream maker.

Let the ice cream maker churn for 30 minutes until mixture is fully frozen.

Enjoy!
Got snacks?
Treat yourself to a vegan snack box with monthly Vegancuts plant-based snack boxes delivered right to your door. Sign up below to get 20% off your first box!