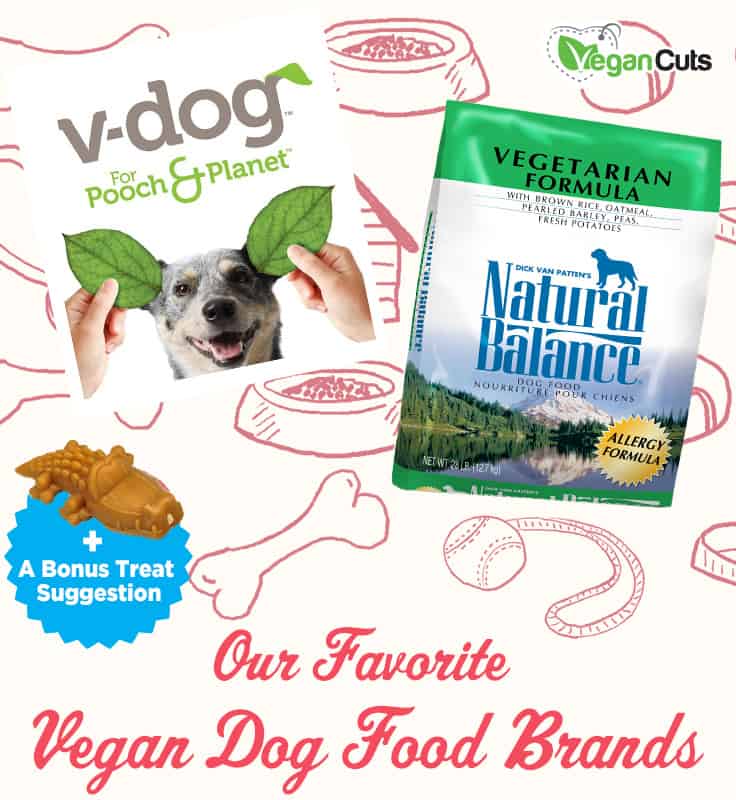 Our Favorite Vegan Dog Food Brands
Companion animals hold a special place in our hearts so of course we want to show them love by giving them the best food and treats. We also know there's some controversy around plant-based pooches, so we did a little research to share a few of our favorite dog food options with you.
V-dog is owned and operated by a pit bull-loving family that believes "vegan dogs, like vegan humans, leave a much smaller paw print on our planet."
We love V-dog kibble because:

V-dog's eco-friendliness is something we can get behind—The bags are 100% compostable.
V-dog is endorsed by PETA, Mercy for Animals and other animal-friendly organizations that we ♥.
Pups love V-dog kibble because:
V-dog for dinner means more energy for walks and fetches! This 100% plant-based formula combines USA-sourced ingredients to build strong muscles and support brain development and cardiovascular health.
No gluten, wheat by-products, fillers, soy, corn or GMOs means no itchy bellies or other uncomfortable allergy symptoms.
Natural Balance Pet Food Co. provides pets and their owners with "The Food for a Lifetime", focusing on applying sound scientific principles and nutritional truths when developing their formulas.
We love Natural Balance Vegetarian Dry Dog Food because:
They test each and every batch for 9 known contaminants before it is distributed, meaning we can buy with confidence.
They won a VegNews 2009 Veggie Award.
Pups love Natural Balance Vegetarian Dry Dog Food because:
It keeps them feeling sharp and looking shiny because it's chock full of healthy omega-3 and omega-6 fatty acids.

Green peas at every meal will guarantee your pup will be satisfied with a wholesome amount of protein, fiber and carbohydrates.
Okay, okay, so this isn't a brand, but we're all about DIY over here at Vegan Cuts. You can find recipes of all types from a simple Google search, but one of our favorites is this recipe from The Vegan Zombie: Cook and Survive, which is available in the Vegan Cuts digital marketplace:
We love homemade dog food because:
Like other DIY products, making it yourself means you know exactly what does and does not go into your pup's food.
We love cooking!
Pups love homemade dog food because:
Variety is the spice of life! Mixing up ingredients rather than sticking to one kibble means that your dog gets a taste of a wide variety of fruits, veggies and grains.
A homemade, nutritious meal is easily digestible.
Your four-legged friend will love this tasty treat. Potato based and gluten free, this yummy treat is high in fiber and low in fat so your pup can enjoy and you don't have to worry about him or her packing on the pounds.
Want to give these and more products a try? You're in luck because V-dog, Natural Balance Foods, and the Paragon Whimzees alligator are all featured in the Vegancuts Dog Box.
Have another favorite dog food to add to the list? Leave a comment below!