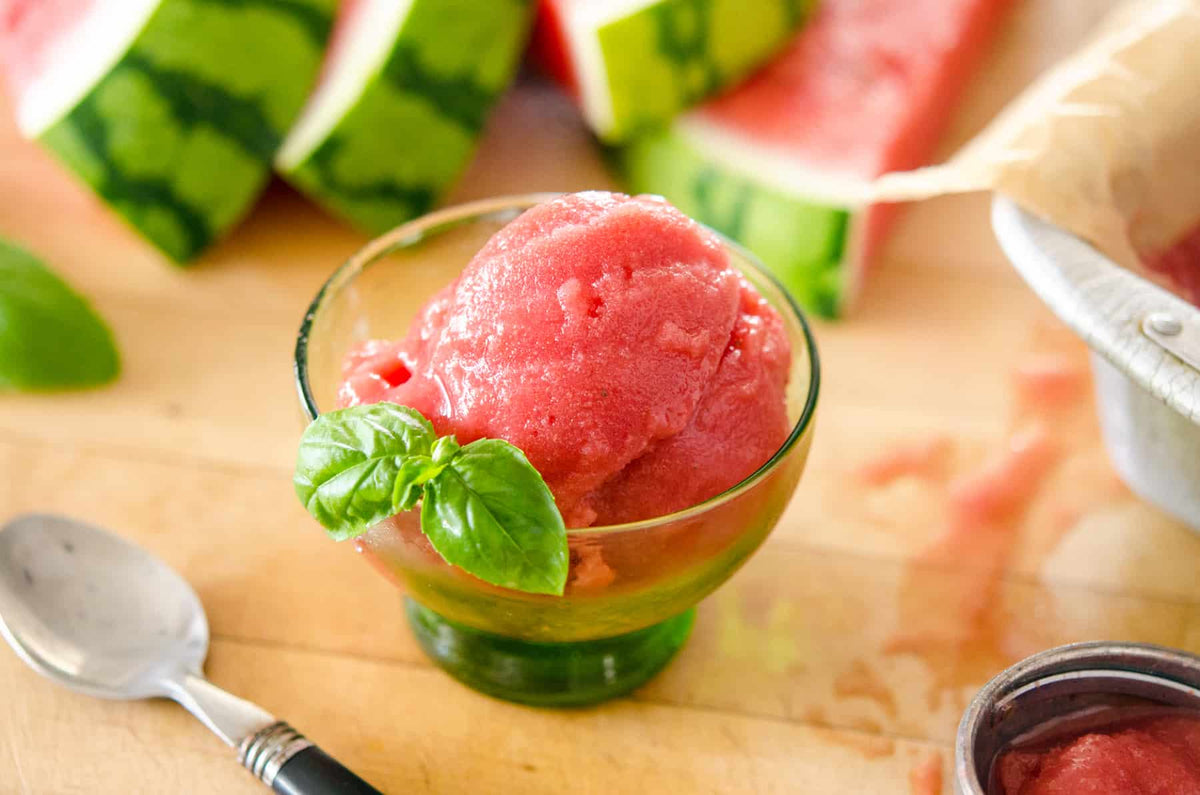 Pretty in Pink Sorbet Recipe
Homemade frozen treats are just about the best thing summer has to offer. It's true! If you haven't tried making your own sorbet, or you're just looking for a new flavor combination to wow
your neighbors with,
you're in the right place. This cool treat combines two of this season's best pink offerings: watermelon and strawberry. With the added highlight of fresh summer basil, this is an easy-but-interesting way to finish off any summer meal. What's even better is that you can make it without an ice cream maker! We originally shared this recipe in our first-ever
Summer Bash eBook
, which you can
download for FREE here.
If you still haven't checked it out, there is still time to grab your free download and learn some new vegan summer recipes, great advice from vegan bloggers, and snag some coupons for your next grocery shopping trip. All of the recipes in the eBook, including this one, were developed by the talented vegan chef Jackie Sobon of
Vegan Yack Attack
.
Recipe and photo by
Jackie Sobon
Pretty in Pink Sorbet by Jackie Sobon
Serves 4
3 C. Watermelon, Chopped 2 C. Strawberries, Chopped 2 Tbsp Sugar ½ Tbsp Lemon Juice 1 Tbsp Fresh Basil, Chopped
1. Puree all of the ingredients, except for the basil, in a blender until completely smooth.
2. Add basil to the blender contents and pulse to incorporate it into the mixture.
3. Pour the liquid into a large zip-top plastic bag or two ice cube trays and freeze completely.
4. Break apart the contents of the bag, or pop the cubes into a food processor and puree until smooth.
5. Serve as is for a soft serve-type sorbet, or freeze for another hour until mostly firm. Garnish with basil.