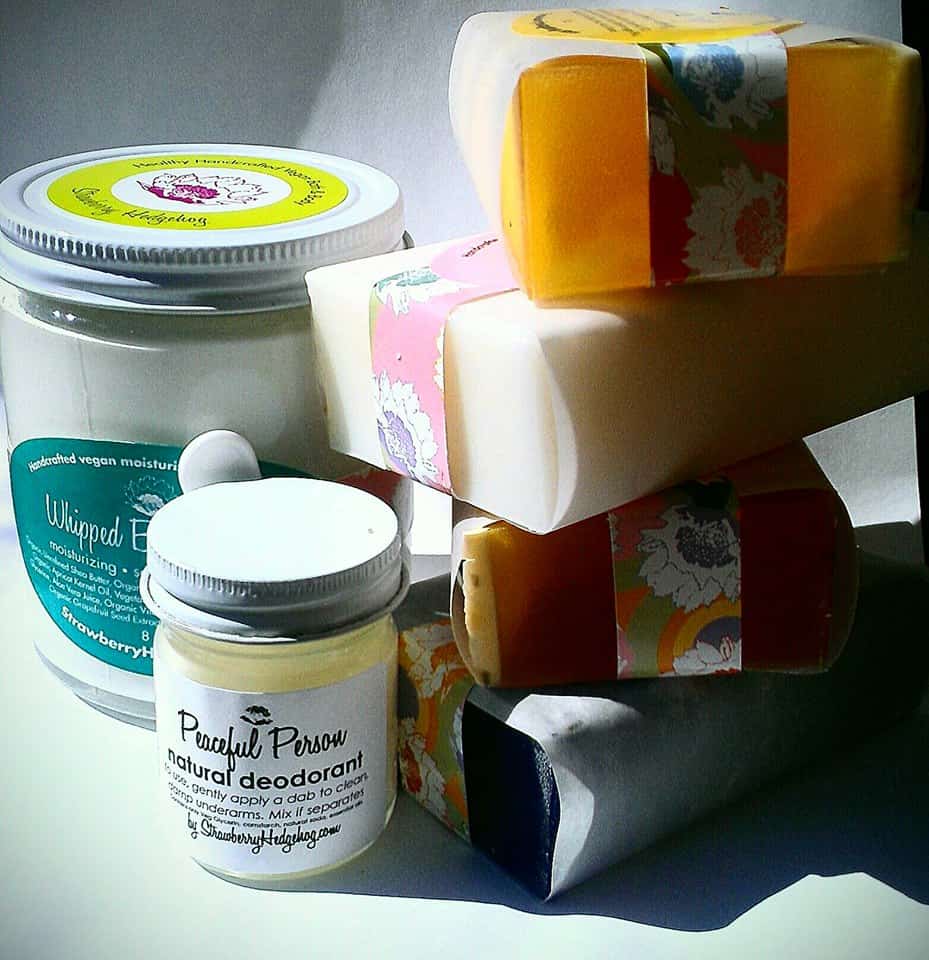 Strawberry Hedgehog Vegan Body Products Review
Strawberry Hedgehog is an amazing vegan soap and body products company with a funny name. They've been around for some time now and I'm still not sure whether the soapmaker herself is the hedgehog in question, or whether that's just a fun mascot for this cruelty-free company. (Just kidding! She named the company after a cactus. Who knew?)
Based in Phoenix, AZ, founder Tracy Perkins has been making sweet-smelling soaps since 2003. These days, she makes a huge variety of soaps and other body products that are likely to make your tummy grumble in anticipation. As delicious as they might smell, however, it's still not advisable to consume Strawberry Hedgehog's products because, well, it's soap and stuff.
We particularly like Strawberry Hedgehog's products because they are 100% free of animal products, preservatives, chemicals, and artificial dyes and fragrances. Instead, they rely solely on nature to provide all the cleansing and aromatherapy goodness you need.
So, about these products we're checking out today…
Whipped Body Creme
Thick and creamy without being greasy, this is a full-size (8 ounce) luxurious body creme that works on all your parts. It's great for rough spots like elbows, knees, and heels, but feels just as good when slathered all over after a bath or shower. With no added fragrance, this body creme smells light and natural with just a hint of cocoa butter, so it's truly a gender neutral treat. The combination of shea and cocoa butters, along with aloe vera, are soothing and healing for all sorts of skin complaints, or just to seal in softness and moisture.
Natural Deodorant
We've reviewed Strawberry Hedgehog's natural vegan deodorant before on the blog, and we're still just as in love with it.
With one of the shortest ingredient lists we've ever seen (perfect for putting on your pits!), this deodorant comes in three fresh scents: Peaceful Person, Femme Fatale, and Strong Man. Despite the names, we can argue that all three scents are really unisex. Peaceful Person is the easy pick for anyone new to the world of natural deodorant. The scent is a subtle combination of lavender, sandalwood, cedar, frankincense, ylang ylang, jasmine, and rosewood. The result is a soft natural scent that doesn't scream "Hippie!" or make you feel like people can smell you a mile away.
This is a great deodorant formula for anyone looking to limit their personal care products, too. A little bit goes a long-long way, and one application will typically banish the stinkies for about 24 hours.
Karmic Sweetness Soap Quartet
All of the soaps at Strawberry Hedgehog are built on the same basic formula: a plant-based recipe that combines organic coconut oil, organic palm oil, and pure vegetable glycerin. This means that all of their various soap varieties possess the same cleaning, softening, and soothing power, regardless of their color, scent, or add-ins. And speaking of all those options, it's important to note that Strawberry Hedgehog uses only 100% essential oils, food grade organic extracts, and whole herbs in their soaps. Basically, what you're getting comes straight from the earth, unfooled-around-with.
In this set is a 5oz bar of each scent:
Blueberry-lavender: A delicious blue-on-blue bar has a sweet, unique scent and strikes me as a great pick for the kid in your life (no matter what age they are).
Sweet orange-clove: This is a classic scent combo in a beautiful orange bar of soap. Slightly reminiscent of autumn holidays, you'll love the way it makes you feel.
Lemongrass-ginger: A bright, energizing scent, this soap is great for too-early morning showers, or any other time you need a little boost.
Coconut-almond: This combination is one of my personal favorites, because it reminds me of some far-off tropical escape. Except, you know, in my bathroom.