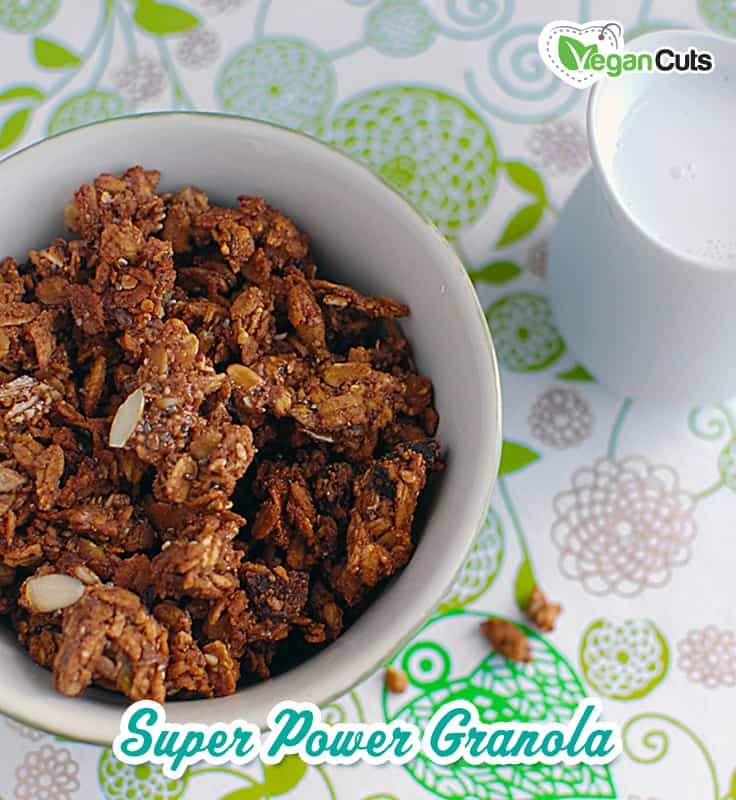 Super Power Granola: Get Moving in the Morning
I used to be a morning person, but somehow, over the years, I've become one of those people who hits the snooze button on my alarm clock one too many times. Once I finally roll out of bed, I have two minutes to get ready for work and often that means missing breakfast, which of course, is not ideal for a hungry vegan! So, I set out to create an easy granola recipe using three of my favorite products from the Vegan Cuts marketplace.
From left to right: Barnana, The 3 Nuts, and EatSeed
Thanks to the kind folks from Barnana, The 3 Nuts, and EatSeed, this particular recipe boasts chewy and potassium-rich dried banana pieces; sweet-n-salty cookie dough peanut butter; and a hearty six seed blend. Wholesome oats, unrefined sweeteners, spices, and a touch of coconut round out the ingredients to yield crunchy clumps of filling, nutritious granola. Make a big batch on your day off and enjoy it throughout the week.
Super Power Granola
Packed with an abundance of seeds, wholesome oats, and dried fruit, this granola provide you with sustained energy, even if you aren't much of a morning person.
Ingredients
1/2

C.

The 3 Nuts Nut Butter

any variety, I used the Cookie Dough flavor

1/3

C.

Brown Rice Syrup

1/4

C.

Maple Syrup

2

tsp.

Vanilla Extract

1 1/2

C.

Rolled Oats

1/2

C.

EatSeed Six Seed Blend

1/3

C.

Chopped Barnana Pieces

2

T.

Unsweetened Shredded Coconut

1/2

tsp.

Cinnamon

1/4

tsp.

Salt
Instructions
Preheat oven to 350F and line a baking sheet with parchment paper or a silicone mat.

In a small saucepan over low heat, stir together nut butter, brown rice syrup, and maple syrup. Continuing stirring until well blended. Remove from heat and stir in the vanilla extract. Set aside.

In a small bowl, combine oats, EatSeed blend, Barnana bits, coconut, cinnamon, and salt.

Pour wet ingredients into the bowl and mix until everything is well-combined.

Spread mixture evenly onto prepared baking sheet.

Bake for 25-30 minutes, stirring once halfway through. Remove from oven and place baking sheet on a cooling rack.

Once cooled, store in an airtight container.