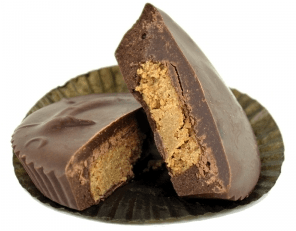 Eco-Friendly Cards + Animal-Friendly Sweets: The Vegan Guide to Valentine's Day
Now that it's February, our attention shifts from New Year's resolutions to flowers and hearts, thanks to love-filled Valentine's Day. Whether you celebrate with a candlelit dinner for two, snuggled up with your number one, or not at all, we're here to help sweeten the mood.
Check out our Vegan's Guide to Valentine's Day and prepare to be smooched. From candy bars to chocolate to whimsical cards, these treats are all about the lovin'.

If the seductive wrappers aren't enough, perhaps the velvety smooth and intense flavor of these raw chocolate bars will ignite some sparks.

Brighten the day of your sweetie, secret crush, BFF, or anyone you hold close to your heart with one of these playful, eco-friendly greeting cards.

You're going to love these adorable, heart-shaped raw cookies. These decadent delights are made with mostly organic ingredients and pure essential oils.
Manos Chocolates Helio Cups

Say "Ohhh yea" to this chocolate-covered treat showcasing a creamy, sunflower seed butter center with just a hint of sea salt.
Don't let their compact size fool you! These dark chocolate candy bars bring sophisticated flavors to the table.
Can't decide which goodies to give your true love? Get your cute card + sweet fix in one fell swoop with the Vegan Cuts CandyGram! You provide the love note, we slip it inside a Two Trick Pony card with a to-die-for vegan treat, and send it straight to your sweetie's door. Both the card design and treat choice will be a delightful surprise.
Your Love Note
Type up your love note during the checkout process (max 250 characters).