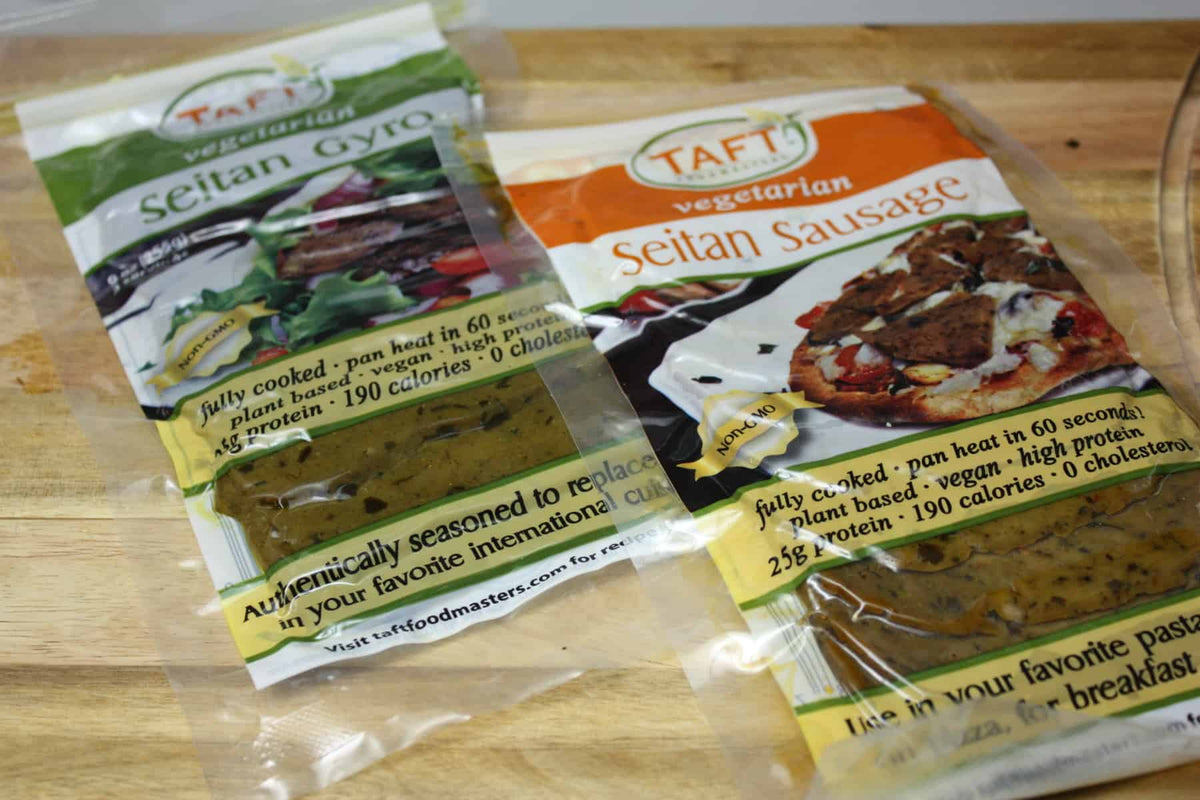 Taft Foodmasters Seitan: Review
In our increasingly vegan-friendly world, there are protein alternatives aplenty. We've reviewed a few here on the Vegancuts blog, and we're tirelessly searching the globe to bring you more cruelty-free options for your dinner plate.
Taft Foodmasters is a company you may not have heard about yet, and they make delicious seitan products! It's a vegan dream come true!
Taft Foodmasters Seitan Sausage and Seitan Gyro are both practically ready-to-serve. They just need to be heated in a pan for a few minutes, or you can add them as is to a to-be-baked dish (like a casserole or pizza). Because the seitan is pre-sliced, it's crazy easy to just grab and go without hesitation, making meal prep a real snap. Taft Foodmasters' resealable packaging makes it easy to serve a little or a lot, without worrying about the leftovers, which I find to be a real problem with many other vegan protein products on the market.
Flavor-packed Seitan Sausage and Seitan Gyro are great additions to any of your meatless meals. Seitan Sausage works well in Italian dishes, like pizza and pasta, serving up a familiar savory spice. The Seitan Gyro begs to be added to your next Greek salad or wrap. Since the seitan is pre-cooked, you can even use them in a cold sandwich, if that's your ish.
Both products are 100% vegan, non-GMO certified, kosher, and totally yum.
To demonstrate how quick and easy it is to make a meal with Taft Foodmasters, check out this ready-in-minutes pizza, which utilizes the snappiest pizza crust in the world: biscuit dough. It's unapologetically gluten-tastic, easy to prepare with little clean-up, and a perfect platform for Taft Foodmasters Seitan Sausage.
Easy Biscuit Pizza
Products are 100% vegan, non-GMO certified, kosher, and totally yum!
Ingredients
1

cup

all-purpose flour

1 ½

tsp

baking powder

½

tsp

salt

3

Tbsp

olive oil

⅓

cup

non-dairy milk

Prepared tomato sauce

Vegan mozzarella shreds

Taft Foodmasters Seitan Sausage slices
Instructions
Preheat oven to 400°F.

In a medium-sized bowl, combine flour, baking powder, and salt. Make a well and add oil and milk.

Stir to combine, then gently knead a few times right in the bowl until all the flour is well incorporated.

Press onto an ungreased baking sheet (or place between two sheets of plastic wrap and roll out) until approximately ¼" thick.

Top with tomato sauce, mozzarella shreds, and Seitan Sausage.

Bake 12-14 minutes until biscuit crust is light golden brown. Allow to cool for a few minutes before cutting. Serve warm!