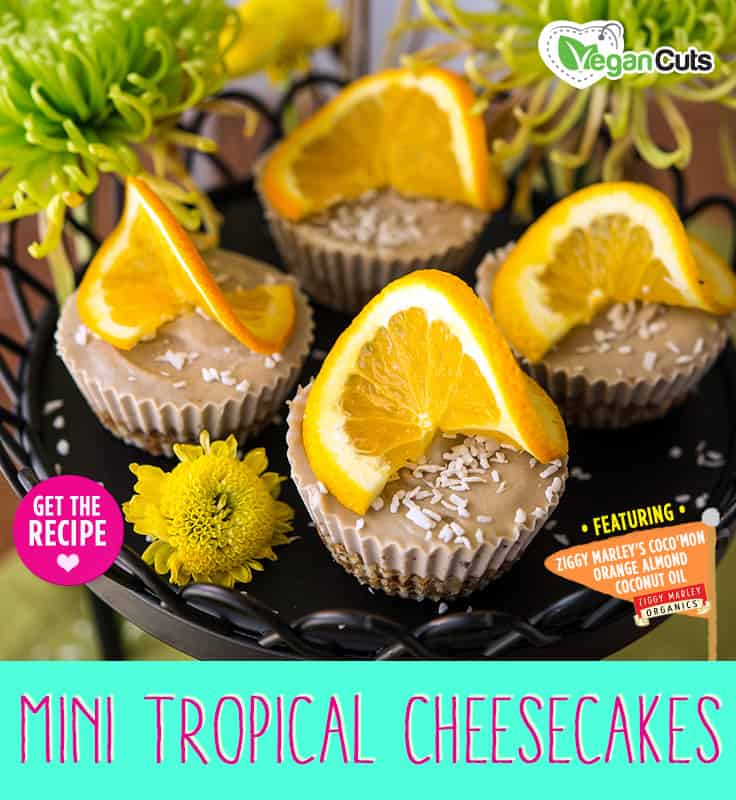 Mini Tropical Vegan Cheesecake Recipe
If you're one of those vegans who uses coconut oil for just about everything, then I've got just the dessert for you: Mini Tropical Cheesecakes featuring Ziggy Marley's Coco'mon Orange Almond Coconut Oil.
Coconut oil has so many uses: conditioning your hair, oil-pulling, sauteing up some tasty veggies, making deodorant and what have you. But, one of my favorite things to use coconut oil in is dessert. Pies, cakes, crumbles, you name it, I've used coconut oil in it.
That's one of the reasons why I was super excited to receive Ziggy Marley's Coco'mon Orange Almond Coconut Oil, which was featured in a past Vegancuts Snack Box. As soon as I opened the jar and its aromas wafted out I knew that it would be a joy to work with. The only downside is that it's too hot to bake! That's when *ding!* I thought to make some luscious, no-bake, mini cheesecakes. Plus, everything is cuter in mini-size.
Watch how this all goes down here:
Mini Tropical Cheesecakes
Cute Tropical Cheesecakes that are no-bake and filled with healthy ingredients and tons of flavor!
Ingredients
Crust
1

C.

Raw Almonds

1/2

C.

Dates

Pitted
Cheesecake Filling
1 1/2

C.

Raw Cashews

2-3

C.

Boiling/Hot Water

1

C.

Banana

Sliced

1/2

C.

Coco'mon Orange Almond Coconut Oil

Melted

2

T.

Agave Nectar

2

T.

Orange Juice

1

T.

Orange Zest

1/4

tsp.

Sea Salt
Optional:
1

Thinly Sliced Orange for Garnish
Instructions
Crust
Prepare a 12-count cupcake pan with liners and set aside.

Pulse the almonds and dates together in a food processor until it turns into small, sand-like pieces. Pinch some of the mixture between your fingers and it should clump together.

Place 1 1/2 to 2 T. of the crust mixture into each liner and press down firmly with your fingers or a spoon to flatten it.
Filling
Cover the raw cashews with boiling hot water and let them set for 5-10 minutes.

Drain the cashews and place them into a high-speed blender, along with the banana, coconut oil, agave nectar, orange juice, orange zest, and sea salt.

Blend until very smooth. If you are using a standard blender you may need to add a few tablespoons of water to get the mixture moving.

Pour the mixture into each liner, filling it to 1/8″ from the top (roughly).

Place the cheesecakes into a freezer for 1 1/2 to 2 hours, so that they set. Before serving, garnish with a twisted thin slice of orange (as seen in the video).

Serve cold and enjoy!
Now, I'm going to go eat some of these little treats and slather myself in Orange Almond Coconut Oil. Mmm…