If you are searching for fantastic LGBTQ+ brands to support this pride month, look no further! Below you can find a list of 21 small queer-owned businesses.
Purchasing from LGBTQ-owned businesses and brands is an easy yet impactful way to support the LGBTQ+ community, bring more visibility and awareness, as well as celebrate love, diversity & inclusivity.
Best of all, you can easily support some of the brands below with Vegancuts and the June Pride Snack Box or Beauty Box!
Now, let's first quickly define what exactly is an LGBTQ-owned business. Then, we will look at the 21 fantastic LGBTQ+ brands you can support in June & all year round!
What Is An LGBTQ-Owned Business?
LGBTQ is an acronym for lesbian, gay, bisexual, transgender, queer, or questioning.
When a brand is LGBTQ, it simply means that most of it are owned by individuals who identify as part of the LGBT community, including non-binary and gender non-conforming individuals.
To be eligible for certification, at least 51% must be owned, managed, or controlled by a person or people part of the LGBTQ community and are U.S. citizens or lawful permanent residents.
LGBTQ-Owned Food And Drink Brands
If you are a coffee lover, you must try Explore Cold Brew! It was found by Cason Crane – adventurer and risk-taker who was the first openly LGBT and fifth youngest person to climb Mt. Everest.
Explore Cold Brew uses coffee beans from Ethiopia, carefully hand-picked, organic, specialty Arabica beans. They are then gently roasted to maximize their natural flavor and cold-brewed for 12 hours.
This results in a refreshing, delicious, and rich taste that goes well with black or mixed with plant-based milk.
We are happy to have Explore Cold Brew as a featured product in Vegancuts June Pride Snack Box!
OMSOM is a queer-owned business by the sisters Vanessa and Kim Pham. Their Asian food brand makes it easy to cook restaurant-quality Asian dishes in under 30 minutes.
They sell "Starters," a mixture of carefully selected sauces, aromatics, seasonings, citruses, and oils. Essentially, it is a ready-to-use pouch that serves as the foundation to help you to create a specific Asian dish.
You need to pour the mixture and fire it up with your favorite proteins and vegetables. We also included OMSOM in Veguncuts' June Pride Snack Box so that you can try it along with other delicious goods.
Pipcorn is a snack company with flavored popcorns, puffs, and crackers. It started in Brooklyn by queer cofounder Jen Martin and her brother Jeff.
Pipcorn snacks are made with heirlooms – their "not-so-secret" ingredient to create better-tasting eco-friendly snacks, with superior nutrition.
Yeah Dawg is a Brooklyn-based business run by the Marino Bedenetto, a nonbinary vegan chef intending to turn fast-food favorite hot dogs into healthy, cruelty-free food.
The veggie hot dogs are also soy-free and gluten-free, and you can also order them from their website, where they also sell vegan bacon.
Brew Dr. Kombucha is made with natural, organic, high-quality ingredients. It is raw and unpasteurized to get all the beneficial bacteria and yeasts for healthy gut flora!
Brew Dr. Kombucha is a proud supporter of The Trevor Project, the leading national organization providing crisis intervention services to LGBTQ+ young people.
The company also supports environmental nonprofits through 1% for the Planet donations, and they are the first national kombucha company to become a Certified B Corporation.
Lagusta's Luscious make various sweets and chocolates in small batches with ethically sourced and 100% vegan ingredients.
They have a deep commitment to social justice, environmentalism, and veganism and a passion for creating delicious healthy sweets with bold flavor and artisan techniques.
Couplet is a queer woman-owned company that offers sustainably-sourced coffee. Their goal is to make specialty coffee more fun and approachable.
Inclusivity is at the core of what Couplet does, so they started making non-pretentious and approachable specialty coffee for everyone.
Are you trying to get off coffee or looking for an alternative beverage?
Then visit the Oregon-based cafe Radical Foods – they developed a unique coffee alternative made from chicory, cinnamon, cacao, and dandelion.
The delicious blend is made with ethically sourced ingredients, and if you aren't near Portland but still want to try it, you can order it online.
Radical Foods donates 5% of all profits to organizations working for social change, including Wild Diversity, Supporting diversity, and Safe Spaces For POC and LGBTQIA+.
Good Cakes And Bakes is a Detroit-based bakery that serves gooey butter cakes, pound cakes, cupcakes, and other sweets.
Their goal is to create delicious sweets using natural, fresh, and locally grown produce. You can order those online if you are not in Detroit because they ship nationwide!
LGBTQ-Owned Beauty Brands
Meow Meow Tweet is a vegan personal care brand with various products to suit every person and every identity. There are no "women's" or "men's" labels in their line to avoid putting any limitations.
All ingredients are certified organic, non-GMO, from renewable plant populations, and made in small batches by hand.
Another remarkable aspect about Meow Meow Tweet is that all their products are in glass, metal, or compostable paper, and they strive to be zero waste.
Meow Meow Tweet is a featured product in our Beauty Pride Month Box, so make sure to check it out!
NOTO Botanics is a sustainable gender-fluid cosmetic line. All the products are vegan & cruelty-free, universal, and made for anyone and everyone.
NOTO Botanics's primary mission is to provide clean, natural skin products that can support celebrating self-expression and authenticity.
W3LL PEOPLE is another clean cosmetics brand offering plant-based makeup and skin-care products founded by lesbian makeup artist Shirley Pinkson.
The products are made with the cleanest, ethically-sourced ingredients and no chemicals or preservatives.
Dragun Beauty offers transformational makeup that celebrates people of all ages, races, sizes, genders, and identities.
The cruelty-free makeup brand makes beauty products for all shapes, skin tones, and sexualities.
The founder, Nikita Dragun, is a trailblazing Transgender woman who believes no one should have to hide who they are.
Jessica is a makeup artist based in London. She first opened her Jecca Blanc studio, offering a safe space for trans women to experiment with makeup.
Now, she has a whole range of high-quality gender-free cosmetics for all ethnicities, expressions, sexualities, identities, abilities, shapes & sizes.
Fluide is a mission-driven beauty brand founded by Isabella Giancarlo and Laura Kraber. The brand is radically inclusive.
Every product is for people of all genders, backgrounds, and races. We Are Fluide sells 100% vegan, cruelty-free, and paraben-free, and many of the items are multi-use.
LGBTQ-Owned Fashion And Apparel brands
BEETxBEET is a female and LGBTQ+-owned high-end streetwear lifestyle brand. The brand's primary goal is to spread and raise awareness around the everyday choices we all make.
The apparel is ethically made in LA, and you can find a variety of stylish designs, crop tops, shirts, bikers shorts, keychains, stickers, art prints, etc.
Brave GentleMan is a gender-neutral fashion geared toward individuals who enjoy menswear aesthetics. It is known for its high-quality, expertly-crafted vegan footwear.
Brave GentleMan embraces the slow-fashion production model, and they focus on sustainability, ethical labor, and vegan materials.
Nicole Zizi is a fashion brand dedicated to gender-free streetwear. The New York-based brand focuses on eco-consciousness, sustainability & innovation and prioritizes circularity.
All clothing is made with recycled, natural, or organic materials to minimize negative environmental impact. They also offer Custom-made garments using your exact specifications.
Origami Customs is a slow-fashion brand based in Montreal. They sell underthings and swimwear for people across the gender spectrum.
They believe that the garments must fit our bodies, not the other way around. That's why they offer custom sizing (for free!).
Other LGBTQ Brands To Support
Automic Gold is a queer, trans-owned business creating sustainable fine jewelry. The fine jewelry is made by hand using reclaimed metal materials from old electronics and jewelry.
The design of Automic Gold jewelry is explicitly to mix the feminine and masculine and make fine jewelry beyond gender.
Their main goal is to make comfortable and versatile jewelry inclusive to people of all sizes and all genders.
Otherwild is a queer-identified woman-owned store, design studio, and event space.
At Otherwild, you can find handmade apparel, art, home goods, and refillable low-waste cleaning and personal care products.
The goods are always ethically sourced and made with care and awareness of their impact and design.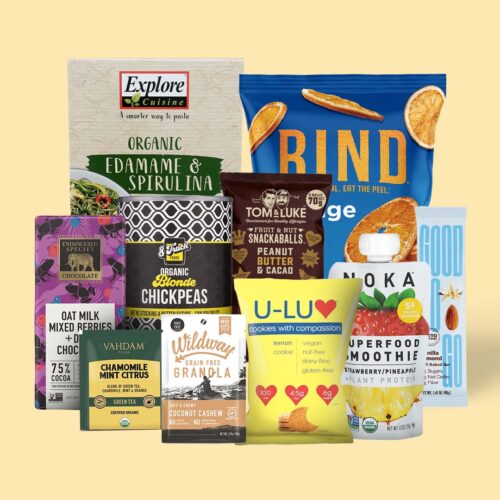 Vegancuts curates monthly premium-quality Discovery Snack Boxes, and in the Pride June Box, you can find many featured products from LGBTQ+ owned brands!
There you have it – 21 unique LGBTQ+ brands to support this June & beyond. While it can seem like nothing, it positively impacts the community and promotes social equality for LGBT people.
Are there some other LGBTQ+ brands you would love to see on this list? Let us know in the comments below!