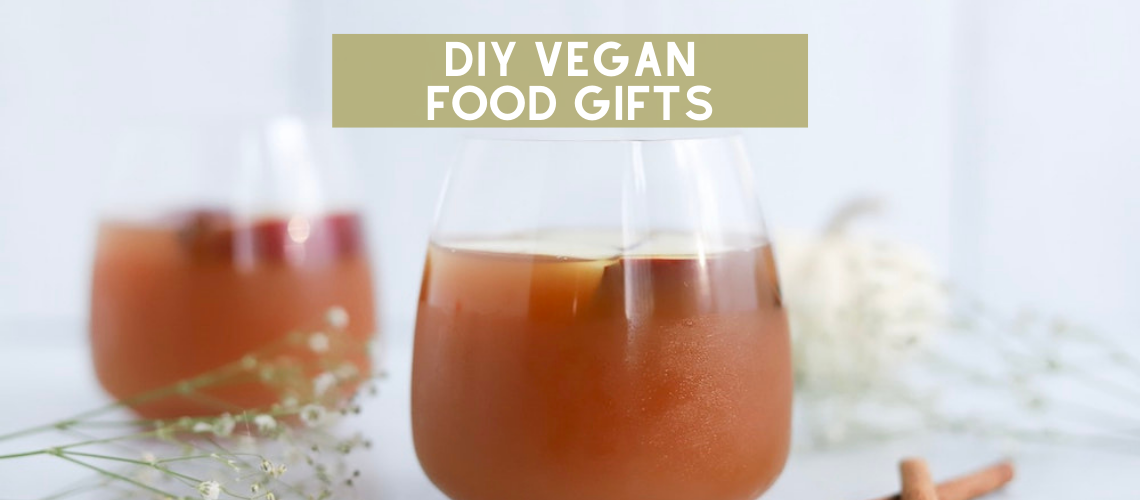 5 DIY Vegan Holiday Food Gifts Better Than Store-Bought
Out of gift ideas? Make some last-minute DIY vegan food gifts. They do not disappoint.
If there's one thing I've learned about pretty much every vegan I've ever known, it's the shared love of cooking that everyone seems to have. For some, it seems that going vegan encouraged them to learn to cook for themselves so they were certain they weren't eating any animal ingredients. But often an enjoyment of all things culinary developed from there. For others, it was an opportunity to try out new recipes and cooking techniques so they didn't just live on ramen noodles and salad. Either way, I don't know a single vegan person who doesn't know the basics of cooking and baking, and that's a huge bonus when it comes to holiday gift-giving. This holiday season, share your culinary gifts with friends and family, vegans and non-vegans alike. Everyone can appreciate gifts made with love.
Food gifts are inexpensive to put together, delightful to make, and show that the giver has paid attention to the recipient's tastes and preferences. In the season of sharing, why not share a little love from one kitchen to another?
Here are 5 DIY gifts you can make and present in a fancy jar, satchel, or reusable bag.


1. Vegan Three Bean Chili Mix

My Heavenly Recipes' chili mix is perfect on cold winter nights. Few things warm you up from nose to toes like a hot bowl of chili. Packed with flavour and warming spices, it's a little bowl of heaven filled with healthy veggies, fiber- and protein-rich beans, and all that spicy deliciousness. The great thing about a chili base like this is that the recipient can add whatever they like to suit their tastes, be it tossing in of some chopped fresh peppers for crunch or topping it with guacamole and crushed tortilla chips. The variations are endless.
2. Layered Soup Mix
Whollyfully has a whole host of vegan soup mixes on their site, and this five-bean one is a must-make. Much like chili, this chunky soup is a warming hug on a cold day, and absolute comfort food. A multi-layered, colourful jar of ready-for-the-pot soup mix is a thoughtful gift for anyone on your list, and a wonderful thing to have in the cupboard when the winter sniffles strike. You can layer all kind of soup mixes from bean ones like this to noodle soups to curries. Add a fancy bow and you're basically the vegan Martha Stewart now.
3. Coffee Fudge Brownie Mix

Who better than Alicia Silverstone to inspire you for this DIY food gift? Her Kind Life website is full of yummy recipes, including this brownie in a jar.
Ideal for the coffee and chocolate lover or whenever a choco-licious craving hits. These brownies just need egg replacer, margarine, and a bit of vanilla extract added to the dry mix. Then just toss them into the oven, bounce around for 25 min or so 'til they're done, and indulge away.
4. Punk Rock Cookies in a Jar
The Post Punk Kitchen is known for its vegan cookies invading your cookie jar, because, who doesn't love cookies? (I literally just ate one.) A jar full of sweet, chewy soon-to-be cookies is absolutely squeal-inducing and can be put together as a team effort to be munched on while watching those terrible old holiday TV specials over and over again. Give this gift and you're sure to get many thank yous.
5. Mulled Cider Mix
This mix from the Spruce Eats, is simple, sweet, and spicy. Pour these ingredients into a small jar and tie up with ribbon: simmered in cider, it makes for a gorgeous holiday beverage that can be enjoyed on its own, or kicked up a notch with some rum or brandy.