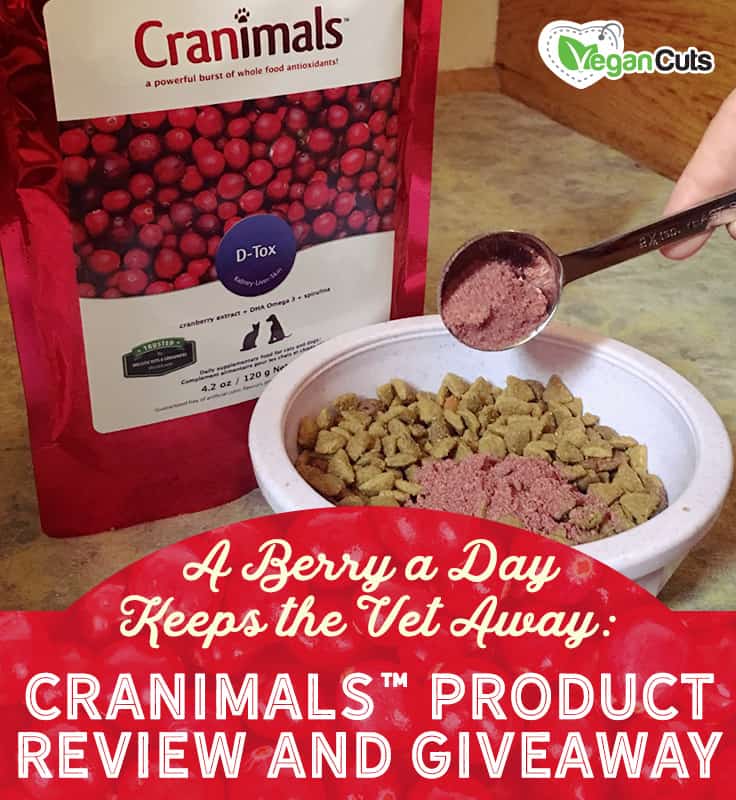 A Berry a Day Keeps the Vet Away: Cranimals™ Product Review
As a pet parent to four fur babies, I'm always looking to improve the health of my cats and dogs. Enter Cranimals™—an all-vegan, Canadian-based whole food supplement company. With formulas to prevent and treat conditions from allergies to diabetes to cataracts and incontinence as well as home health check test kits to help you monitor your pet's health, Cranimals™ offers peace of mind for pet owners.
Putting your cat on the right (urinary) tract
As my cats have gotten older, UTIs have sadly become more common. A typical vet visit would end with a grumpy kitty and a prescription for antibiotics. I was happy to discover Original: Urinary Tract. I love that it is made from 100% certified organic cranberries and has independent journal reviewed evidence that it is as effective as an antibiotic. Mixing this into my 14-year-old kitty's food makes me feel happy that I am supplementing her diet in a healthy way.
Doggie Detox
We all feel that need to detox after a holiday celebration or when you discover a new vegan sweet. Our pets may not overindulge like a vegan at a VegFest, but they can benefit from detoxing, too.
My 10-year-old dog has developed increasingly aggressive allergenic skin problems within the last three years. Vet visit upon vet visit led to steroids and topical creams, frequent bathing and strict diets, but nothing has consistently worked. D-Tox: Kidney, Liver, Skin both strengthens the immune defenses and stabilizes inflammatory response. This superior supplement formulated with spirulina, cranberry extract and vegan DHA Omega 3 from algae also controls blood glucose levels and protects the liver and kidneys. After having to administer steroids and medication with a long list of side effects, I feel good about incorporating this powerhouse powder into her daily meals.
I'm excited to continue to provide my pets with top-notch supplements. I love that they can be used with cats and dogs. Cranimals™ offers flexible auto-ship options to make it even easier to continue to provide my pets with the best possible health.