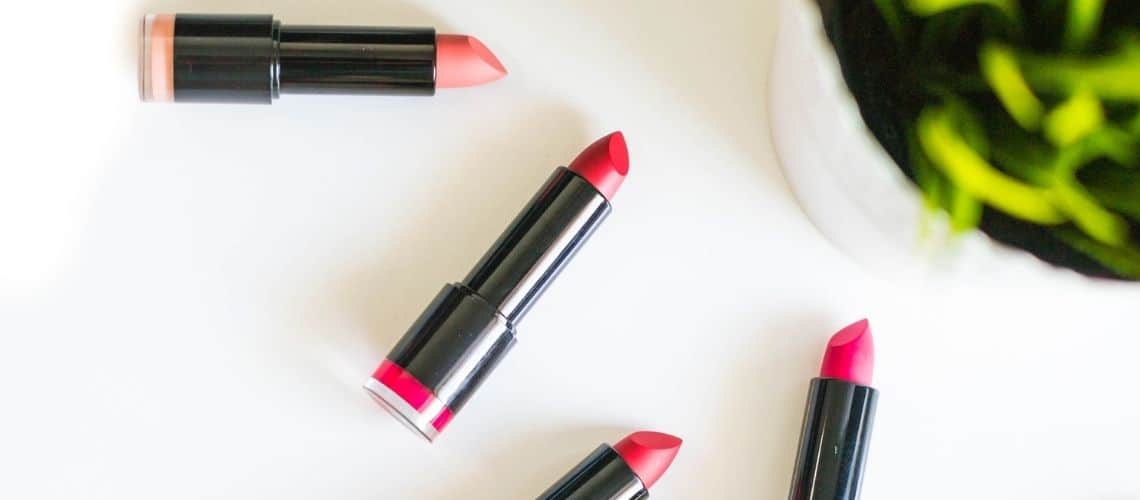 8 Best Vegan Lipsticks In 2022
It can be argued that no look is complete without a fabulous lipstick.
Lipstick has been around for over 5,000 years and while it has come a long way from the formulas used by Cleopatra herself, some things remain the same, like the use of animal products. In a quest for a truly vegan lifestyle, many people are starting to look at the ingredients in their skincare.
The world of cosmetic ingredients can be a tricky one to navigate, we are sharing everything you need to know about non-vegan lipsticks, vegan lipsticks, and our absolute favorite brands.
Are All Lipsticks Vegan?
5 Common Non-Vegan Lipstick Ingredients
There are many different animal-derived ingredients that the cosmetic industry uses and more are coming into the industry every single day. It can be hard to shop for products and know that what you are buying is in fact vegan.
Here are the five most common non-vegan ingredients to watch out for when shopping for lipstick.
1. Carmine (or Cochineal)
Carmine is a red dye that is used very often in beauty products and even in food. It is red in color and comes from crushed insects. It is used to dye various cosmetic products including lipstick, blush, and eyeshadow.
2. Beeswax
Beeswax obviously comes from bees. Beeswax is made by bees as a way to protect the honeycomb walls and keep their honey supply safe from weather and other animals. Similarly to honey, it is sometimes questioned whether it is safe for humans to harvest the honey and beeswax because the harvesting process doesn't directly hurt the bees.
However, both honey and beeswax are needed by the bees for food and protection. So, it is best to opt for products without these ingredients.
3. Lanolin
Lanolin is used in many different cosmetic and skincare products because it closely resembles our skin's own sebum and is highly moisturizing.
Lanolin actually comes from the sweat glands of sheep. It is harvested by washing sheared wool in hot water and treating it with detergent. This process is repeated several times until the wax is stripped of bacteria or impurities.
4. Squalane
Squalane, another ingredient used for its natural moisturizing properties, comes from shark liver. It also helps to increase spreadability and absorption in creams and lotions.
Sadly, much like the inhumane practices in the shark-finning industry, squalane is often extracted from the animal's liver only for the rest of the remains to be tossed back into the water.
5. Palm Oil
Palm oil is the most commonly used vegetable oil in the world. To meet the increasing global demand, more than 14 million hectares of land have been cut down to make room for more palm oil crops.
While palm oil does not come directly from an animal, the overwhelming use and need for palm oil is devastating to wildlife habitats, including orangutans, Malaysian sun bears, and Sumatran elephants and rhinos. It helps fight this habitat loss, it is best to choose products that refrain from using palm oil.
5 Best Vegan Lipstick Ingredients
1. Vitamin E
Vitamin E is oh-so-popular in the skincare world, and for good reason. Topical vitamin E does wonders for chapped, dry lips. It helps to promote cell turnover and regeneration and works to prevent irritation to our delicate lips.
2. Jojoba Oil
Jojoba oil is used to soothe dry, chapped lips with its naturally nourishing vitamins and minerals. It is absorbed easily into the skin so it doesn't leave a greasy residue on your lips.
3. Avocado
Avocado is the ultimate skin softener. It contains a substance called sterolin, which helps to give the lips a soft, supple feel making avocado an ideal lipstick ingredient.
4. Candelilla Wax
Instead of beeswax, Candelilla Wax is used in vegan lipsticks to help give the formula the structure it needs. It also contributes to the shine or lip products and helps the lipstick glide on smoothly.
5. Aloe
Aloe is not a newcomer to the skincare world, surely all of us have slathered in on after a particularly hot day in the sun. It more recently has been blowing up in the lip care world to help with anti-inflammation, fight irritation, and moisturize skin. It is also packed with antioxidants that fight wrinkles and other forms of skin damage.
How To Pick A Lipstick Shade
Ever pick out a gorgeous lipstick shade online only to get it home and realize it looks drastically different on you than it does on the model? It might simply be the wrong shade. 
We all have undertones to our skin and they vary from person to person. These undertones have a lot to do with what color clothing looks good on us and what shades of makeup are best to use. To ensure a perfect shade of lipstick, there are ways to determine your undertones and determine your shade.
Cool Undertones
Cool undertones are identified by skin that has pink, red, or blue hues. An easy way to determine cool undertones is to look at your wrist and if your veins run blue, you have cool undertones. Additionally, silver looks better on you than gold and your skin tends to burn in the sun before getting tan. The best lipstick shades for those with cool undertones are those with blue or purples tints.
Warm Undertones
Those with warm undertones have a yellow, golden, or olive hue to their skin. Warm undertones can be identified by greenish wrist veins versus blue. People with warm undertones look better in gold jewelry and they tan quite easily. The best lipstick shades for those with warm undertones in fiery reds and oranges. For a more bold look, warm undertones can also pull off coppers or golds.
Neutral Undertones
You can tell if you are neutral-toned if you have a mixture of pink and yellow tones in the base of your skin. People with neutral undertones are lucky enough to look good in both silver and gold jewelry. Additionally, they look good in most lipstick shades. They can opt for anything from a light nude to a deep berry color.
8 Best Vegan Lipsticks
1. Axiology
Axiology has an incredible line of vegan lipsticks in over 20 different shades. They are formulated to be deeply moisturizing and nourishing and made with clean, vegan, and cruelty-free ingredients.
Axiology uses natural ingredients such as kokum butter, avocado, and coconut oil which gives its lipsticks a buttery, smooth finish.
2. Kat Von D
With over 40 different vegan shades, Kat Von D's lipsticks are a fan-favorite. From neutral shades of blush to bold greens, you can play it safe or go all out with these lipsticks. The lipstick is crafted for a vivid, lasting color that's super soft and virtually weightless.
3. Au Naturale
These lipsticks are as clean as they come. All of Au Naturale's lipsticks are free from gluten, parabens, fillers, animal by-products, synthetic preservatives, or toxins. The entire line is vegan and there are shades for every skin tone.
4. e.l.f.
e.l.f. is a budget-friendly OG in the vegan beauty space. Its Hydrating Lip Core Shine is infused with vitamin E which works wonders for lip moisturization. In shades my mauve to deep berry, everyone can find something that works for them.
5. 100% Pure
100% Pure is quickly becoming a cult favorite thanks to its anti-aging properties. Its fruit pigmented lipsticks are packed with antioxidants and vitamins to keep lips soft and youthful for years to come.
6. INIKA
Looking for an organic lipstick? Give INIKA a try. All its shades are vegan, cruelty-free, and made with certified organic ingredients such as jojoba oil, avocado, and argan oils to keep your lips luscious and healthy.
7. Pacifica
Pacifica is another fan-favorite vegan cosmetics brand. They offer everything you could need in cosmetics and skincare, including amazing, affordable lipsticks. Its mineral lipstick is packed with sunflower seed oil, honeysuckle flower extract, and vitamin E for hydrated, plump lips.
8. Gabriel
Gabriel lipsticks are an ultra-clean option and can be found at most health food stores, including Whole Foods. The shades are infused with nourishing ingredients for a long-lasting stain both day and night. They are made from a petrochemical-free base of Candelilla Wax with added jojoba oil and aloe to help lock in moisture.