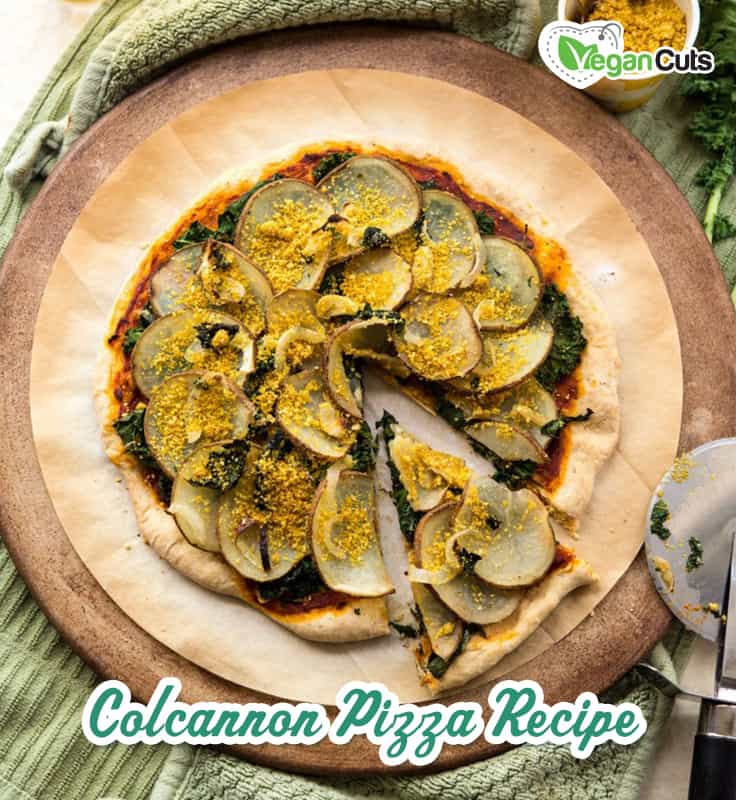 Colcannon Pizza: A Twist on the Classic Irish Staple
With St. Paddy's day coming up, what better way to celebrate than with pizza? Wait, what? Okay, so maybe pizza isn't a traditional Irish dish, but Colcannon is! I've taken the standard mashed version of Colcannon and changed it up a bit so that I could use it as a pizza topping. Boy, am I glad that I did, this pizza turned out delicious!
Of course, you could make the regular ol' mashed version and put it on a pizza, but that sounds mushy and visually unappealing. I really love the way toppings are simply seasoned and vary from steamed to slightly crunchy depending on how they're stacked. The crust is incredibly easy to make, thanks to GalloLea's healthy Whole Wheat Pizza Kit! You can get your hands on GalloLea's Gluten Free, Low Sodium or Whole Wheat Pizza Kits here.
Parmela adds the perfect amount of salt and savory-ness to the pizza, without overpowering the veggies. I should also let you know that I ate this pizza for lunch and dinner the same day that I made it. It was that good!
Colcannon Pizza
A Twist on the Classic Irish Staple
Ingredients
1/2

Lb.

Russet Potatoes

Sliced 1/8″ Thick

2

C.

Kale or Cabbage

Torn into Bite-Sized Pieces

1

C.

White Onion

Sliced into Crescent Shapes

2

Cloves

Garlic

Sliced

2

tsp.

Olive Oil

1/2

tsp.

Sea Salt

1/4

tsp.

Black Pepper

1

GalloLea Whole Wheat Pizza Kit

2

T.

Parmela

use more or less according to preference
Instructions
Preheat oven to 450F (as the directions for the pizza state on the box).

Toss the potatoes, kale, onion, garlic, and olive oil together in a large bowl. Sprinkle the salt and pepper over it and toss again to evenly distribute.

Place the potato mixture into a large pan with 2 T. of water over medium heat, and cover with lid.

Cook the mixture for 15-20 minutes (or until the potato slices are tender) over medium-low heat, stirring occasionally so that nothing sticks the the bottom of the pan.

While that is cooking, prep the pizza dough following the kit's instructions. Once the dough is ready for toppings spread out 1/2 of the bag of sauce over it.

Make sure that the potato-kale mixture has cooled enough to safely handle and layer the kale over the sauce. Next, layer the potatoes with the onions and garlic.

Follow the rest of the pizza kit instructions for baking. When the pizza is done, take it out of the oven, and place the pan/pizza stone onto a cooling rack.

Sprinkle the pizza with Parmela and serve warm.
Another idea for this recipe would be to roast a head of garlic and spread it on the dough instead of using red sauce; I can only imagine how heavenly that would be. So, cheers everyone, and make sure to have a happy and safe holiday!
About our Blogger Friend, Jackie
Jackie Sobon is the chef and photographer behind the blog Vegan Yack Attack, cooking food and taking beautiful pictures of it is her passion and "Camera Eats First" is her motto. She has worked for Vegan Cuts for 3 years, photographed cookbooks for Happy Herbivore and Cupcakes & Kale, and for her own eBook, The Great Vegan Pumpkin. She has been featured on VegNews.com, KTLA, as well as many top vegan blog lists and Chickpea Magazine.