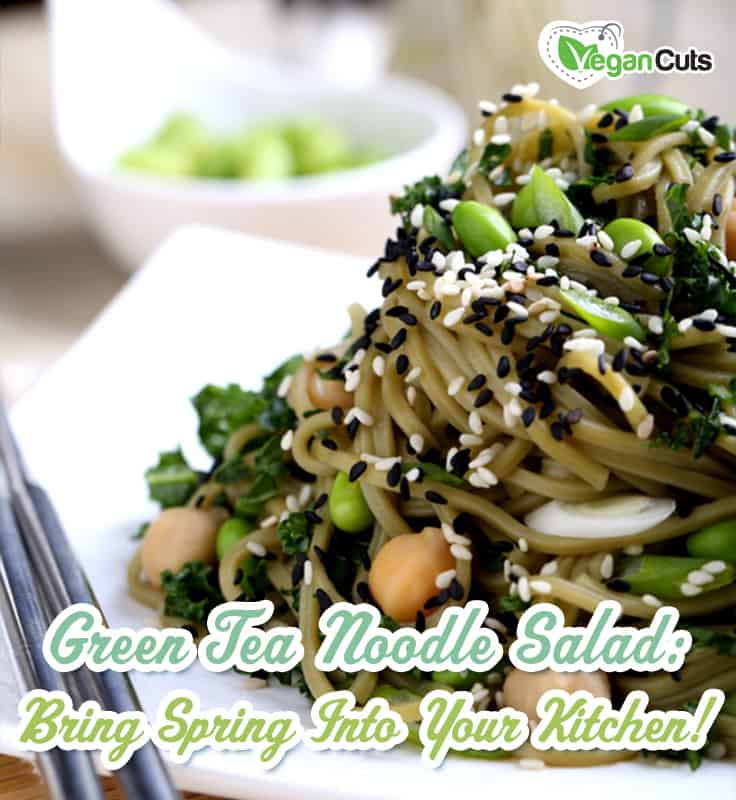 Green Tea Noodle Salad: Bring Spring Into Your Kitchen!
Everything's coming up green outside, including a bounty of beautiful produce. Spring brings not only a change of weather, but a desire for lighter, more vibrant meals. And we've got the ideal recipe for all you foodies, courtesy of one of our favorite vegan bloggers. Erin, from Olives for Dinner, was kind enough to share a simple and delicious noodle salad recipe that's representative of springtime.
Green Tea Noodle Salad
Contributed by Erin from Olives for Dinner
This past winter, my kitchen was filled with the aromas of bread, piping hot soups and anything that required frequent stirring while standing over a hot stove. I like that these things are heavy, comforting and always hit the spot, especially on those frigid days when simply going outside seems like a daunting task. But with winter receding into the background and signs of spring emerging a bit more each day, I want foods that are clean, crisp, light… and green.
It was this craving that inspired me to create a dish that reflects and celebrates this sense of freshness and renewal that's in the air right now. To do that, I selected an array of green ingredients, which included cha soba noodles, crisp edamame, fresh kale and sliced scallions, then assembled them together and added in some chickpeas for a color contrast and to add a creamy element into the dish. This vibrantly fresh noodle salad is then finished off with a drizzle of an Asian-inspired sauce that offers a balance of sweetness and brightness, with just a hint of acidity.

Green Tea Noodle Salad
Bring spring into your kitchen with this medley of flavors, colors and aromas! Prep Time10 minutes mins Cook Time10 minutes mins Total Time20 minutes mins Course: Entree, Salad Cuisine: American, Italian Keyword: Green Tea, Noodle, Salad, Vegan Servings: 2 Calories: 249kcal Author: Erin Wysocarski
Ingredients
For the Sauce
2/3 C. Mirin
4 T. Soy Sauce
2 T. Toasted Sesame Oil
2 T. Raw Agave Syrup
3 tsp. Rice Vinegar
For the Noodles
7 oz. Green Tea or Regular Soba Noodles
1 C. Minced Fresh Kale
½ C. Frozen and Shelled Edamame soaked in warm water for a few minutes then drained
½ C. Canned Chickpeas Rinsed
1 Scallion Very Thinly Sliced
1 T. each of Black and White Sesame Seeds
Instructions
To Make the Sauce
Whisk together all of the sauce components in a small bowl. Set aside.
To Make the Noodles
Boil according to the package instructions. Rinse well under cold water and drain. Transfer to a large bowl and toss with the kale, edamame and chickpeas.
To Serve
Transfer the noodles to two bowls and garnish with the sliced scallion and sesame seeds, drizzling the desired amount of sauce over the top.