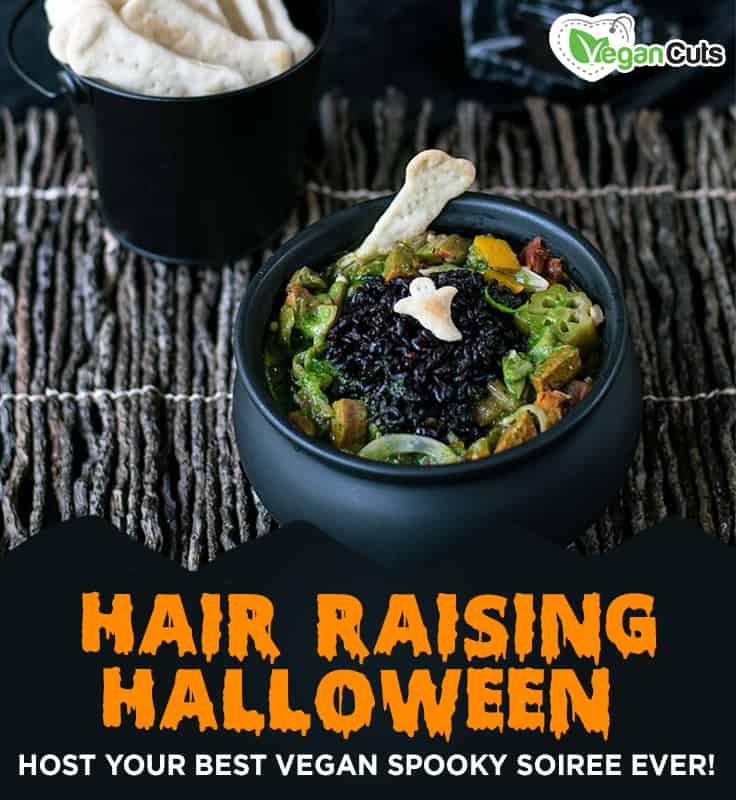 Hair-Raising Halloween: Host Your Best Vegan Spooky Party Ever!
It's that time of the year again. The leaves are beginning to mix to hues of red, orange, and yellow and the weather is putting a chill in our bones. We teamed up with our go-to Halloween expert and renowned author, Kathy Hester, to bring you some creative and spooky Halloween party ideas! Also, don't forget to head over to the Vegancuts Marketplace to stock up on your favorite halloween candies and chocolates!
I look forward to our annual Halloween dinner party all year. It's the one time of the year that Cheryl gets a dozen boxes out of the shed and decorates the house from top to bottom. It's so much fun to decorate, cook and dress up. I started my own annual Gothic Dinner party because I wished for years that there was a fancy Halloween dinner to attend. This is our 10th year of throwing our party. We invite a nice round 13 guests for a vegan multi-course sit down dinner.
Decorations
It's easy to set a table that will impress. I start with a plain black tablecloth and then layer some inexpensive see-through tulle fabric. You can try some in black, white, green or red. Layer some mismatched old scratched-up china plates and bowls from the thrift store. It will make it look creepy and not cost a fortune. While you are at the thrift store, grab some fancy glasses and silver for your table too.
Food Tips
Cheryl and I go all-out, but it can be as little or as much work as fits into your life. I tend to make things harder than they need to be. I like to make a few dishes on the fly right before guests arrive while I have a glass of my favorite vegan Halloween wine. You, however, can be much smarter than me and make everything ahead of time!
Typically, we do a few appetizers and small bites with a signature cocktail with a mocktail option. Something along the lines of a few dips, chips, crackers, maybe a few bite sized desserts. All of these can be made the day before and plated right before your guests arrive.
Try serving a dip in a hollowed pie pumpkin, winter squash, or brightly colored bell pepper carved into a pepper-o-lantern. You can even carve mini-peppers and then fill the with dip for a one-bite treat.
Since we do a fancy grown-up party, I start with a small bite that can be placed on a spoon on top of each place setting. We've done everything from a deviled baby potato to an apple slice made to look like fangs with nuts. It's nice to have something to eat as soon as you sit down and it doubles as a table decoration.
Next is my favorite improv course, soup. That's what I make up with my glass of wine in hand. No matter what kind of soup I make, I keep it warm in the slow cooker until it's time to serve. I collect little dishes and I have some small bowls that hold about ¼ cup and they are perfect for just a taste.
If you make homemade crackers in the shape of little ghosts and gravestones you can really dress up your soup and other courses. You can make these days before or you can make bone or finger-shaped bread sticks.
Next is a salad and there are a few ways to dress it up. My favorite is faux-eyeballs made out of olives or layered veggies. If you are using that on another dish use teeny-tiny cookie cutters and cut ghosts out of baby turnips and pumpkin-shaped carrot slices.
Faux-eyeballs are the way to a Halloween dinner planners heart. You can go the easy route and use pimento stuffed olives, but even if you put a carrot or parsnip slice behind the olive it will pop. Don't overlook fangs of red pepper pieces or tentacles that fully utilize the curve of a slice of bell pepper. Before you know it you'll be seeing the creepy in every veggie you cut!
Next up will be the main course(s) and some sides. I serve these family-style, so each person can take what they want. We've had slimy green Thai curry over black forbidden rice, mini mouse-shaped veggie loaves, pot pie covered with crust cut out in Halloween shapes.
My favorite side dishes are ones that take the least effort. A whole cauliflower can be cooked in your slow cooker with your favorite pasta sauce and served on a platter as a brain, or cook small bits for mouse brains. Obviously this is a cruelty-free meal, but that doesn't mean we can't make it a little scary – especially since it's delicious!
Dessert can be as simple as a scoop of vegan chocolate ice cream with a drizzle of cherry sauce. I've had a friend make vegan "cream" puff spiders from scratch. I like to have a hot desert drink ready in the slow cooker. It can be a vegan hot white chocolate, cocoa or a spiked coffee.
Bats and Cats Chocolate Graham Crackers Recipe
These cookies are so easy to make and your whole family will enjoy gobbling them up! They are made with whole wheat flour and sweetened with maple syrup. These are the healthiest sweets your kids will eat this Halloween! I dip mine in a sweet potato oatmeal cookie dip, but they make a great base for ice cream sandwiches too.
Bats and Cats Chocolate Graham Crackers
Makes about 2 to 3 dozen depending on the size of your cookie cutters.
Ingredients
1 1/2

cups

whole wheat flour

or use a gluten-free baking blend to make gluten-free

2

tablespoons

special dark cocoa powder

1/2

teaspoon

baking soda

1/2

teaspoon

salt

1/4

cup

maple syrup

1/4

cup

mild oil

or use vegan yogurt to make an oil-free version

1/4

cup

nondairy milk
Instructions
Preheat your oven to 350 degrees. Prepare 2 large cookie sheets by oiling or covering with parchment paper.

Mix all the dry ingredients in a medium-sized mixing bowl. Add the wet ingredients to the dry ingredients and cut in with a pastry cutter or 2 forks.

Use your hands to make a ball. If the dough is too crumbly to hold together once you ball it up, add another tablespoon of nondairy milk and try again.

Take 1/4 of the dough at a time and gently roll out the dough on a floured cutting board into a medium thickness. Note: your cookies will stay darker if you mix in some cocoa powder with the flour you use on your cutting board.

Use bat and cat cookie cutters to cut out shapes and gently place them on the prepared baking sheet.

Repeat until all the dough is used. If you use medium-sized cookie cutters you will bake about 10 minutes. The cookies will be crunchy.
Kathy Hester is the blogger behind HealthySlowCooking.com and the author of 5 traditionally published books. Since no publisher wanted to do a Halloween-specific book, Kathy has created her own – "The Ghoulish Gourmet: A Bewitching Collection of Vegan Halloween Recipes", on sale now!