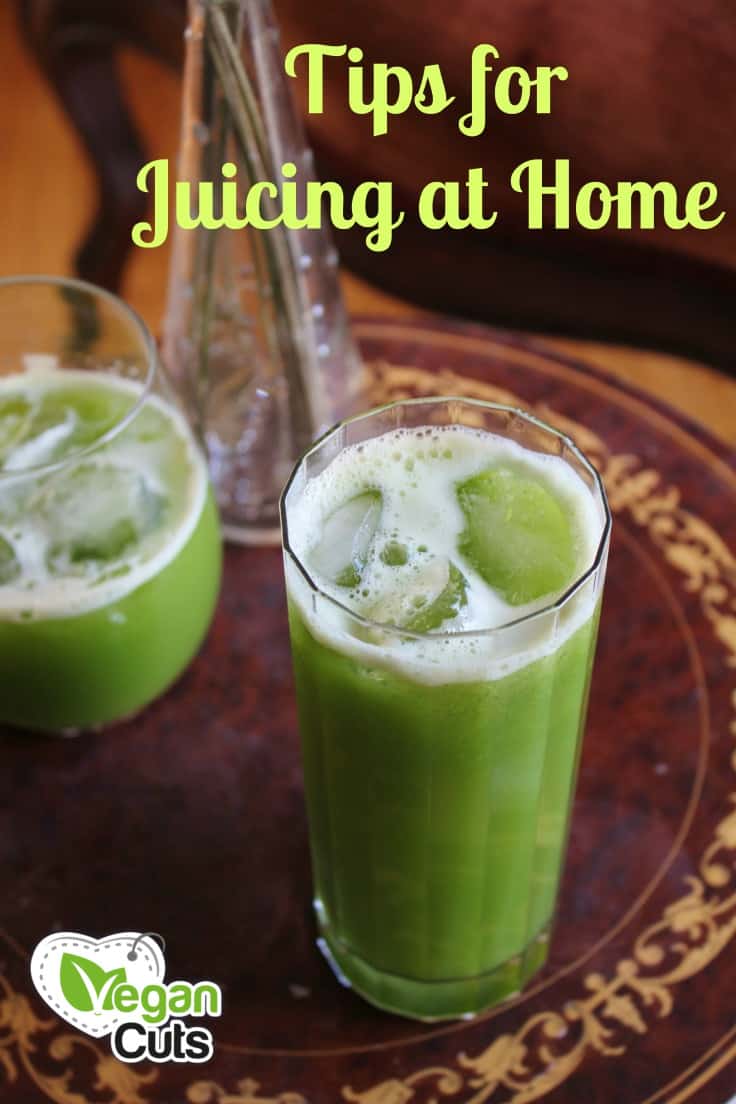 5 Tips for At-Home Juice Cleansing from Emily von Euw
Is it just us or are cleanses of all sorts even more popular than Miley Cyrus right now? The beginning of the New Year—okay, actually the over-indulging we did at the end of last year—has inspired us to revisit the ever-so-popular juice cleanse, a topic that we last covered around this time last year.
The very lovely Emily von Euw, who you may recognize from This Rawsome Vegan Life, joined us to answer a few FAQs about this oft-attempted health feat. Read on for what you need to know about at-home juice cleansing. Have other questions? Post them in the comments and Emily will weigh in because she's nice like that.
So you wanna do a juice cleanse at home, huh? Then let's get this party started!
VC: What tools do I need?
EvE: As long as you've got a good quality juicer—I recommend Omega, Champion, Green Star or Breville. I have an Omega 350 VRT and love it dearly!—and a pantry of fresh fruit and veggies, you are ready to roll.
VC: What kinds of fruits and veggies are good for juice?
EvE: Almost any. Some that won't work are avocado and bananas but that's basically it. You want lots of juicy fruit and non-sweet fruits. You also want to bulk up on dark leafy greens like kale and spinach, and herbs like cilantro and peppermint. My favourite juice ingredients are pineapple, apple, orange, lemon, garlic, ginger, carrot, beet, bell pepper, kale, spinach, cilantro, peppermint, cucumber, and celery. The combinations you can make with those are infinite. Trust me.
VC: How many trips to the grocery store should I expect to make?
EvE: Depends on the planned duration of your cleanse and how much produce you pick up during each trip. Remember that juice requires a lot of produce! One glass might have 1 cucumber, 5 carrots, 1 lemon, 2 apples, ½ pineapple, and 5 cups of kale. Don't get overwhelmed by the bounty in your cart. You're going to need to buy more than you would eat!
VC: What if I don't have time for all this juice cleanse prep work?
EvE: Juice is best consumed within 15 minutes of being made (in flavour and nutritional density), but if you have a busy schedule, you can make enough juice for the whole day in the morning and store it in the fridge in air-tight glass jars.
After each grocery trip, you should prep right away for easy, time-saving juice-making. Wash, peel and chop the produce as needed then store in glassware. This will take a bit of time but you won't have to do it more than a handful of times.
VC: Alright, how do I prep for this life-changing mission?
EvE: Prepare your body for the juice cleanse by eating mostly raw foods the day before, as well as lots of smoothies and water. Coming off a juice cleanse can be tricky because you might be craving heavy food, but stay strong and transition gently back into a healthy diet with smoothies, raw soups and fruit.
VC: What if I'm still hungry?
EvE: When you are juice cleansing, even if you're doing it for weight loss, don't restrict yourself. If you're still hungry, make more juice! Some days you might need more than others, because as you're detoxing, your body's needs will fluctuate.
Do make sure to drink plenty of water, even though fresh juice is very hydrating in itself. Although straight-up fruit juice is great, it's usually improved with the addition of greens; they work to alkalize the body and are super dense in nutrients and protein. Besides, the look of green juice is a beautiful thing. When juicing greens, roll them up in little handfuls and alternate juicing those with fruits like apples, in order to keep everything moving.
VC: Okay, okay. I'm convinced. Can you give me a go-to juice to get started?
EvE: Why, of course! Here's a delicious green juice.
Quick Green Juice
Ingredients
5

cups

kale

3

apples

1/2

pineapple

1

cucumber

1

tablespoon

fresh ginger

1

cup

mint leaves
Instructions
Wash, peel and chop as needed.

Put it all through your juicer.

Enjoy the delicious elixir!
About Emily, Our Blogger Friend
Emily von Euw is the creator of the award-winning food blog, This Rawsome Vegan Life, where she makes, photographs and shares irresistibly delicious and healthful recipes for all to enjoy. When she's not whipping up green smoothies or super food truffles in the kitchen, she can be found hugging trees, gettin' funky on the dance floor, affectionately stroking her record player, meditating in warrior pose, or thinking hard in philosophy classes at university.