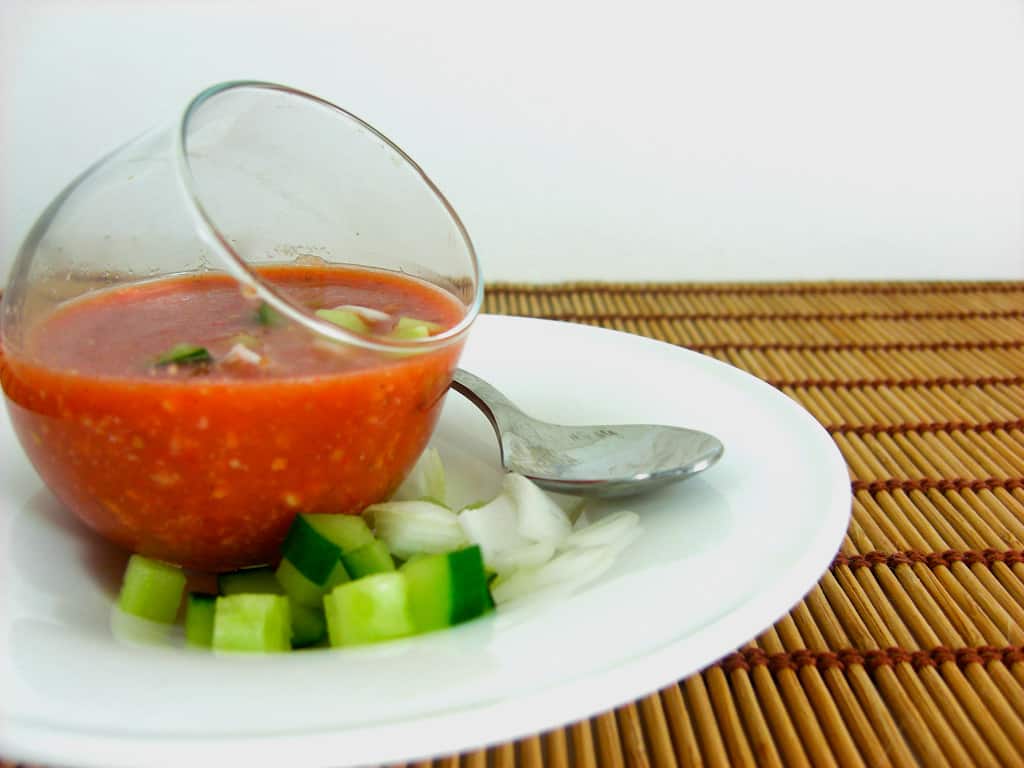 Memorial Day Recipe: Watermelon Tomato Gazpacho
Image: Cat DiStasio
Memorial Day means a lot of different things for Americans. For some, it's a solemn day of remembrance for those who have given their lives in service of our country. For others, it's an excuse for the first camping trip of the season. For others, it's a time to gather with friends and family and share food-- preferably of the grilled variety.
Regardless of your take on this holiday, one thing is for sure. You've noticed the thermostat creeping steadily upward. This means you might be feeling a little less like slaving away over a hot barbeque grill and a little more like kicking back with some simple, refreshing eats. Let someone else tend the grill!
Image:
apple_pathways
via Flickr
This recipe, for Watermelon Tomato Gazpacho, is sure to become a favorite throughout the warmer months. It requires no cooking whatsoever, and can be made in nearly any quantity you like. Although it's best eaten just a few hours after preparation, it can be kept for several days if you insist. You can even use the leftover soup to make ice cubes, and later use the soup cubes as the foundation of a frozen Bloody Mary. Sounds like summer, right?
Image: Cat DiStasio
Watermelon Tomato Gazpacho
6 cups (about 2 lbs) watermelon, cut into chunks (chilled beforehand) 5 medium tomatoes (about 1.5 lbs) 1/2 cup chopped red onion 1/2 jalapeno, seeded and chopped 2 Tbsp lime juice (fresh is best but bottled is ok) 2 cloves garlic, minced 3 Tbsp balsamic vinegar 1 tsp ground cumin 1/2 cup diced cucumber (1/2 of one medium cucumber) for garnish 1/2 cup diced onion (1/2 of one medium onion) for garnish
In the large bowl of a food processor, puree about half of the watermelon and transfer to a large bowl and set aside.
Add the remaining watermelon and other ingredients (except for cucumber and onion) to the food processor and puree.
Stir with the reserved watermelon puree and serve cold, topped with diced cucumber and onion.
Serving tip: If you're serving up this gazpacho as a starter course in a meal, you may opt for a larger bowl portion. However, if this is an addition to a Memorial Day BBQ menu, consider a fun smaller portion, served in shot glasses or small cups instead.
Image: Cat DiStasio
Are you hosting or attending a Memorial Day celebration this year? What's your favorite traditional dish for the holiday?