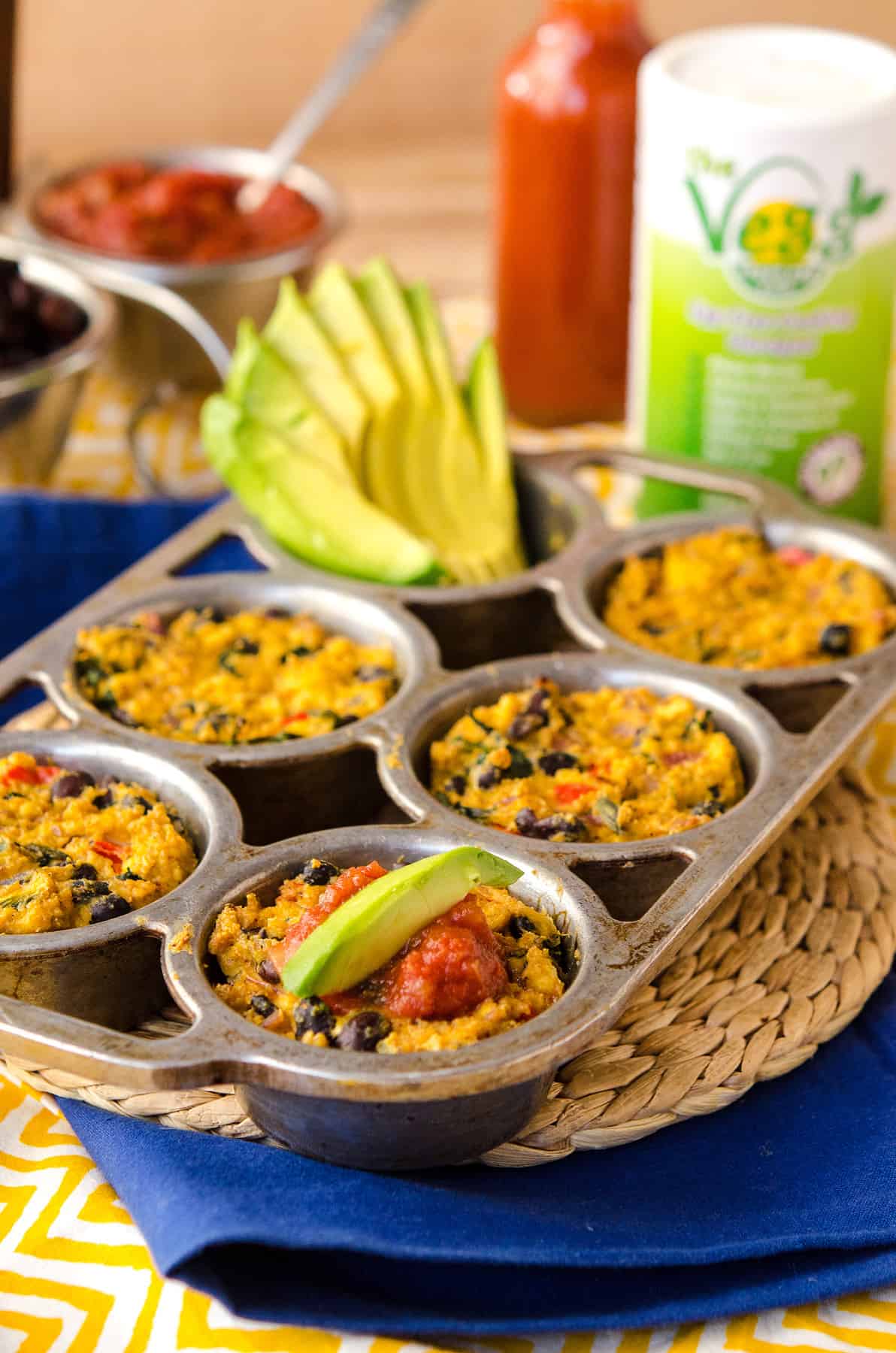 Mexican Frittata Bites Recipe with The Vegg
As someone whose last experience with The Vegg vegan egg yolk was about a year ago, I'd have to say that I was really excited to work with it again. This time, I had breakfast on my mind, which seems to be a recurring theme in my recipes lately. I needed to create something that was easy to make, but had flare and tons of flavor. The Vegg is currently on sale at Vegancuts if you'd like to pick some up and give it a try.
My go-to breakfast, for days when I wake up really hungry, is a tofu scramble. Yeah, sure, you've had your fair share of lackluster scrambles given to you as a half-assed vegan option – well, at least I have. But, this one transforms from a bland, mushy tofu scramble into spiced, veggie-ful, Mexican Frittata Bites!
I mean, if the aroma is getting to you and you really can't wait for these to bake, you can leave this as a scramble. But, aren't mini-foods the cutest and best-tasting? Maybe that's a mind thing.
Vegg Mexican Frittata Bites
Filled with beans, peppers and onions, these tasty Mexican frittata bites make a great dish to serve for brunch!
Ingredients
1- 14

oz.

Block of Firm Tofu

1/2

C.

Water

2

tsp.

The Vegg

2

T.

Nutritional Yeast

1/2

tsp.

Sea Salt

1

tsp.

Coconut Oil

1/4

C.

Red Onion

Diced

1/4

C.

Red Bell Pepper

Diced

2

T.

Green Onions

Diced

1

tsp.

Fresh Jalapeño

Diced

1

T.

Salsa

1/2

tsp.

Ground Cumin

1/4

tsp.

Chili Powder

1/2

C.

Cooked Black Beans

1/2

C.

Spinach

Chopped

Black Pepper and Salt to Taste
Instructions
Drain the liquid from your tofu and press it for 15-20 minutes.

Place the vegg powder and water into a blender and puree for 15-20 seconds, or until there are no powder chunks.

When you are done pressing the tofu, break it up into chunks and place it in the blender, along with the nutritional yeast and salt.

Pulse the blender a few times until the mixture is half smooth/half chunky and set aside.

In a medium-sized pan, heat the coconut oil over medium heat. Once the pan is hot enough to boil a drop of water in seconds, add the red onion, red bell pepper, green onion, and jalapeño.

Saute until the red onions begin to turn clear, then adjust the heat to low-medium and add the black beans, spinach to the pan.

Preheat your oven to 350ºF and get a cupcake baking sheet out.

Stir the saute pan contents together until the spinach is wilted, then fold the tofu mixture into it; making sure that everything is evenly distributed.

Oil the cupcake pan, then spoon the frittata mixture into six spaces.

Bake for 30 minutes, or until the tops are golden brown.

When they are done baking, set them on a cooling rack for 10-15 minutes. Using a butter knife, cut carefully in between the bites and the pan to separate them. Do this one at a time and turn the pan upside to get them out.

Serve warm, topped with extra salsa and avocado!
About our Blogger Friend, Jackie
Jackie Sobon is the chef and photographer behind the blog Vegan Yack Attack, cooking food and taking beautiful pictures of it is her passion and "Camera Eats First" is her motto. She has worked for Vegan Cuts for 3 years, photographed cookbooks for Happy Herbivore and Cupcakes & Kale, and for her own eBook, The Great Vegan Pumpkin. She has been featured on VegNews.com, KTLA, as well as many top vegan blog lists and Chickpea Magazine.