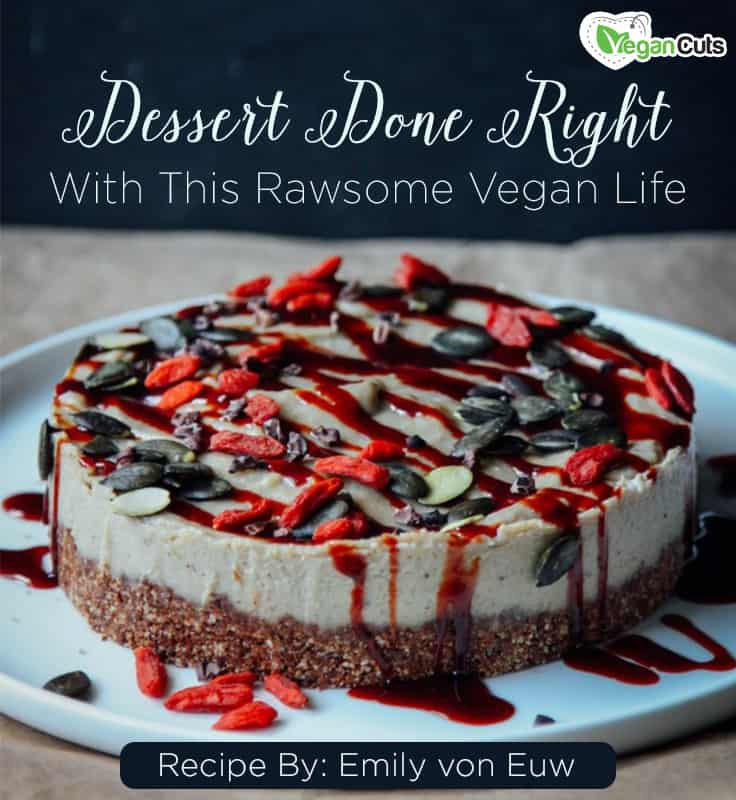 Raw Coffee Cream Cake Recipe by This Rawsome Vegan Life
This is a re-up of a recipe I did aaaaaages ago and that is also featured in my raw vegan desserts cookbook, Rawsome Vegan Baking. It's damn fine. Basically it's like vanilla "cheese" cake but with coffee and chocolate infused. Yup, I know. Obviously I added goji berries and pumpkin seeds on top because A) colour and B) yum.
The star of this recipe is the date syrup, though. It's in the chocolate crust, the coffee cream and on top. Yes, you can make your own date syrup very easily: blend up some dates with water, vanilla and a tiny bit of salt until you get a heavenly, sweet caramel-type substance… not a bad idea. But recently Vegan Cuts sent me a few bottles of date syrup from The Date Lady and my life will never be the same again. It's like liquid toffee or something. But the thing is: the only ingredient is ORGANIC DATES. They don't add anything else! Having said that, they sell other versions like a chocolate spread and a caramel date sauce which are BOTH INSANELY GOOD. But the original kind is my fave and it makes everything better. Smoothies, desserts, savoury and sweet sauces, heck, it'd probably be good for your skin if you rubbed it all over yourself in a moment of extreme adoration for the stuff. Likely to happen.
COFFEE CREAM CAKE with CHOCO CRUST + DATE SYRUP
Coffee Cream Cake with Choco Crust + Date Syrup
Ingredients
CHOCO CRUST:

1 1/2

cups

buckwheat flour

1/4

cup

date syrup

2

tablespoons

coconut butter

COFFEE CREAM:

2

cups

raw cashews

soaked for 3 hours in water then rinsed

1/4

teaspoon

vanilla bean

3

tablespoons

melted coconut oil

1/4

cup

date syrup

1/8

teaspoon

salt

1/2

cup

very strong

brewed organic coffee

TOPPINGS:

Pumpkin seeds

Goji berries

Date syrup!
Instructions
TO MAKE THE CRUST:

Stir up the flour with the syrup and coco butter until it resembles a crumbly dough that holds its shape when pressed together between a couple fingers. If it's too crumbly, add more date syrup. If it's too moist, add more flour. Press into the bottom of a springform pan or adjustable pan (mine was about 7 or 8 inches). Put in the fridge.

TO MAKE THE MOCHA CREAM:

Blend all the ingredients together until smooth and delicious. Add some more liquid if it's too thick, or some dates or coconut oil if it's too thin. You want it to have the consistency of thick yogurt. Spread evenly onto your crust and leave in the fridge for 24 hours so the flavours can develop and the cake can set.

Decorate with the toppings and enjoy!
Did you like this post? Then *subscribe to my blog* and get all my posts by email!
About Our Blogger Friend, Emily
My name's Emily von Euw. I'm vegan because I love my body, the planet, and other beings. When I eat food I want it to nourish my body and soul, work in harmony with the earth, and allow other earthlings their right for freedom and justice.
I am a best-selling cookbook author (Rawsome Vegan Baking, 100 Best Juices, Smoothie and Healthy Snacks,The Rawsome Vegan Cookbook) and award-winning food blogger. Find me at thisrawsomeveganlife.com.