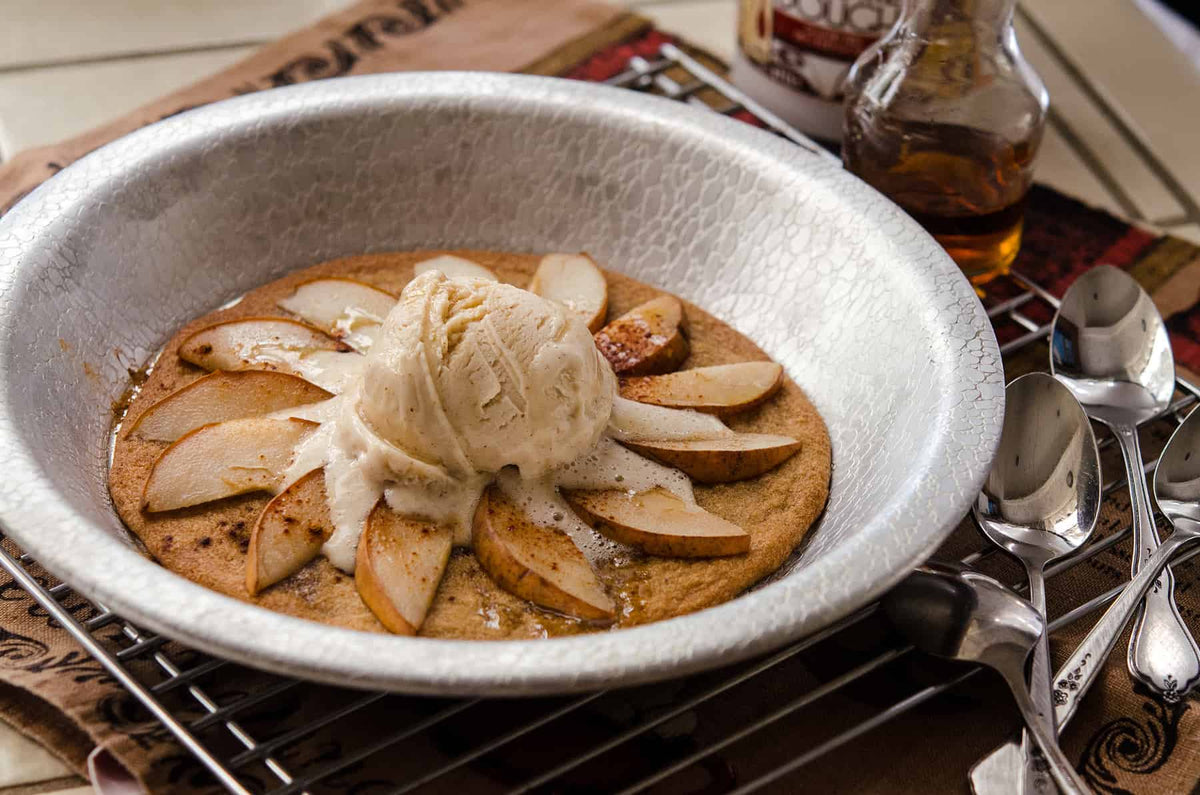 Snickerdoodle Pear Pazookie Recipe
Recipe and photos by Jackie Sobon
Folks, I'm going to be honest with you. When I first learned about this dessert recipe that Jackie Sobon wrote for the Vegan Cuts Fall Harvest eBook, I thought she was making up words. I mean, "pazookie"? Come on. Well, it turns out it's a thing. It's the intersection of pizza and cookie. Still sounds make up, right? Doesn't matter. Read on. You're going to want some, even if you're still confused about what it is!
For this recipe, Jackie smartly relies on
EatPastry
vegan cookie dough in the holiday favorite flavor of Snickerdoodle. The cinnamon and sugary vibe inspired her to pair it with, well, pear. Add a little non-dairy ice cream and a kiss of maple syrup, and the result is a deceptively simple seasonal dessert destined to impress. Serve up a Pazookie at your next holiday dinner, and then come back and tell me if we haven't made a believer out of you.
Snickerdoodle Pear Pazookie
Author:
Prep time:
Cook time:
Total time:
Ingredients
2/3 C. EatPastry Gluten-Free Snickerdoodle Cookie Dough
1 Small Pear, Sliced thinly lengthwise
Cinnamon for Sprinkling
1-2 Scoops Vegan Vanilla Ice Cream
Optional: Maple Syrup or Agave for Drizzling
Instructions
Preheat oven to 350°F. Spread the cookie dough out into a 9" pie pan. It does not need to cover the whole bottom surface, as it will spread when baked.
Bake for 5 minutes, take out of the oven and arrange the pear slices on top of the cookie in a circular fashion. Sprinkle with cinnamon.
Bake for an additional 8-10 minutes, or until the edges of the cookie start to brown.
Top with a hefty scoop of vanilla ice cream and a light drizzle of maple syrup. Serve.