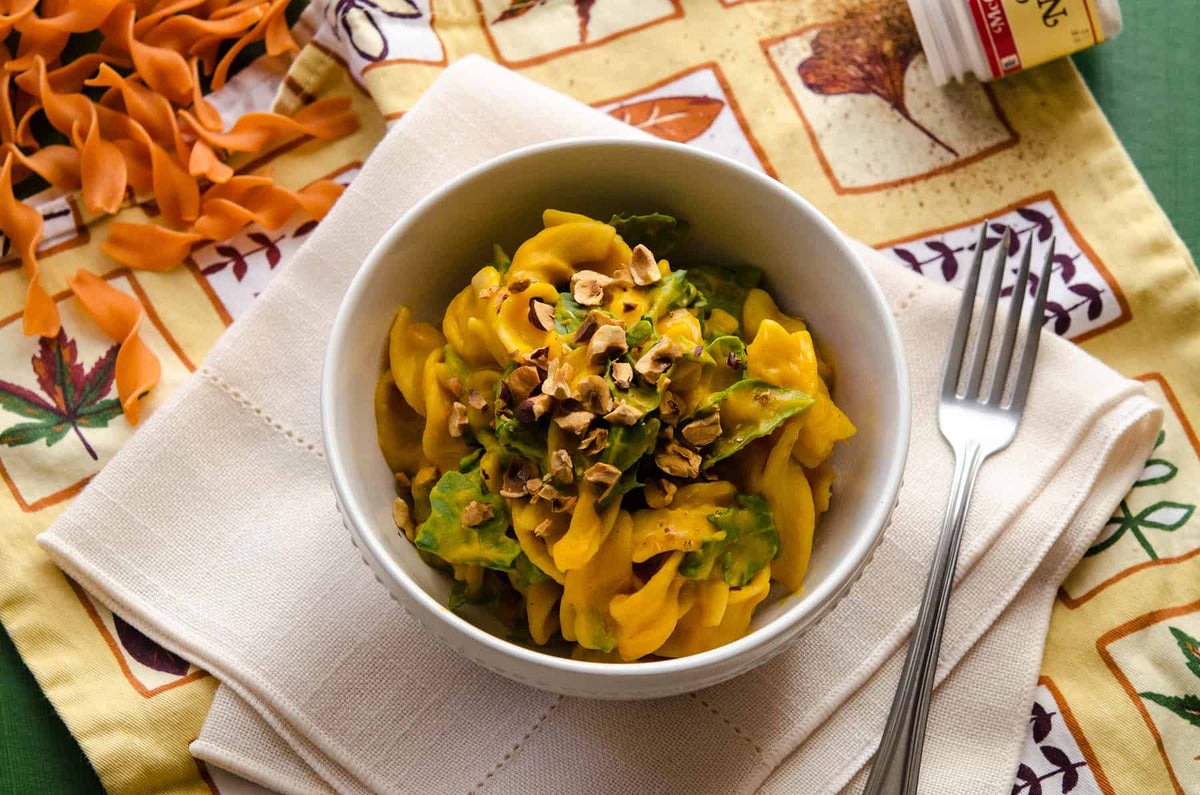 TOLERANT Pasta Review + Recipe
I've had my fair share of experiences with various types of pasta, mostly because I love making vegan mac 'n' cheese. Sometimes I'm cooking for a gluten-free friend, and have to find a good substitute for the semolina/durum wheat pasta that I usually have on hand. Quinoa pasta, brown rice pasta, you name it, I've probably tried it out. Then, a few weeks ago, I heard about TOLERANT Foods. The company is centered on providing healthy, allergy-friendly pasta that can not only replace gluten-y noodles, but also make it a healthier alternative.
For example, the Black Bean Penne boasts 22g of protein per serving! Plus, the ingredients are simple; each noodle is only made up of the designated legume.
I got to try out two varieties of their noodles, the TOLERANT Foods Red Lentil Fettuccine and the Black Bean Rotini. With the red lentil pasta, I created the delicious Creamy Butternut Pasta featured in Vegan Cuts Fall Harvest eBook. The noodles cook up in no time at all and don't soak up too much of the sauce, which is a problem I've experienced with other gluten-free pastas.
When trying out the Black Bean Rotini, my first impression was. "Awesome! Black noodles!" How often do you see vegan black pasta? They took a little longer than the red lentil pasta to become soft, but looked awesome with my vegan mozzarella/cheddar sauce. I added in some soy ch0rizo and greens, essentially making a Mexican bowl where the beans take another shape. Pretty cool!
The Penne looks very promising, and I can't wait to make a creamy alfredo dish with it, or even an aromatic marinara meal. Mmm… If you are looking for an organic, gluten-free, soy-free, nut-free, etc. pasta, I highly recommend giving TOLERANT Foods noodles a try. Cool, naturally-colored pasta that you can serve to anyone!
Creamy Butternut Pasta
Roasted hazelnuts are great with the creamy squash sauce in this recipe. Throw in some peppery arugula and you have a dish bordering on a fine-dining experience.
Ingredients
1

lb.

Butternut Squash

Peeled & Cubed

1

C.

Unsweetened Non-Dairy Milk

1

T.

Tamari

1 ½

tsp.

Garlic Powder

1

tsp.

Onion Powder

¼

tsp.

White Pepper

Dash of Ground Nutmeg

8

oz.

TOLERANT Foods Red Lentil Fettuccine

1

C.

Firmly Packed Arugula

Chopped into small pieces if the leaves are larger

¼

C.

Roasted Hazelnuts

Chopped
Instructions
Preheat your oven to 400°F. Get out a baking sheet and line it with parchment paper or a silicone mat.

Spread the cubed butternut squash over the baking sheet and roast for 25-30 minutes, or until the squash is fork tender.

Once the squash is done, place it in a blender with the non-dairy milk, tamari, garlic powder, onion powder, white pepper, and nutmeg. Blend until very smooth.

Next, fill a large pot with water to boil the pasta. Follow the instructions on the package to cook the noodles.

Once the noodles are cooked, drain the hot water and rinse them with cold water. Drain again.

Place the pot back on the stove over low-medium heat. Pour the butternut squash sauce over the noodles and stir until evenly combined.

Fold the arugula into the pasta and cook until wilted. Taste and add salt and pepper if you feel the need.

When the pasta is hot, divvy it up between four bowls and garnish with the chopped roasted hazelnuts. Serve warm.