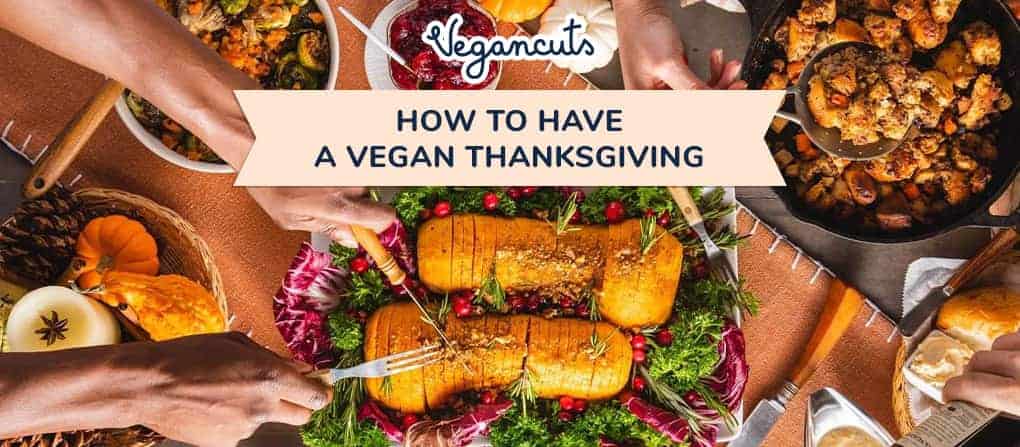 Vegan Thanksgiving Recipe Ideas: A Traditionalist's Guide
You know how the saying goes: don't mess with a good thing. And traditional Thanksgiving dinner is heavy on the good, right? For better or worse, it's family time, even if not everyone makes it to the table this year. It's the "remember last year" conversations, the smiles, and even the stress of getting it all so perfect. When it comes to the meal itself, it's heavy on the plant-based options to begin with: sweet potatoes, green beans, squash, cranberries, corn, and pumpkin, to name a few staples. These foods are true autumn — stars of the harvest season that shine on their own. A vegan Thanksgiving feast doesn't need much of a pivot. Just a few minor tweaks will do to keep this festive meal as classic as ever.
Thanksgiving Turkey
Like all good traditions, even subtle changes can be difficult. Taking turkey off the table entirely may not be possible. But you can include healthier, more ethical options that will delight and surprise your guests.
It's a bit remarkable that the turkey, which could have been the national bird instead of the eagle (if Benjamin Franklin had his way), has become synonymous with this holiday. Some 46 million turkeys will sit atop tables this year. But did you know they weren't served at the first Thanksgiving in 1621?
Turkeys didn't become the preferred protein until President Lincoln declared the holiday more than two-hundred years later. Turkeys were often hunted in the autumn, making them a logical choice; but there's another reason they were center feast: their size. Large enough to feed large crowds, turkeys became the holiday main and little has changed since.
Except nowadays people are looking to diversify their protein choices. Just like consumers are mixing up their milk, they're seeking new protein options, especially those from plants.
Stores are offering up all kinds of vegan roasts and feasts. There's the iconic Tofurky roast to meaty vegan wellingtons, nut roasts and so much more. But making your own is entirely doable, too.
Check out this easy vegan holiday roast from Sweet Simple Vegan. It's a meaty seitan roast stuffed with mushrooms and squash and you'll love rolling it yourself.
This meaty roast from the Post Punk Kitchen is stuffed with leeks and shiitake mushrooms.
Gaz Oakley's Avant-Garde Christmas wellington will do just nicely for Thanksgiving, too.
"Being vegan doesn't mean compromising on flavour, as this recipe proves," Jamie Oliver says of his vegan nut roast. It's gluten-free and sure to be a show-stopper.
This vegan turkey from Nora Cooks is based in chickpeas. It's so meaty you won't believe it's not turkey!
But not all Thanksgiving mains have to be traditional. You could whip up this Sacha Inchi crusted tofu, or even go full veg with these stuffed zucchini boats.
And what about those sides?
Plant-based dishes dot the traditional Thanksgiving table, and they can easily be upgraded, too.
Swap out dairy butter and milk in your mash with vegan oat butter, avocado oil, or even a little nondairy yogurt. You can swap out any milk, just make sure it's not vanilla or overly sweetened. (Unless that's how you like your mashed potatoes!)
You can do the same for sweet potatoes. Pro tip: coconut oil instead of dairy-free butter brings a lovely depth to sweet potatoes. This recipe from Jessica Hylton serves the sweet potatoes with a pecan crumble on top that'll make you think you went straight to dessert!
Green bean casserole can be done without condensed mushroom soup, and this recipe is proof positive.
The Minimalist Baker proves cornbread can get a plant-based upgrade, too, with help from apples and flax eggs.
And don't forget that gravy. Who says you need turkey bastings for the perfect gravy when there are mushrooms that do it better? This recipe from the New York Times' Melissa Clark can be made ahead of Thanksgiving, saving a bit of time, not flavor. Whole Foods uses red wine in this recipe for a depth and richness you'll love.
Vegan Thanksgiving Desserts
Looking for a perfect way to finish your meal? Pumpkin pie is the traditional dessert, of course. You can make your own crust, like this recipe does, or simplify with a pre-made option.
But pumpkin pie isn't the only option. You could go a slightly healthier but still insanely delicious crisp route with apples and oats.
Or keep with the pumpkin tradition in a creamy, dreamy, dairy-free cheesecake, like this drool-worthy recipe.
You could surprise everyone with this decadently rich vegan flourless chocolate cake recipe. It's perfect for the gluten-free guests. Besides, who doesn't love chocolate?
Whatever you serve up this Thanksgiving, do it with love and gratitude. They're the most important ingredients, after all.