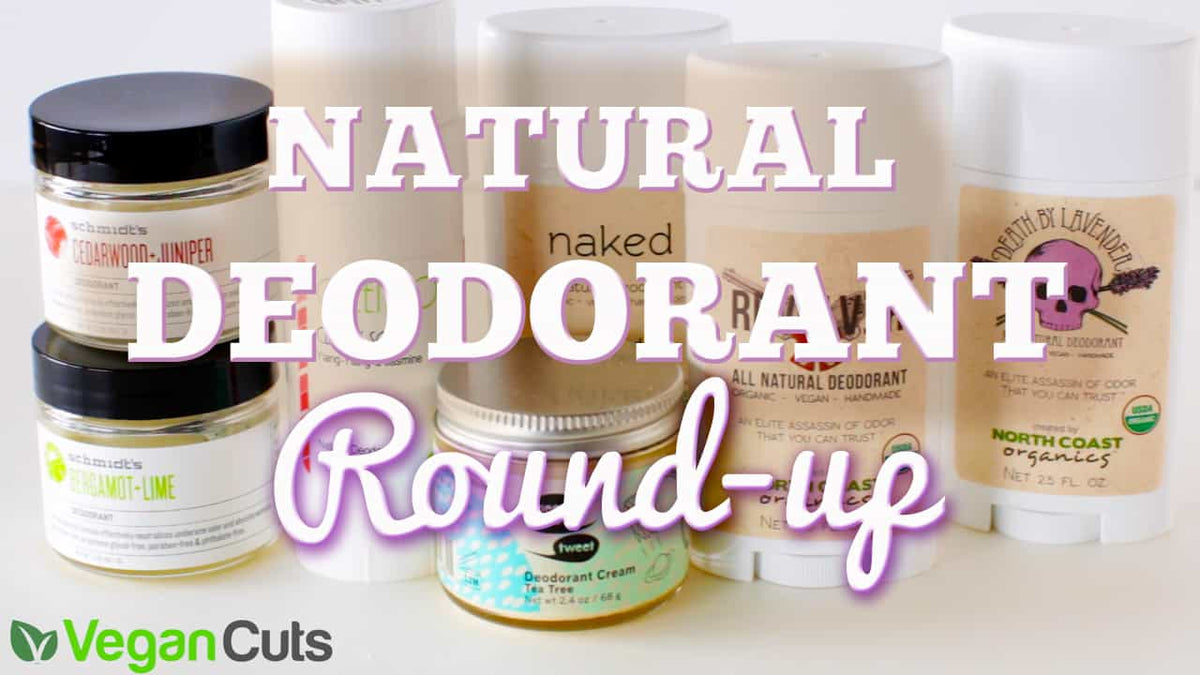 Vegan Deodorant Options (That Actually Work!)
When you go vegan, you suddenly find yourself spending a lot of time reading the ingredient labels of all the products in your house. Unfortunately, your next step is often a sad one. You must go on a quest for a vegan replacement for a product you've come to trust.
Deodorant is one of the most challenging personal care products a vegan shopper must seek out. Sure, there are lots of vegan deodorants on the market, but if you've tried a few, you know that their efficacy can be hit or miss. No fear. This is a list of tried-and-true vegan deodorants that actually work to banish the stink and keep you smelling and feeling fresh and cruelty-free all day long.
Vegan Deodorant Video
Meow Meow Tweet Vegan Deodorant Cream
Meow Meow Tweet deodorant cream is, as you would expect, a cream formula that comes in a small glass jar. It has a short list of ingredients that you can actually pronounce. This deodorant cream is available in two scent options–lavender and tea tree oil–which makes both formulas suitable for anyone. $12 at Vegancuts.
Schmidt's Deodorant
Schmidt's Deodorant is made from a signature blend of 100% natural ingredients. Their formula effectively neutralizes underarm odor and absorbs wetness without the use of aluminum or other harmful chemicals. It's is available in a range of natural scent combinations including Bergamot + Lime, Cedarwood + Juniper, Lavender + Sage, Ylang-Ylang + Calendula, or Fragrance Free. Each jar comes with a little spatula to help with the application. $10 at Vegancuts.
North Coast Organics All Natural Deodorant
North Coast Organics deodorant is USDA Certified Organic, aluminum-free and packaged in recyclable, reusable containers. It's available in three scents: Death By Lavender is a deodorant for women that goes on dry and smells like fresh lavender with a hint of coconut. Revolver is made especially for men who want to tackle some serious stink. Naked is formulated for sensitive skin and is a gentle, unscented deodorant made with just four simple ingredients. $8 at Vegancuts.
GREENBODY Deodorant
GREENBODY is an environmentally-friendly company that handcrafts a line of sustainable, effective deodorants from pure, non-toxic ingredients. Through personal experience, owner Kristin Jones discovered that her body had been fighting against the chemicals in commercial deodorants. Research, study, and experimentation led to the development of her deodorant line, which includes formulas made with botanical extracts, essential oils, and natural odor-absorbing ingredients that are both good for your body and good for the planet. $10-$12 at Vegancuts.
Strawberry Hedgehog Natural Deodorant
Through careful formulation and ingredient selection, Strawberry Hedgehog has worked out a recipe for vegan deodorant that lasts up to 24 hours. Available in 3 subtle, natural scents, this deodorant comes in a small jar and can be applied with a tiny wooden spatula (included), a cotton swab, or simply your fingertips. $12 at StrawberryHedgehog.com
LaVanila, The Healthy Deodorant
It would be downright unfair to make a list of vegan deodorants without including this one. Since it comes in a variety of vanilla-infused scents, everyone can find something they like. Although this is one of the most expensive vegan deodorant options on the market, it works as well as traditional brands and smells a heck of a lot better, so it's worth the investment. $18 for 2 oz or $10 for 0.90 oz at Lavanila.com and in Sephora stores.
Puur Body Tonic Vegan Deodorant
If you're looking for a more unique scent, Puur Body Tonic is where you should head. Although not all of their deodorant products are vegan (some contain beeswax), they offer a wide variety of vegan scents including Southern Belle, Nag Champa, Lumberjack, and Gear Head. Even better, Puur offers sample sizes of their deodorants so you can try a few before you commit to a full-size product. $7 for full-size and $2 for samples at etsy.com
Wow, that's a a lot of options! Which vegan deodorant is your favorite or which one of the above would you like to try?