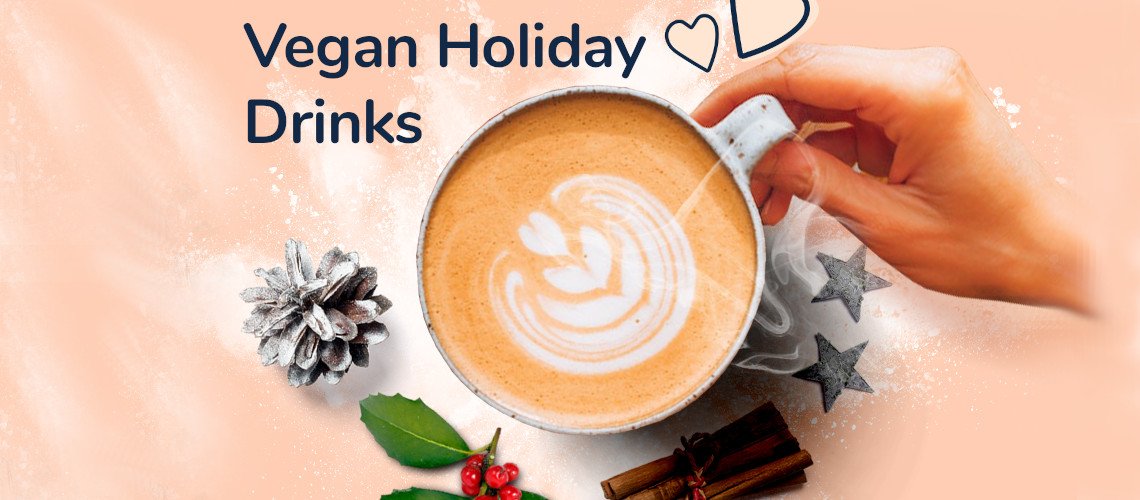 The Vegan Guide to Dairy-Free Eggnog and Winter Holiday Drinks
'Tis the season for mirth and merriment, goodwill and… occasional hibernation, too. It's the time of year when people come together to celebrate the holidays, or just curl up alone by the fire with a blanket, a book, and a hot mug of "wow, this is delicious". For any celebratory occasion this winter, be it in a group or in glorious self-indulgence, there are some incredible winter holiday drinks that are sure to please any palate. Even vegan eggnog.
Hailed the world over as one of the most delicious comfort drinks out there, hot cocoa (aka "hot chocolate") is a favourite for young and old, and the vegan versions you can create are jaw-droppingly delicious.

Hot Chocolate
A fan favorite is Mexican-style hot chocolate made with dairy-free whipped cream and lots of spice. Try it with oat milk for an extra creamy treat. If your culinary prowess leans more toward the instant variety, then you're in a whole lot of luck: Ghirardelli hot chocolate mixes are, in fact, vegan.
A growing number of brands are offering fun hot chocolate flavors. But making your own is easy, too. This one from Nora Cooks can be made in just five minutes.
Chai
If chocolate really isn't your thing, or you prefer more tea-like beverages, maybe a lovely chai would be more to your liking? There are lots of pre-made options out there but making it yourself allows you to control the sugar content and spice levels (go extra on the ginger, trust). Check out this recipe and tweak away to your liking.
There are variations on chai, too. Like this fun matcha chai. Get an antioxidant boost and all the sweet and spice you crave in one simple, delicious treat.

Egg Nog
If your tastes lean more towards the "nog" end of things, there are several dairy-free alternatives available in stores. Silk offers "the original" Soy Nog that is great either warm or cold, and has a luscious creaminess to it. But as the dairy-free industry grows leaps and bounds, so too do the nog options. Check out Califia's Almond Nog and keep an eye out at Trader Joe's for its Almond Nog. It's sure to be in stores any day now.
But nothing beats homemade, right? Get your holiday groove on with deliciously egg-free nog recipes. The options abound: This one uses creamy cashew milk and dates. Coconut cream is the base here, and it strongly encourages the addition of bourbon, which we won't argue with. And, of course, anything eggs can do, oats can do better. This vegan oat nog is proof.
Hot Toddy
Baby, it's cold outside. At least, it is somewhere. Pull together a warming hot toddy with rich maple syrup, and yes, more bourbon. This simple recipe is full of flavor and hugs in a mug. Whip this one up for the cinnamon lover in your life. It's brimming with spice and everything nice!
Pumpkin Spice Latte
Would it even be winter without a PSL? Not for most of us. But you don't need to wait in the labyrinthian Starbucks lines for your fix. Whip it up vegan style in a few minutes. The Vegan8 says its version is even better than the real thing. And this recipe uses real pumpkin puree — no simple syrups here.
does the hard work for you every month by bringing you 10+ of the most unique and delicious Vegan foods through the Vegancuts Snack Box. Learn more about the Snack Box here.