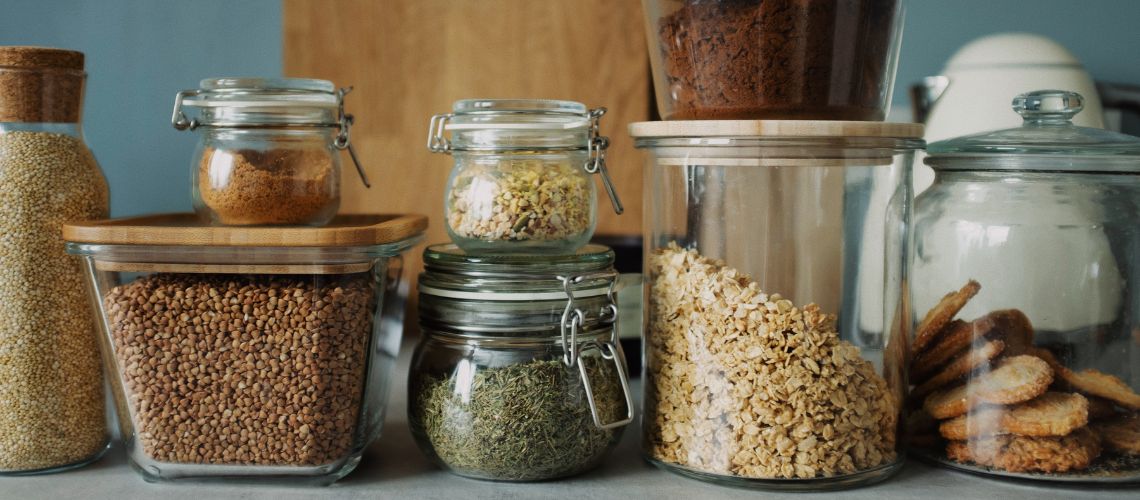 70+ Essential Vegan Staple Foods For Your Pantry
What are the vegan pantry staples you need to create delicious and nutritious plant-based meals?
In this article, you will find a vast list of ALL pantry staples you need on a vegan diet.
Let's jump right in.
70+ Essential Vegan Pantry Staples
1. Legumes
Legumes are an excellent pantry staple because of a couple of reasons.
They are high in protein, extremely versatile, and tasty.
You can consume them for any meal of the day and eat them both warm or cold.
There are so many delicious dishes with beans, lentils, or chickpeas; you can even create brownies and desserts with them!
Best of all, you have an enormous amount of different types of legumes to choose from:
Beans: Kidney bean, pinto bean, black bean, butter beans, mung beans, azuki bean, etc.
Peas: Yellow split peas, green peas, etc.
Lentils: Green lentils, red lentils, black lentils, etc.
Other legumes: Soybeans, chickpeas, fava beans, etc.
Benefits Of Legumes:
They contain antioxidants that help prevent cell damage and fight disease and aging.
The fiber and other nutrients benefit the digestive system and may help avoid digestive cancers.
Something else
2. Whole Grains
Whole grains are another group of healthy vegan pantry staples.
Unlike refined grains, whole grains contain the entire grain, including the bran and germ, which are a rich source of fiber.
Most refined grains are highly processed foods that have been stripped of their original nutrient content and fiber.
Fiber is essential for our health because it can help improve blood cholesterol levels and lower your risk of heart disease, stroke, and obesity.
Whole grains are also packed with nutrients, including protein, fiber, B vitamins, antioxidants, and trace minerals (iron, zinc, copper, and magnesium).
Some tremendous vegan pantry staples of whole grains include:
Whole grain pasta
Barley
Buckwheat
Corn
Bulgur
Oats
Millet
Amarant
Quinoa
Brown Rice
Rye / Spelt Bread
Wild Rice
Flour alternatives - coconut, chickpea, corn, rice, quinoa, buckwheat, oat, etc.
Benefits Of Whole Grains:
3. Nuts & Seeds
Nuts and seeds are versatile, super healthy, and good sources of protein, healthy fats, fibers, vitamins, and minerals. 
You can use them in so many different ways and add them to:
Your morning oats for some crunch
A smoothie for additional protein
Add them to steamed veggies or stir-fry
A salad for extra crunch and protein
Create delicious nutty desserts
Create delicious dressings
Here's a list of nuts & seeds for your pantry:
Almonds
Cashews
Walnuts
Hazelnuts
Pistachios
Macadamia
Peanuts
If you are looking for nut-free options, consider the following seeds:
Hemp seeds
Sunflower seeds
Pumpkin seeds
Sesame seeds
Chia seeds
Flax seeds
Poppy seeds
Benefits Of Nuts & Seeds:
Everyday consumption of nuts and seeds can lower the risk of - high blood pressure, high cholesterol, abdominal fat, cancer, heart disease, and lung disease.
4. Essential Pantry Snacks
The following snack ideas are great choices for stocking up your vegan pantry, and always having a healthy, vegan snack on hand:
5. Vegan Protein Alternatives
Vegan pantry protein staples are a healthy option that is much higher in fiber and doesn't contain saturated fat and cholesterol.
Some fantastic pantry staples for vegan protein include:
Tofu or tempeh - Both are made of soybeans, a whole protein source. This means they provide your body with all the essential amino acids it needs. The protein varies - usually between 13-20g per 3.5 ounces (100g). Both can be used in soups, stews, curries, chili, burgers, etc.
Soy chunks - Soy chunks are made of dehydrated soy flour. They are a superb vegan protein alternative since they have the same protein content as meat and a very similar chewy texture.
Seitan - Seitan is one of the richest sources of plant-based protein. It is also called wheat meat or wheat gluten, containing about 25 grams of protein per 3.5 ounces (100 grams).
Plant-based protein powder - Plant-based proteins are generally low in calories and fat and higher in fiber, antioxidants, vitamins, nutrients, and omega-3 fatty acids.
Benefits Of Vegan Protein:
Complete sources of protein
Increased intake of fiber
Improves digestion
It helps to maintain a healthy weight
Lower risk of cardiovascular disease and some types of cancers
Free of saturated fat and cholesterol
Free of added hormones & antibiotics
6. Spices and Herbs
Spices are another must-have staple for a couple of reasons.
They posse antioxidant, anti-inflammatory, antitumorigenic, anticarcinogenic, and glucose- and cholesterol-lowering properties.
Moreover, spices have a long shelf life and are an affordable option than buying bundles of fresh herbs every week.
There can be hundreds of different spices and spice blends available, but the following ones are essential and will help you to make even simple dishes to taste amazing:
Sea Salt
Black Pepper
Red Pepper Flakes
Paprika
Parsley
Oregano
Thyme
Rosemary
Basil
Sage
Cumin
Garlic Powder
Onion Powder
Ground Cinnamon
Nutmeg
Ground Cloves
Ginger Powder
Benefits Of Spices:
8. Other Vegan Staples
When going vegan, you might find new unique ingredients and products you never heard of before, such as nutritional yeast, coconut sugar, seitan, cashew cheese, etc. 
For further reading on how to overhaul your pantry, check out this Pantry Essentials Guide for more tips.
The following ingredients may not be something you use if you are new to veganism, but you will quickly realize that some of them will become your pantry staples:
Nutritional Yeast - It has a cheesy flavor and can also be sprinkled on many different dishes.
Plant-Based Milk - Non-dairy milk for all-purpose use in cooking, baking, smoothies, and coffee & tea. You can pick whichever you enjoy the most.
Cacao Powder - Ideal to have on hand for homemade hot chocolate, cakes, and desserts.
Coconut or Soy Cream - A vegan alternative to sour cream for various dishes.
Veggie Broth - Anytime a recipe calls for water, you can use veggie broth, enhancing the whole meal's flavor.
Tomato Cans - Whole, diced, crushed tomatoes in your pantry are another essential thing to quickly create healthy, delicious meals.
Dates & Dried Fruit - They can be a healthy sweet snack, or you can use them as toppings in sweet or savory food to make recipes like bliss balls, homemade granola, etc.
Coconut Sugar, Agave, or Maple Syrup - Ideal sweeteners to add to your coffee, pour-over vegan pancakes or oatmeal, or make various desserts.
Nut Butter - If you aren't a huge fan of nuts or have a more challenging time incorporating them into your diet, you can enjoy nut butter a bit more.
Summary
There you have it, friends - more than 70 vegan pantry staples you can stock up on and always have various ingredients to create delicious, hearty, and healthy meals.
Did I miss some vegan pantry staples you always have on hand? Tell us in the comments below!
If you want to explore new vegan pantry staples, consider trying a Discovery Snack Box by Vegancuts!
Vegancuts curates monthly premium-quality Discovery Snack Boxes – include carefully selected products and brands that are always 100% vegan.
From vegan mac and cheese and delicious vegan chocolate to avocado chips, hummus crackers, and superfood smoothies.