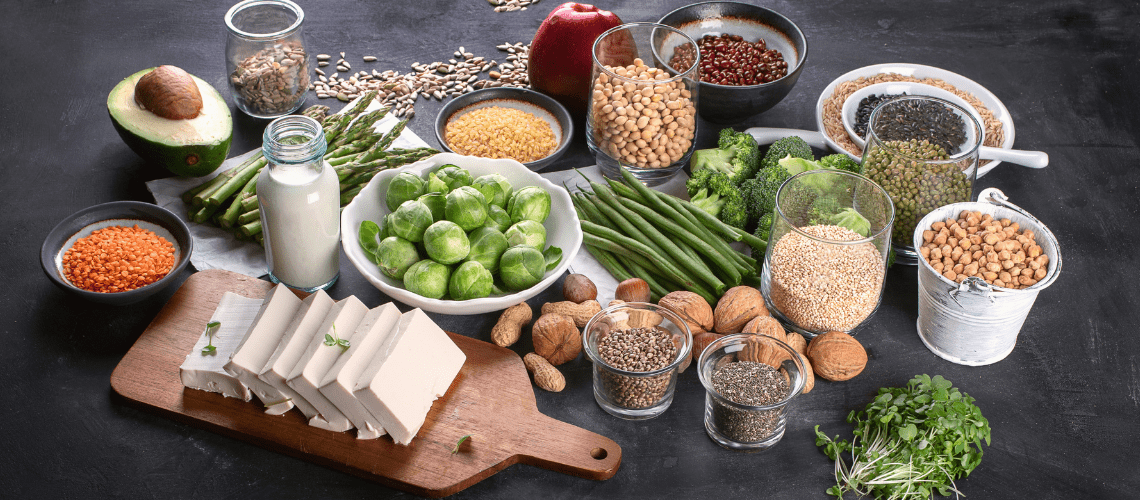 Best Vegan Protein Sources: How To Get Protein On A Vegan Diet
Protein is an essential nutrient to living a healthy and productive lifestyle. It helps build muscle, maintain strength, recover from injury, and boost your metabolism, to name just a few of its benefits. 
This is why ensuring you're incorporating enough vegan protein into your diet is vital to your overall well-being. 
But it can be challenging to know how to get adequate protein without meat, what foods have a robust amount of plant protein, and exactly how much. 
But don't worry, we're here to help!  
And we think you'll be pleasantly surprised to learn that even the smallest of foods carry a protein-packed punch in every bite.
Vegan Protein Sources Infographic
Vegan Protein Sources
Many of us have been told that the only way to ensure you get enough protein is to maintain a diet rich in animal protein. And while that may work for some, many people are turning to a vegetarian and vegan lifestyle – cutting back on animal products altogether. 
Not to mention, vegan protein sources have various benefits to your health, including:
Cardiovascular health – plant foods are lower in cholesterol and fats, reducing the risk of disease.
Metabolism booster – your body has to work harder to digest the combination of fiber and plant protein which means its burning fat faster.
Weight management – plant foods are less fatty than animal foods and lower in calories.
No added hormones & antibiotics – plant proteins are rich in vitamins and minerals, antioxidants, and phytochemicals.
Improved digestion – plant protein sources such as vegetables, nuts, seeds, grains, and legumes are full of healthy fiber which improves motility and reduces bloating and gas.
In this article, we'll take a look at some fantastic protein alternatives along with their measurements and some fun ways to amp up your meals
High Protein Nuts & Seeds
Seeds
Pumpkin – Pumpkin seeds are high in antioxidants like carotenoids and vitamin E, which can help reduce inflammation and protect cells. They're also high in magnesium and fiber. They contain 12g of protein per cup. 
Hemp – Hemp seeds are considered a complete protein which means they provide all the essential amino acids. They're high in vitamins and minerals and contain almost 10g of protein per cup. 
Sunflower – Sunflower seeds contain vitamins and minerals like zinc and selenium that support the immune system. This tiny seed contains 29g of protein per cup. 
Flax – Flaxseed is high in thiamine, a B vitamin, that is great for energy metabolism and cell function. They're a good source of fiber and omega-3 fatty acids. And they boast a whopping 31g of protein per cup. 
Chia – Chia seeds are loaded with antioxidants, fiber, minerals, and omega-3s. They promote heart health, improve blood sugar, and support strong bones. They contain 4.7g of protein per cup. They're also super easy to throw into a smoothie or your oatmeal in the morning! 
Sesame – Sesame seeds are high in fiber and magnesium, which can help lower blood pressure. They contain 26g of protein per cup or 5g of protein per 3 tablespoon serving.
Nuts
Almonds – Almonds can improve cholesterol levels and lower blood pressure. They are also high in vitamins and minerals. There's about 3g of protein in 10 almonds. 
Walnuts – Walnuts have been shown to reduce the risk of heart disease and cancer. They contain more omega-3s than any other nut. And they contain 4.5 grams of protein per ¼ cup. 
Pistachios – Pistachios are a great source of healthy fat and can improve gut, eye, and blood vessel health. There's 25g of protein per cup. 
Cashews – Cashews are a good source of copper, magnesium, and manganese – promoting brain health, bone health, and immunity. They have 5g of protein per cup. 
Pine nuts – Pine nuts can improve blood sugar levels and boost brain health. They contain 18g of protein per cup. 
Brazil nuts – Brazil nuts are incredibly high in selenium which is essential for your thyroid and promotes your immune system and cell growth. Just one nut can contain your daily recommended dose of selenium. There is 19g of protein per cup. 
Peanuts – Peanuts pack the highest protein amount at 38g per cup. They are also high in potassium, magnesium, phosphorus, and B vitamins. 
Hazelnuts – Hazelnuts are high in vitamin B6 and contain a good amount of omega-6 and omega-9 fatty acids. They are a great source of vitamins and minerals. There's 20g of protein per cup.
Protein-Packed Vegetables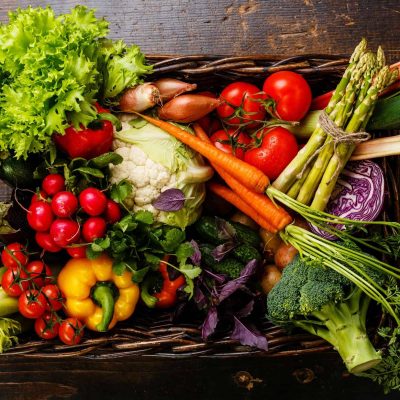 Broccoli – Broccoli is a fiber rich food and has been shown to have cancer protective compounds. It can also reduce the risk of cardiovascular disease. It contains 3g of protein per cup. 
Spinach – Spinach has anti-inflammatory properties, is good for your eyes, reduces hypertension, and aids in weight loss. One cup of spinach that's been cooked, boiled, and drained contains about 5.35g of protein. 
Artichoke – The artichoke is low in fat, high in fiber, and full of vitamins and minerals such as vitamin C, vitamin K, folate, phosphorus, and magnesium. They've been shown to lower blood sugar levels and improve digestion. One cooked artichoke contains 3.5g of protein. 
Brussels sprouts – Brussel sprouts are high in vitamin K and fiber. They may also reduce inflammation and help protect against cancer. There's 3g of protein per cup.
Green peas – Peas are a great source of various vitamins like vitamin C, E, A, and B. They can also help lower your risk for heart disease, diabetes, and arthritis. They have a high protein content of 8g per cup. 
Soybean sprouts – Soybean sprouts are abundant in vitamin C, iron, and calcium. They're also an excellent source of antioxidants that protect against cell damage. One cup of sprouts contains 9g of protein. 
Asparagus – Asparagus is a low-calorie vegetable high in folate and vitamins A, C, and K. It contains 2.9g of protein per cup. 
Sweet corn – Corn is an excellent source of fiber and carbohydrates. And one cup of kernels contains 5g of protein. 
Mushrooms – Mushrooms are high in selenium and antioxidants. They can also reduce the risk of Alzheimer's, heart disease, cancer, and diabetes. There's about 3g of protein in one cup of mushrooms.
Protein-Rich Beans & Legumes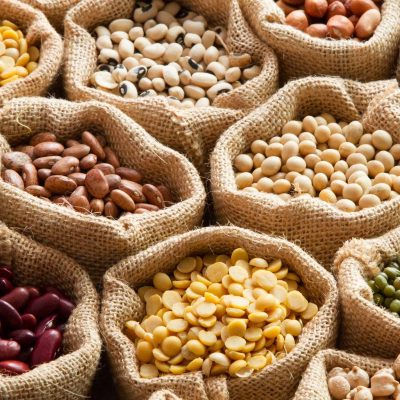 Lentils – Lentils are packed with potassium, folate, iron, phosphorus, and fiber. They're a great alternative to meat because they're low in fat but high in protein and fiber. They provide 18g of protein per cup. 
Edamame – Edamame is rich in protein and other vitamins and minerals like vitamin K and folate. One cup of cooked edamame contains 17g of complete plant protein.
Chickpeas – Chickpeas are an ideal replacement for meat as they are low in calories but high in protein, fiber, and folate. They can improve bowel function and reduce the risk of various diseases like heart disease and cancer. There's 15g of protein in one cup of cooked chickpeas. 
White beans – White beans are high in magnesium and antioxidants. They can also help to regulate body fat. Boiled white beans contain 15g of protein per cup. 
Kidney beans – Kidney beans can help aid in weight loss, promote colon health, and moderate blood sugar levels. One cup of boiled kidney beans contains 15g of protein. 
Black beans – Black beans are versatile beans with many health benefits like reducing inflammation, decreasing blood pressure, and improving gut health. One cup of cooked black beans yields 15g of protein. 
Pinto beans – Pinto beans help reduce blood cholesterol levels and blood sugar and aid gut health. They can be eaten whole or mashed. Like their counterparts, cooked pinto beans contain 15g of protein per cup.
High Protein Mock Meat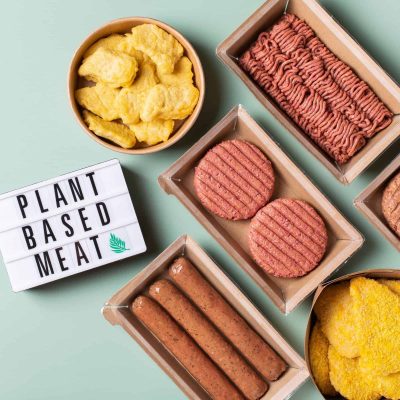 Beyond Meat burger – The Beyond Meat patty's main ingredient is pea protein. They are soy and gluten-free, making them an excellent option for many people. One patty provides 100% of the daily value of vitamin B12, 40% for zinc, and 20% for iron. The patty contains 20g of plant protein. 
Impossible burger – The Impossible burger  is similar to the Beyond Meat burger, but instead of using pea protein, they use potato and soy. Their patty contains 50% of the daily value of zinc, 130% for B12, and 25% for iron. They're cholesterol-free and have 19g of vegan protein. 
Tofurky – If you're looking to replace your regular deli sandwich, Tofurky is an excellent alternative to lunch meat. There's 13g of protein in five of their deli slices.
High Protein Meat Alternatives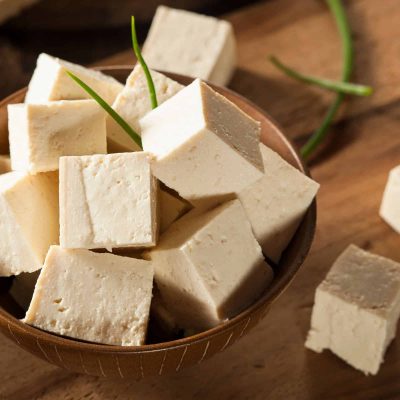 Tofu – Tofu is a complete plant protein because it provides all of the nine essential amino acids that we need for growth, repair, and immunity. Studies have also shown that it can alleviate menopausal symptoms, support heart health, and help with blood sugar management. And because it's loaded with powerful antioxidants, it can minimize the damage done to your cells by free radicals. Half a cup of tofu provides 10g of plant protein. 
Seitan – Seitan is a wheat-based alternative, and it's loaded with protein and minerals like selenium and iron. This is a great vegan protein option if you're looking to bulk up and add muscle mass. A three-ounce serving of seitan provides about 20g of vegan protein. 
Tempeh – Tempeh is made from fermented soybeans and can sometimes be combined with wheat. It's full of protein, prebiotics, and various vitamins and minerals. It can be prepared by steaming, baking, and sautéing. It's also low in sodium and carbs. One three-ounce serving of tempeh contains 15g of plant protein. 
High Protein Grains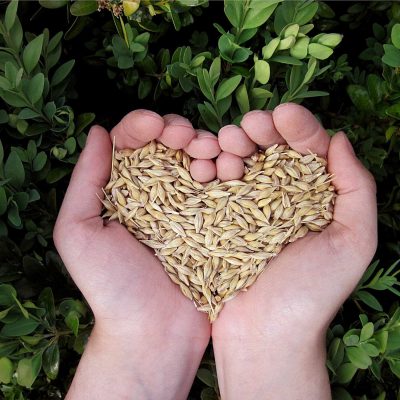 Quinoa – Quinoa is a nutrient-dense grain high in fiber, antioxidants, vitamins, and minerals. It contains more fiber than any other grain. It's also gluten-free, so it's an excellent option for those with gluten intolerance. One cup of cooked quinoa contains 8g of protein. 
Oats – Oats are a popular grain, and for a good reason. They're one of the most nutrient-dense foods you can eat and are rich in carbs, fiber, vitamins, minerals, and antioxidants that help with inflammation. They can improve gut health, lower cholesterol, and improve blood sugar. Half a cup of dry oats contains 13g of protein. 
Wild rice – Wild rice is gluten-free and low in sodium, sugar, and calories. It's loaded with micronutrients and vitamins like vitamin B6, magnesium, niacin, zinc, and copper. It's also an excellent source of dietary fiber. One cup of cooked wild rice contains 7g of protein. 
Millet – Millet contains both soluble and insoluble fiber and is beneficial for gut health. This powerful grain can also protect your heart thanks to its high amount of magnesium. This essential mineral helps reduce blood pressure and protects against stroke or heart attack. It can also help to manage diabetes. One cup of cooked millet contains 6g of protein.  
Other Sources of Plant Protein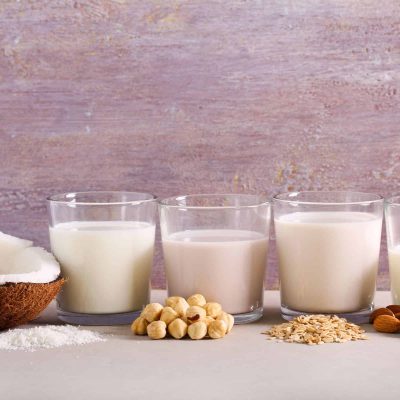 Soy milk – Soy milk is an excellent source of vitamin A and potassium. It may also improve brain and heart health and reduce menopausal symptoms. It provides a decent amount of protein at 7g per cup. 
Spirulina – Spirulina is a blue-green algae supplement and a powerful antioxidant and anti-inflammatory. It contains a wide range of vitamins like vitamin E, C, and B6, necessary for a healthy immune system. It can also assist the body in flushing out harmful toxins like heavy metals. One tablespoon of spirulina contains 4g of protein. 
Nutritional yeast – Fortified nutritional yeast is a complete vegan protein. It contains B6  and B12 vitamins, and trace minerals like zinc, selenium, manganese, molybdenum. These minerals assist in gene regulation, growth, metabolism, and immunity. It's also an excellent source of protein and contains 8g of protein in 2 tablespoons. 
Protein powder – There are many different vegan protein powders on the market. Most are made with soy or pea protein powder. Studies have shown that vegan protein powder can improve gut health and cause less bloating than traditional whey powders. Most powders contain about 20-30 grams of protein per serving.
High Protein Vegan Meal Ideas
Now, you might be wondering how you can ensure you're getting enough vegan protein in your diet and how to go about incorporating all these incredible foods.
Well, the team at Vegancuts has removed some of the guesswork to help you get started by providing some meal ideas that cover all your bases – breakfast, lunch, and dinner. And of course, we can't forget – snacks!
High Protein Vegan Breakfast
Vegan Protein Overnight Oats –  Overnight oats are a nutritious and convenient breakfast option for those that like to meal prep or are always on the go. You can also tailor them to your liking by swapping out different ingredients to make them sweet or savory. Check out this recipe for three incredible protein-packed ideas.
Chickpea Avocado Toast – Avocado toast has made quite the buzz in recent years. Not only is it delicious, but it's also highly nutritious and easy to make! Try this unique twist on avocado toast that delivers a whopping 16g of protein to start your day off strong. Check out the recipe here.
Vegan Tofu Scramble – If you're craving something hearty and filling, this vegan tofu scramble won't disappoint. Try it with toast or add some additional protein by eating it with potatoes. Check out the recipe here.
Vegan Protein Packed Lunches
Sheet Pan Garlic Tofu and Brussel Sprouts – If you're looking for something quick and convenient, we've got you covered. You can get your protein fix by throwing the ingredients onto a pan and baking altogether. Wild rice or quinoa would also be a great addition to this meal. Check out the recipe here.
High Protein Salad – It can be challenging to ensure you're getting enough protein when eating a salad which is why this recipe is so incredible. If you're in the mood for something simple and refreshing, check out this protein-packed salad recipe.
Vegan Burrito – Burritos are always a quick and easy way to get your protein fix. Plus, there always seems to be enough for leftovers. Check out this great recipe for a convenient on the go lunch option.
Vegan Dinners Rich in Protein
Curry Red Lentil Stew With Kale and Chickpeas – This stew is great for fall and fairly quick to whip up. Plus, it contains 21.4g plant-based protein! Check out the recipe here.
Sweet Potato Tofu Bowl – We don't know about you, but we love a good hearty bowl for dinner. This recipe is packed with feel-good foods, nutrients, and 23g of protein. Check out the recipe here.
Thai Tempeh Nourish Bowl – This seriously delicious and nourishing bowl is loaded with nutrients and 20g of protein. It's also entirely gluten-free! Check out the recipe here.
Looking for more high protein vegan snacks?
Chocolately Chip Keto Blondies – These bars are a great addition to your pantry because they're easy to grab on the go. They're low carb and entirely gluten-free while offering up a serving of 5g of protein. You can buy them here.
Almond Protein Powder – This powder is a great way to step up your protein game. You can add it to smoothies, pastries, hot cocoa, and more! One serving contains 17g of protein. You can purchase it here.
Nacho Cheese Pigless Pork Rinds – This snack provides a bit of nostalgia, but now it's entirely animal-friendly. Support pigs while you munch on these vegan pigless pork rinds that deliver a generous plant-based protein serving of 25g per bag. You can buy them here.