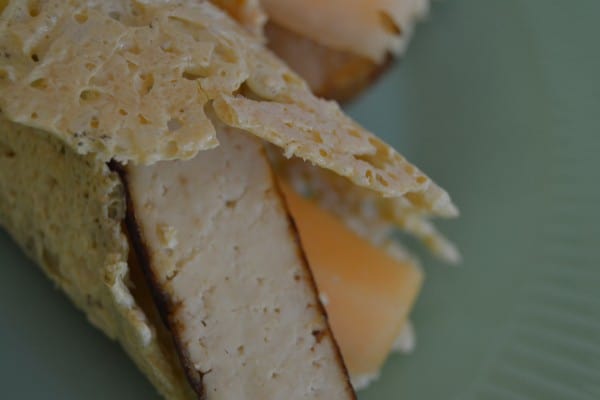 Healthy Vegan Wrap Recipe
Colder weather means heartier meals so we asked Kayle from Cowgirls & Collard Greens to help us celebrate the end of warmer weather with her favorite healthy wrap. Read on for her recipe.
Healthy Vegan Wrap Recipe
Contributed by Kayle of Cowgirls & Collard Greens
I love spending time in the kitchen, and one of my favorite things is coming up with creative new uses for everyday ingredients. After experimenting with shredded vegan cheese, I came up with the idea of making a wrap out of cheese. It's common to find wraps made out of tortillas or leafy greens, but cheese? Turns out that shredded vegan cheese heated up and then cooled down creates perfect hardened "shells." Fill the shells with some yummy fruit and your choice of veggie protein and you have a delicious light meal.
Healthy Vegan Wrap Recipe
Contributed by Kayle of Cowgirls & Collard Greens
Ingredients
-2 packages of your favorite vegan shredded cheese

I used Daiya mozzarella

-1 package of smoked tofu

firm

-Olive oil

-1 large melon

I used cantaloupe for this recipe, honeydew would also taste great
Instructions
Preparation of Filling
Slice melon into long thin strips and set aside.

In pan on stove-top, use 1 Tablespoon of olive oil (enough to cover pan).

Place tofu to pan sear.

Remove tofu from stove and allow to cool.

Slice tofu into long thin strips and set aside.
Making of Cheese Wraps
Preheat oven to 350 degrees.

Wipe cookie sheet lightly with olive oil.

Form six small round tortilla-like circles on cookie sheet using vegan shredded cheese (layer cheese thinly in all directions).

Bake in oven until bubbly (approximately 2o minutes).

Remove from oven and allow to slightly cool.

Using a sturdy spatula, remove rounds from cookie sheet before they cool completely.

Place filling (1 slice of melon, 1 strip of tofu) along one side of cheese wrap and roll quickly before shell cools down (once wrap cool down they will harden). If shells cool to quickly, place back in oven briefly to soften.

Serve as a meal with your favorite greens and/or fruit or as a appetizer at your next dinner party
About Kayle Martin, Our Blogger Friend
Kayle Martin is a two-time breast cancer survivor, a graduate of the Living Foods Institute and the Founder and Chief Cowgirl of Cowgirls & Collard Greens, a cowgirl themed vegan lifestyle website and blog. A wellness advocate, Kayle actively shares her cancer story at conferences, on national radio programs and has been featured in Keep A Breast magazine, Cosmopolitan magazine, The Vegan Zombie's cooking show, and most recently was on the cover of Inspire Health magazine. In her free time, Kayle juices greens, counsels breast cancer patients, seeks out new vegan restaurants, and lives an active life in the Sierra Nevada foothills of northern California. Find out more about what Kayle is up to on her website: Cowgirls and Collard Greens. Yeehaw!