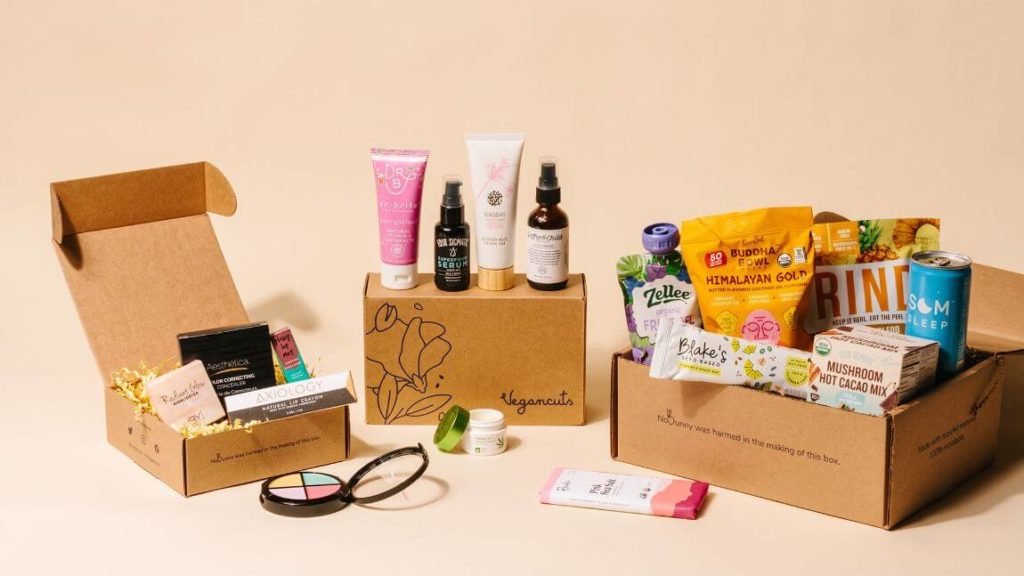 April Vegancuts Box Details
Our box curators work tirelessly to provide you with an experience you will love. This page contains details of every product that you will find in your box, plus a list of exclusive discounts for the Vegancuts community.
**In order to keep the surprise, this page is updated the mid of each month once boxes start shipping.
1. Plant Based Beauty – Avocado + Algae Mask $22
Plant Based Beauty is dedicated to minimizing its environmental impact by using ethically sourced organic ingredients and conscious package designs. Not only is this face mask packaged in a recyclable jar, but everything included is upcyclable.

2. Terra And Co. – Brilliant Black Organic Charcoal Toothpaste $10
This eco-friendly toothpaste is sustainably made in the U.S.A. with only plant-materials, completely non-toxic and packaged in a recyclable tube made from sugar cane which is 70% less fossil fuels than traditional petroleum-based plastic.

3. PATCH – Natural Bamboo Strip Bandages : Activated Charcoal or Aloe Vera $2.99
PATCH puts extensive thought into the sustainable production of the products from the materials to the packaging as well as planting over 20k trees to offset carbon. These bamboo bandages are 100% compostable from the packaging to the bandage.

4. Owl In A Towel – Bergamot Hand Cream $8.99
Owl In A Towel utilizes innovative packaging with all their products and sustainability is the main focus at every level of the production process. This Bergamot Hand Cream does not contain any synthetics and is packaged in a recyclable sugar cane tube.

5. Derma E – Microdermabrasion Scrub $8.12
Derma E is constantly striving to lessen its impact on the environment. All packaging is recyclable and 100% of conventional electricity used is offset with wind energy certificates. Every purchase supports various environmental organizations.

6. BONUS: Lotus.Eco – Tampon 3 Absorbency Travel Pack $3.83

Lotus.Eco tampons are 100% biodegradable and compostable, including the bioplastic packaging. Their supply chain is based on a sustainable circular economy, partnering with suppliers who focus on eliminating waste, and reusing resources.

7. 🍫BONUS: Theo Chocolate – Peanut Butter & Jelly Cups $2.30

Theo sources Organic & Fair Trade Certified Cocoa, like what goes into these delicious 55% Chocolate PB & J Cups, to ensure that their products benefit farmers & the environment.

1. LesserEvil Himalayan Pink Salt Veggie Sticks
LesserEvil packages their sustainable snacks in NEO plastics that can be discarded responsibly, creating renewable energy for the planet.

2. Savory Wild Hot & Spicy Cajun Style Portabella Jerky
Savory Wild's mushrooms are grown from compostable material, and the soil is recycled for field replenishment and potting soil. Did you know that mushrooms are one of the most eco-friendly foods on the planet?

3. RW Garcia Organic Bar-B-Q Corn Chips
RW Garcia has made many eco-friendly commitments, recycling all their unprocessed, non-GMO corn and maintaining zero-waste on all ingredients.

4 & 5. Dang Foods Sriracha Spice Thai Rice Chips and Lightly Salted Coconut Chips
Dang, a certified B Corp, sources their coconuts from sustainable family farms in Thailand, where every part of the plant is used, and uphold rigorous standards of environmental action & transparency.

6. Humming Hemp Spicy Hemp Hearts

Humming Hemp products come from 15 regenerative farms, who rotate their crops to prevent soil depletion. Because hemp is naturally disease and insect-resistant, farmers can avoid pesticides.

7. Chasin Dreams Cocoa Popped Sorghum OR Cinnamon Popped Sorghum
Sorghum is an ancient grain that uses only half the water that most crops need, and because of sorghum's eco-efficiency, Chasin Dreams is able to produce delicious earth friendly snacks.
8. Fullgreen Buffalo Ranch Riced Ideas
Fullgreen uses 'ugly' veggies and surplus produce that usually get thrown away to help combat food waste. They also plant 200 trees per month as a reforestation partner of One Tree Planted.

9 & 10. Numi Organics White Rose Tea and Matcha Toasted Rice Tea

Not only is Numi Tea Climate Neutral-Certified and members of The Climate Collaborative, their tea also comes in plant-based & compostable wrappers.

10. Sun Tropics Mochi Rice Bites: Sriracha OR Sea Salt
Traditional Japanese rice cakes transformed into a light & crunchy snack.
11. Theo Chocolate Peanut Butter & Jelly Cups
Theo sources Organic & Fair Trade Certified Cocoa, like what goes into these delicious 55% Chocolate PB & J Cups, to ensure that their products benefit farmers & the environment.

12. BONUS! Reusable Stainless Steel Straw
Easy-to-clean and environmentally-friendly alternative to plastic straws that wreak havoc on our ocean and animal habitats. Keep in your car and say "no thanks" to plastic straws at the drive-thru.

Brand Partner Discounts Courtesy of Vegancuts
Each month, some of our featured partners provide the Vegancuts community with special discounts. Take advantage of them while they last!