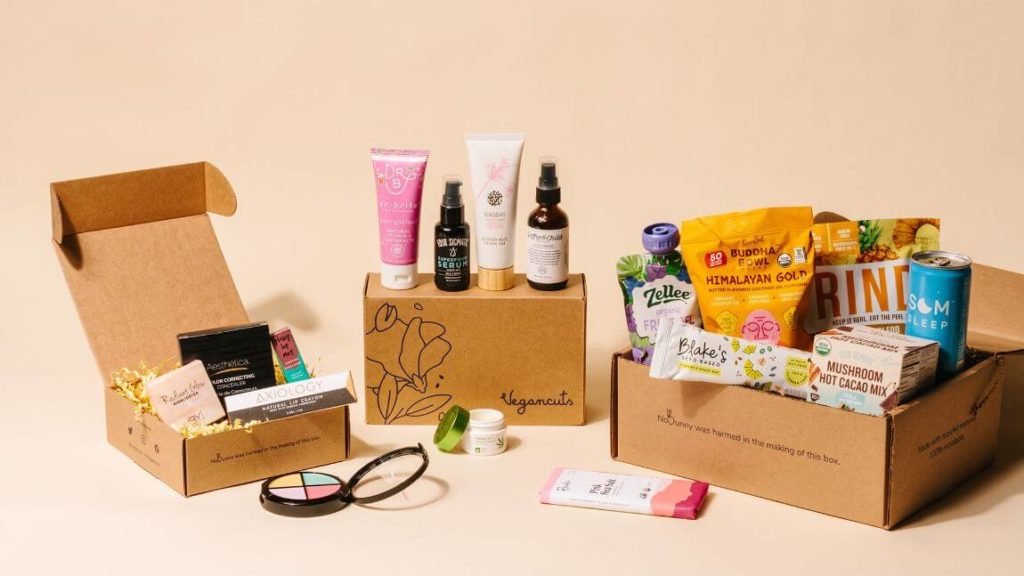 July Vegancuts Box Details
Our box curators work tirelessly to provide you with an experience you will love. This page contains details of every product that you will find in your box, plus a list of exclusive discounts for the Vegancuts community.
**In order to keep the surprise, this page is updated the mid of each month once boxes start shipping.
1. Superzero – Mini Shampoo Bar (Normal or Dry) $6

In a circular motion, rub the bar over fully wet hair forming a lather. Rinse to clean. Certified microplastic-free and climate neutral, Superzero does not sacrifice performance for sustainability.
2. Save – Ultra-light, Rejuvenating or Anti-pollution Moisturizer $23+

Apply daily to clean, dry skin. Gently massage until fully absorbed. These moisturizers leave skin hydrated and restored with ingredients like Bamboo Bioferment to support skin renewal, anti-aging Bakuchiol and Ectoin to repair skin's protective barrier.
3. Eco Lips – Sweet Mint, Lemon-Lime or Superfruit Bee Free Lip Balm $3.49

Formulated with organic fair-trade cacao butter and coconut oil these lip balms treat rough dry lips leaving them soft and supple. Not only bee free, but also 100% plastic free, packaged in plant-based Plant Pod tubes crafted from farm byproducts. Eco and effective.
4. Lemon Organics – Organic Hand Sanitizer $7.99

Made for sensitive skin, this biobased organic hand sanitizer is never sticky and leaves hands refreshed and soft thanks to repairing agents like aloe and jojoba.

5. Gypsy Soul Organics – Yoga Mist Mat, Body and Room Spray $30

Discover this versatile spray can be used to mist yoga mats, rooms or body. Aromatherapy from pure essential oils like bergamot and lavender paired with odor neutralizing witch hazel and antimicrobial tea tree oil make this a won- derful addition to your car, gym bag or home. To refresh and energize lightly mist into air, body, or directly on yoga mat.
1. Clif Nut Butter Bar
You can't get on the trail without Clif. This bar is worth going nuts over.
2. Nubu Cashew Nut Butter Bites
Find the "whew that's good" on your outing with these delectable goodies – they taste like the inside of a butterfinger.
3. Crazy Go Nuts Maple Walnuts
Sweet walnut snacks made with pure maple syrup.
4. Bakery on Main Ancient Grain & Seed Superfood Unsweetened Instant Oatmeal
Combining a unique blend of oats with ancient grains quinoa and amaranth, this instant oatmeal is a MUST for a healthy breakfast.
5. Sunny Fruit Organic Tart Cherries
These tangy and zesty organic cherries make a great snack or addition to trail mix.
6. GoGo SqueeZ Chocolate Almondblend Pudding
These protein-packed, shelf-stable chocolatey desserts will prove to you that pudding isn't just for kids.
7. Teapigs Liquorice and Mint Tea
Naturally caffeine-free and fully biodegradable, this tea is perfect for sipping under the night stars.
8. Māla Girl Broths Broth Mixes: Soulful Classic, Mushroom Braniac OR Fireball Basil
Mystical, Motivating and Veggie-Powered Broths perfect for sipping next to a campfire.
9. Outstanding Foods Original OR Hella Hot Pigless Pork Rinds
Addictively delicious, crispy baked, cruelty-free and packed with protein.
10. PlantFusion Complete Lean Creamy Vanilla Bean
A fusion of plant-based nutrients perfect for sustaining a long walk in nature.
11. Artisana Organic Coconut Oil
Add this to your smoothie for an extra creamy flavor.
12. IOTA Classic Seed Shot
Small & mighty perfectly-seasoned snack that fits great in a fanny pack.
Brand Partner Discounts Courtesy of Vegancuts
Each month, some of our featured partners provide the Vegancuts community with special discounts. Take advantage of them while they last!