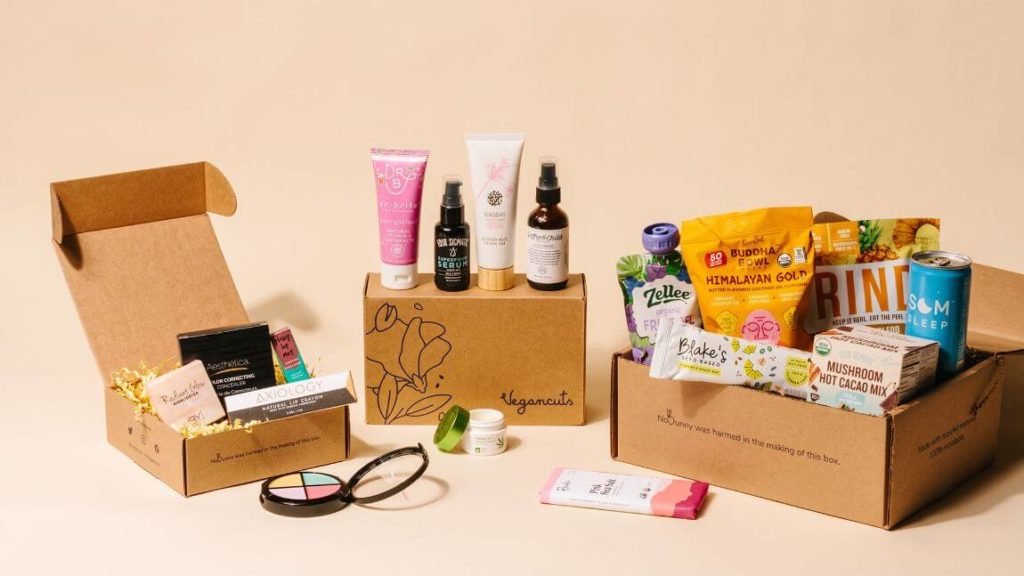 October Vegancuts Box Details
Our box curators work tirelessly to provide you with an experience you will love. This page contains details of every product that you will find in your box, plus a list of exclusive discounts for the Vegancuts community.
**In order to keep the surprise, this page is updated the mid of each month once boxes start shipping.
1. J & L Naturals –Strength Hair Serum   $26.99
Scent-free and formulated with all-natural healing ingredients like Jojoba and Argan oil. As a zero-waste company, J & L Naturals uses sustainable packaging and offers an in-house recycling program. Shake well, apply 3-5 drops to hands and work through hair, wet or dry. As a pre-shower treatment, massage 5-10 drops onto scalp, leave in for 5-10 mins and wash hair.
2. Pacifica – Retinoid + Bakuchiol 3% in Seawater $16
Gentle enough for all skin types, this powerful age-defying treatment utilizes a combination of Granactive and Bakuchiol for less irritating visible results. Apply 1-2 full droppers onto clean skin in the evening under face cream. Do not combine with other retinoid products and wear sunscreen daily.
3. Dr. Botanicals – Coffee Superfood Facial Exfoliator $11.99
Key ingredients include walnut shell powder, a natural exfoliant that removes dull, dry skin and coffee with antioxidant properties and fatty acids that nourish and protect the skin's complexion. This creamy scrub leaves skin renewed and refreshed. Gently massage onto wet skin, rinse with warm water.
4. Acure – Ultra Hydrating 12 Hour Moisturizer $8.99
This lightweight formula delivers intense moisture that lasts all day. Utilizing Adaptogens and supergreens to soothe, protect and de-stress skin. In the morning, gently massage onto clean skin until fully absorbed.
1. Love + Chew Banana Bread Cookie OR Cherry Almond Cookie
This is an amazing almond-butter based cookie that has been known to cause immense happiness.
2. TRUFF Black Truffle Infused Hot Sauce
A meticulously crafted flavor profile from ingredients normally reserved for delicate delicacies, & elegant dining experiences.
3. Kibo Chickpea Chips x 2
Prepare your tastebuds for impossibly delicious (and always nutritious) chips. Every bite is better than the next – and better for you. We've included 2 chip bags, so you'll get a chance to try a range of Kibo flavors.
4. KPOP Sea Snacks: Original OR Kimchi
Sustainably-sourced, premium roasted seaweed snacks that are perfect for the office, gym or classroom.
5. Ardor Organic Sparkling Beverage
L-Theanine and Organic Caffeine work synergistically to provide energy, focus and clarity in this delicious sparkling water.
6. Candy Kittens Sour Watermelon
These vegan gummies are definitely one-in-a-melon and are guaranteed to leave your taste buds tinglin'.
7. HighKey Mixed Berry Soft Baked Biscuits
Real cranberries, chia & pumpkin seeds for a wholesome start that will keep you full.
8. Olyra Foods Organic Hazelnut & Cocoa Sandwich Biscuit
Start your day off with a protein-packed chocolatey cookie sandwich made with Ancient Greek Grains. Tastes like a sophisticated Oreo.
9. Outstanding Foods Pigless Pork Rinds: Texas BBQ or Nacho Cheeze
Crunchy, delicious and fun crisps with a Texas-sized flavor.
Brand Partner Discounts Courtesy of Vegancuts
Each month, some of our featured partners provide the Vegancuts community with special discounts. Take advantage of them while they last!