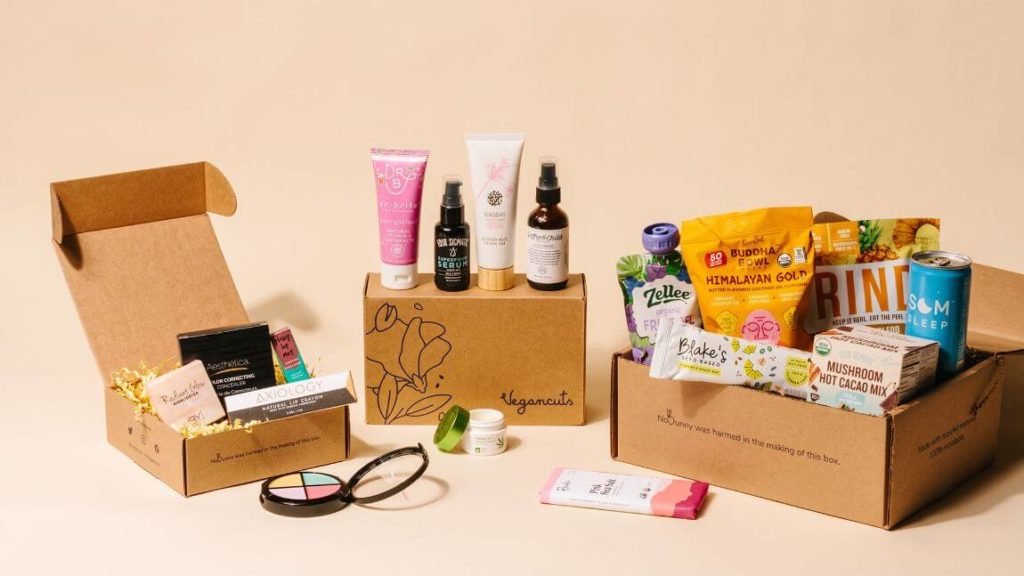 January Vegancuts Box Details
Our box curators work tirelessly to provide you with an experience you will love. This page contains details of every product that you will find in your box, plus a list of exclusive discounts for the Vegancuts community.
**In order to keep the surprise, this page is updated the mid of each month once boxes start shipping.
1. Vegan by Happy Skin – Original Skin Essence Toner $46+
Perfect skin balancer after cleansing with natural super ingredients. Apply to a cotton pad and wipe around the face avoiding the eye area after cleansing. Alternatively, pour a little bit to your hands and press it to the face.
2. Evolue – Mini Hydrating Serum $22
This serum improves the skin's natural balance and plumps where skin is lacking in hydration. Apply after cleansing and toning. Can be used twice a day.
3. Mighty Patch – Mighty Patch Original 6 Patch Sleeve $3
Plant-based Hydrocolloid, a natural fluid-absorbing gel, acne stickers act as a protective cover for blemishes for faster healing overnight. Just stick the patch on and chill (or sleep). Peel it off when it turns white. Noticeably smaller, flatter zit in just 6-8 hours.
4. Terra & Co. – Brilliant Black Organic Charcoal Toothpaste $10 *FIND IT IN OUR MARKET
This eco-friendly toothpaste is sustainably made in the U.S.A. with only plant-materials, completely non-toxic and packaged in a recyclable tube made from sugar cane which is 70% less fossil fuels than traditional petroleum-based plastic.
PLUS BONUS: FACE MASK upto $10
1. Spudlove Chips Thick-Cut Potato Chips: Sea Salt & Vinegar OR Barbecue
Organic potatoes make these chips unbelievably awesome and the flavors are out of this world good.
2. Good To Go Chocolatey Chip Soft Baked Blondies
Take dessert off your cheat list for January – you can even enjoy these heated up.
3. Tom & Luke Zesty Lemon and Coconut Snackaballs
The tangy lemon and sweet coconut makes these vegan snack balls a real pleasure to eat, especially considering there's no added sugar.
4. Katjes Plant Based Love & Stars Gummy Candy

These delicious gummies are carbon neutral, contain no animal gelatin, no palm oil, no high fructose corn syrup and only plant and algae derived colors.
5. Pioneer Kettle Chips Salt and Cracked Pepper OR Sea Salt
These are the best kettle chips we've tried in a long time!
6. Bakery on Main Unsweetened Superfood Instant Oatmeal
Combining a unique blend of oats with quinoa & amaranth, you won't be able to resist the wholesomeness of this unsweetened instant oatmeal.
7. Nutpods Classic Chocolate Almond + Coconut Creamer
Turn your coffee into a luscious mocha with the irresistibly smooth and creamy nutpods Classic Chocolate creamer.
8. Joolies Dates 3 Pitted-Date Snack Pack
These are the freshest, perfectly sweet organic medjool dates California has to offer. Throw this in your workout bag or lunch box.
9. Good To Go Vanilla Almond Soft Baked Bar
This classic bar combines two light, sweet flavors creating a pleasantly surprising, 'tastes just like cake' experience.
10. U-Luv Foods Brownie OR Birthday Cake OR Lemon OR Ginger Spice Cookies
These amazing cookies are made with natural and sustainable ingredients and are free from nuts, gluten, dairy and soy.
11. Surprise Vegancuts Fan Favorite
Expect something fun that's sure to delight your taste buds for the new year.
Brand Partner Discounts Courtesy of Vegancuts
Each month, some of our featured partners provide the Vegancuts community with special discounts. Take advantage of them while they last!