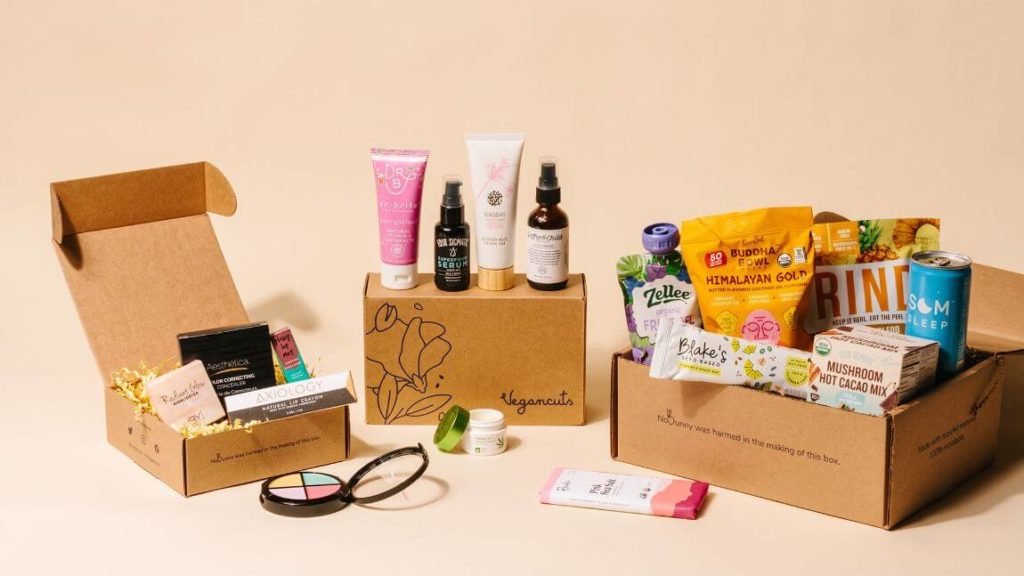 Our box curators work tirelessly to provide you with an experience you will love. This page contains details of every product that you will find in your box, plus a list of exclusive discounts especially for the Vegancuts community.
1. RMS Luminizing Powder in Grande Dame – $38 
The ultra-fine mineral pigments are non-drying and will enhance your skin to create a luxurious highlight.
2. RMS Beauty Skin2Skin Powder Blush Brush – $38
Expertly designed to mimic skin-to-skin makeup application, the dome-shaped brush deposits the perfect amount of color to cheeks. The flexible, light-as-air bristles make it easy to blend for a natural look.
3. LOHA Faux Mink Lashes $12
Vegan and gorgeous false eyelashes! Get multiple uses from these beauties when you pair with Beauty Garde Eyelash Glue.
4. Beauty Garde Eyelash Glue For False Lashes – Clear Drying & Latex-Free – $8
Latex-free and oil-free formula goes on easily, delivers a strong and secure hold, is fast drying, and dries clear all while providing long- lasting wear.
5. Beets & Blush Athena Cream Blush – $22
Finally, a blush with coverage you can control! This cream-based blush won't sit in fine lines and wrinkles the way powder blush does. Bonus? Vitamins and nutrients from shea butter, beet powder, avacado oil and sunflower seed oil work magic on your skin.
6. Millennium Cosmetics Liquid Lipstick – $18
Ultra light-weight formula dries to a soft finish that does not crack on your lips. Made with luxurious and super moisturizing oils like: 
Ximenia: increase moisture levels & improves elasticity
Babassu: all of the benefits of coconut oil without the heaviness!
1. Eternal Apothic Super C Skin Crystals $36
Pour a small pinch of these vitamin C crystals into your palm and activate with a few drops of cool water. Pat the dissolved mixture gently onto the skin in place of your usual toner for a naturally radiant complexion.
2. Body & Soul Miracle Eyes Firming Eye Balm $29
Massage gently into area around your eyes and cheeks. A little bit goes a long way. Allow a few minutes for the healing oils to fully absorb. Pro Tip: Use a jade roller or gua sha to help distribute product evenly. Antioxidant-rich powerful herbs and botanical extracts help reduce puffiness, lighten dark spots and fade scars.
3. Earth Wise Beauty Ferns and Moss Face Serum $24
The perfect cool weather skin food, this highly concentrated serum rejuvenates dry, damaged skin. All you need are a few drops of this thick, healing oil. Warm in the hand and massage gently for potent skin-clearing benefits.
4. Emma Hardie Purifying Pink Clay Detox Mask $22

Apply a thin layer over the skin, avoiding the eye area. Leave for ~15 minutes. Rinse with warm water or you may use a damp cleansing cloth to gently remove the Clay Mask. Use once a week for balanced, deeply cleansed skin.
5. BONUS: Collagen Building Protein Peptides- Chocolate Fudge $2.99
Build your own collagen with these delicious chocolate fudge flavored peptides. Simply mix with water or beverage of your choice and feel yourself glow instantly while you sip.
1. SuperSeedz Dark Chocolate Sea Salt
Premium European pumpkin seeds with a smooth dark chocolate taste and a light & salty crunch
2. Wholesome Goodness Sea Salt Gourmet Riceworks
Crunchy rice & sesame seed chips perfect for a vegan dip
3. BRAMI Sea Salt & Vinegar Italian Snacking Lupini Beans
Deliciously craveable, lightly pickled legume snack
4. Lil Bucks Sprouted Buckwheat Crunch (Original, Cacao or Matcha Flavor)
Meet your favorite new superfood – sprinkle on top of smoothie bowls or use just like granola
5. Hint Watermelon Water
Pure filtered water with a delicious watermelon flavor
6. Sunwarrior Collagen Building Protein Peptides (Chocolate Fudge Flavor)
Delicious chocolate shake that will take your skin to a whole new level
7. Bakeology Chocolate Chip Cookie Bites
Classic chocolate chip cookies with just the right amount of sweetness and crunch 
8. Nongshim Soon Kimchi Noodle Soup
Flavorful noodles and plenty of veggies with a kimchi kick
9. Foods Alive Nutritional Yeast Flakes
Every vegan's favorite condiment: Sprinkle on any food to give it a nice cheesy taste
10. Blake's Seed Based S'mores Snack Bar
Every vegan's favorite condiment: Sprinkle on any food to give it a nice cheesy taste
Brand Partner Discounts Courtesy of Vegancuts
Each month, some of our featured partners provide the Vegancuts community with special discounts. Take advantage of them while they last!