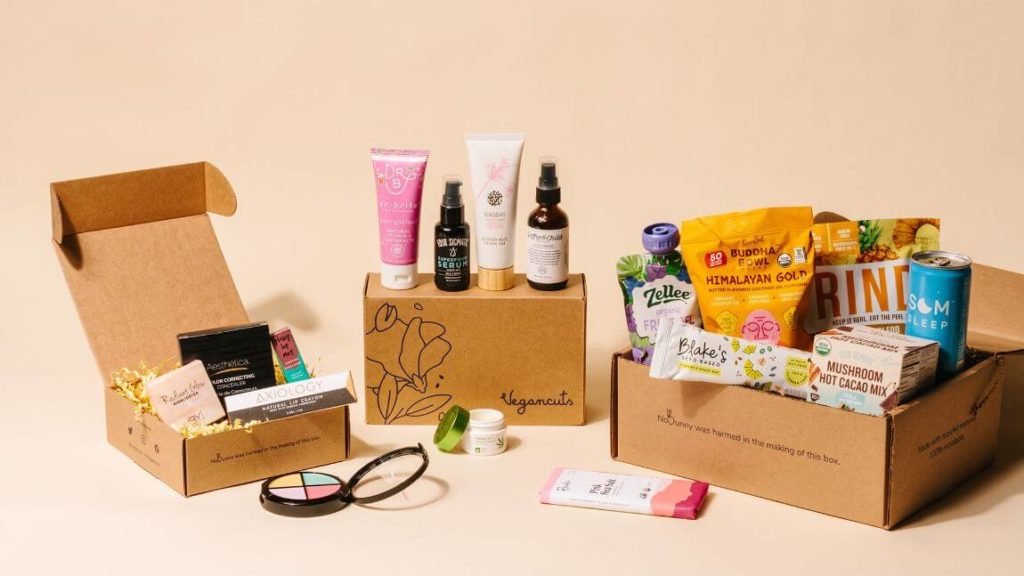 Our box curators work tirelessly to provide you with an experience you will love. This page contains details of every product that you will find in your box, plus a list of exclusive discounts especially for the Vegancuts community.
1. Habit Cosmetics – Bright Lights Organic Creme Highlighters – $28
A creme-based highlighter infused with skincare ingredients that enhances skin with soft-focus illumination. Use on high points of your face where the light naturally hits the face e.g. cheekbones, brow bone, bridge of nose, inner corners of the eye, cupid's bow, collar bone. TIP: Use as an eyeshadow for a little pop!
2. Bellapierre – HD Finishing Powder in Translucent  – $35
A smooth finishing powder that mattifies and sets makeup in place, providing a silky, shine-free finish. TIP: Ideal for using with the "baking" technique. Also great for keeping makeup from moving when wearing a mask!
3. Bellapierre – Brow Powder – $15
Brow powder is great for filling in brows uniformly for a softer framed look. Using an angled brush apply the powder with a light hand for a natural effect, sweeping the brush in the direction of hair growth, starting with inner brows moving to the end. Brush through your brows to blend. TIP: Use brow powder to set in place eyebrow pencil work.
4. HAN Skin Care Cosmetics – Multi Stick in Bordeaux Glow – $16
Formulated with natural organic ingredients and without synthetic colorants. Lightly dab and warm product in tube with fingertips. Apply onto the apples of cheeks, lips and eyes and blend for a warm flush glow. Can also use with a brush. TIP: Layer for more color intensity.
5. BONUS GIFT – Over $20 Value
Thank you for being a subscriber.
1.Derma E – Hydrating Night Cream   $29.50
Intensely hydrating Hyaluronic Acid paired with restorative vitamins and antioxidants to replenish complexion while you sleep. In the evening after cleansing face, apply a rich layer onto face and neck, gently massage into skin until absorbed.
2. Dr's Remedy – Bio-Sourced Basic Base Coat enriched Nail Polish   $18
This eco-friendly base coat is enriched with garlic bulb extract, tea tree oil, as well as vitamins A and E for healthier nourished nails. Apply a single coat as the base for colored polished application or wear alone for a healthy natural look.
3. CBDfx – CBD Cucumber or Charcoal Face Mask   $5.99
Transform your skin in minutes with spa-quality active botanicals, essential oils and 20mg of CBD.  Place the mask on a cleansed face, allow 10 minutes for absorption, remove and gently pat the remaining serum into skin. No need to rinse.
4. Annmarie Skin Care – Restore Sample Kit:Face Cleanser + Face Oil   $10

Kit includes pH-balanced Aloe herb Cleanser and Anti-Ageing Facial oil infused with chia, goji berry and broccoli.  Apply cleanser to damp skin, massage and rinse. Follow with Anti-aging facial oil. Dab on nose, chin, cheeks and forehead blending with gentle strokes.  
5. SeSpring – 2-in-1 Moisture Lock Mist   $7.50
This hydrating toner and essence hybrid is your perfect day or anytime companion.  Nourishing and calming, it can be used to lock in moisture all day, extend the life of makeup or be used anytime for a refreshing boost.  Close your eyes and gently mist over the face. Lightly pat or allow to air dry.
1. Explore Cuisine Organic Edamame & Spirulina Spaghetti
A deliciously innovative pasta packed with superfoods.
2. The Snack Brigade Cinnamon Apple Pie IncrediPuffs
Sugar and spice and everything crunchy.
3. Rule Breaker Chocolate Chunk Blondies
Quite possibly the best chocolate chip cookie you've ever had.
4. Outstanding Foods Texas BBQ Pigless Pork Rinds
We can't believe something this delicious contains protein.
5. Peanut Butter & Jelly Frooze Balls
A sweet treat with a peanut-buttery center.
6. Nora Spicy Tempura Seaweed Snacks
Salty, spicy and oh-so-yummy!
7. Life's Grape Classic Vine-Dried Grapes
The sweetest, juiciest sun-dried treats.
8. Natural Sins Pineapple OR Mango Baked Fruit Chips
A perfectly crunchy chip made from fruit.
9. ONE PLANT Chocolate Peanut Butter OR Churro
12 grams of yummy plant protein and only 1 gram of sugar.
10. Vitafive Elderberry for Immunity
Fruit gummies that support healthy immune function.
Brand Partner Discounts Courtesy of Vegancuts
Each month, some of our featured partners provide the Vegancuts community with special discounts. Take advantage of them while they last!