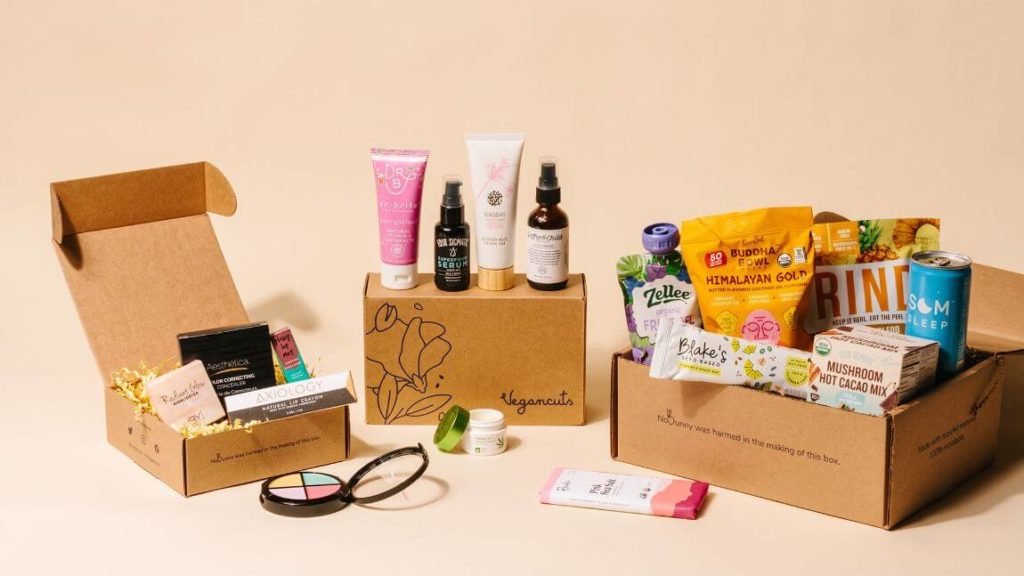 November Vegancuts Box Details
Our box curators work tirelessly to provide you with an experience you will love. This page contains details of every product that you will find in your box, plus a list of exclusive discounts for the Vegancuts community.
**In order to keep the surprise, this page is updated the mid of each month once boxes start shipping.
1. 5th dimension – Radiant Rose Face Mask $28
Mix 1 part mask with 1 part liquid of choice, including water, serum or toner. Apply to clean skin, let sit for 5 min, rinse with warm water. Key ingredients include Kaolin clay which pulls impurities from skin, and minimizes inflammation, while rose promotes cell regeneration and balances PH levels.
2. Earth Harbor – Aurora Superfood Luminance Ampoule $32
For daily use, add 2 or more drops to your favorite treatment or moisturizer both morning and night. For a concententrated treatment, gently massage 2 or more drops onto cleansed skin until absorbed before applying moisturizer. This soothing elixir is formulated with harmonizing sea greens to heal irritated skin, redness and dryness.
3. Dr.'s Remedy – Hydration Clear Moisturizing Nail Treatment with Pentavitin $17.50
Apply 1 coat to clean, dry nails. Can be worn alone as a moisturizing treatment or as a base coat under your favorite polish. Conditions and strengthens dry, brittle nails with Biotin, Pentavitin and 4 major vitamins!
4. Glow for a Cause – Body Butter in Assorted Scents $6
Creamy, lightweight and handcrafted with unique original scents. Skin is left soft and smooth with a kiss of fragrance. Not only will your skin feel revitalized, but every Glow for a Cause product supports multiple non-profit organizations.
1. Blake's Seed Based Pumpkin Spice Rice Crispy Treat
Enjoy the flavors of fall with our fave for a quick treat.
2. Tom & Luke Salted Caramel Snackaballs
Made with dates, cashews & New Zealand Sea Salt – great for any time of day.
3. NuNature Date Syrup
Perfect for anything that normally calls for sugar. This has a deep flavor perfect for tea.
4. Vahdam Tea Chamomile Mint Citrus Tea Sachet

5. Vahdam Tea Turmeric Ashwagandha Tea Sachet
Brew the Chamomile to enjoy citrusy notes of Lemongrass & enjoy the Turmeric for a good night's rest & calm.
6. New York Chips Wavy Sea Salt
A Classic Crunchy Potato Chip – unofficial winner of the best crunchy road trip snack.
7. Emmy's Organics Vanilla Bean Coconut Cookie
A simple, pure and decadent treat made with coconut and freshly ground almonds.
8. Cure Hydration Berry Balancing Electrolyte Mix
This delicious beverage mix hydrates up to 3x faster than water alone.
9. HighKey Mixed Berry OR Banana Bread Soft Baked Biscuits
A WHOLE BOX of delicious biscuits for a wholesome start that will keep you full & satisfied.
10. Karma Nuts Sea Salt Wrapped Cashews
Keeping the skin increases the crunch, elevates the flavor & enhances nutrition of these delicious cashews.
PLUS 3 BONUS Snacks for Our Favorite Subscriber (it's you!)
This month, we're including 3 Surprise Bonus Snacks to ring in the holiday season cheer with extra snacks!
Brand Partner Discounts Courtesy of Vegancuts
Each month, some of our featured partners provide the Vegancuts community with special discounts. Take advantage of them while they last!