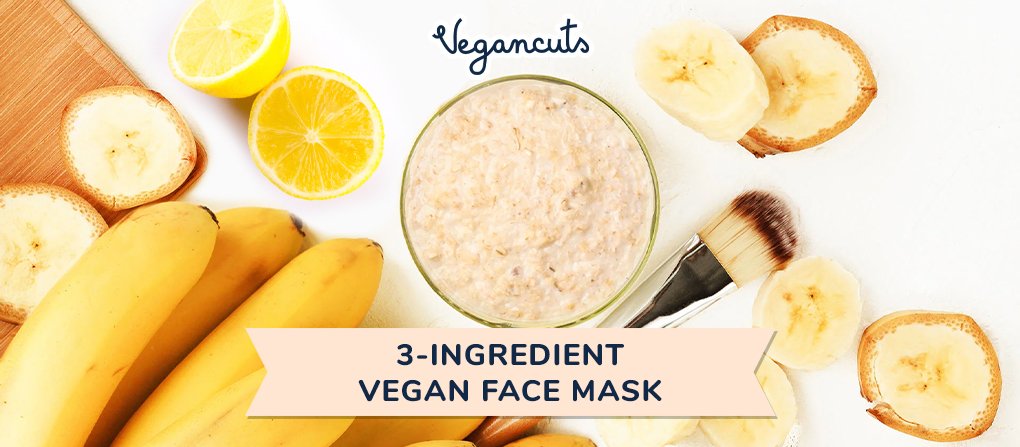 3-Ingredient Vegan Face Mask With Gluten-Free Oats and Banana
Cold, dry air combined with mask-wearing makes for a legitimate skintastrophe. But you can DIY yourself to clear skin with this simple vegan face mask.
This easy, three-ingredient vegan face mask relieves dry skin from cooler weather with all that indoor heat, or summer skin that's seen too much sun.
It's perfect for dry or acne-prone skin, as it combines the moisturizing benefits of gluten-free oats and banana with bacteria-fighting lemon juice. And smells so amazing that you might just want to eat it! (Good news: you can.)
Love your skin? Check out our Complete Vegan Guide to Skincare.
Oat Benefits for Skin
Oat isn't just for your lattes or breakfast bars. It's a known skin trick that works. And it's much more affordable than some of those fancy skincare products.
Just like oats can soothe and calm gut issues, they can do wonders for problem skin, too. Oats are great in baths for itchy, dry skin. They can also be mixed together with water to form a paste for pesky bug bites, cuts, and blemishes.
When combined with the astringency of lemon and moisturizing bananas, they help to clarify and tone the skin. The potent antioxidants help fight free radical damage while oats help to lock in moisture and shrink pore size. And did we mention they're extremely cost-effective? (We totally did, but it bears repeating.)
Oats cost just pennies on the pound, which is a steal for your face and your wallet. And for sensitive skin groups that may react to over-the-counter products many ingredients, oats are as minimalist as you can get.
Lemon Benefits for Skin
Tightening, sloughing off dead skin cells, clarifying, and brightening. 
It's no surprise all that can come from the mighty lemon, right? 
Lemon juice is a skin powerhouse, loaded with potent plant exfoliators that work without damaging skin. 
Mixed here with softening oats and banana, you get the best of all worlds: a mask that clarifies and strengthens skin while locking in moisture and balancing skin tone.
Banana Benefits for Skin
Banana bread isn't the only COVID banana trend we're loving. 
Smashing those ripeys all over your face is the lockdown DIY beauty trick of the year. From skin sapped of moisture from being locked inside all day (er, year), to the pore-tightening and refining benefits that help clear up that pesky maskne, bananas are where it's at. 
Don't fret if those 'nanners' get a little too soft. It's the perfect thing for your zoomed-out skin.
DIY Moisturizing Face Mask
A simple, make-at-home vegan face mask recipe Vegancuts Beauty Box experts.
1 banana
2 tbsp of gluten-free oats
1 tsp of fresh lemon Juice
Mash up the banana in a bowl.
Add the gluten-free oats and lemon juice.
Stir together all the ingredients.
Cleanse your face and generously apply the mixture.
Leave the mask on your face for 10-15 minutes.
Wash the mask off your face.
Want to discover more vegan beauty products?
Vegancuts curate the best vegan beauty products into a monthly subscription box. Each box contains 100% vegan and 100% cruelty-free products from brands you can trust.
Want to give it a try? Use the coupon code veganskincare to get $5 off your first box.
Learn more here.