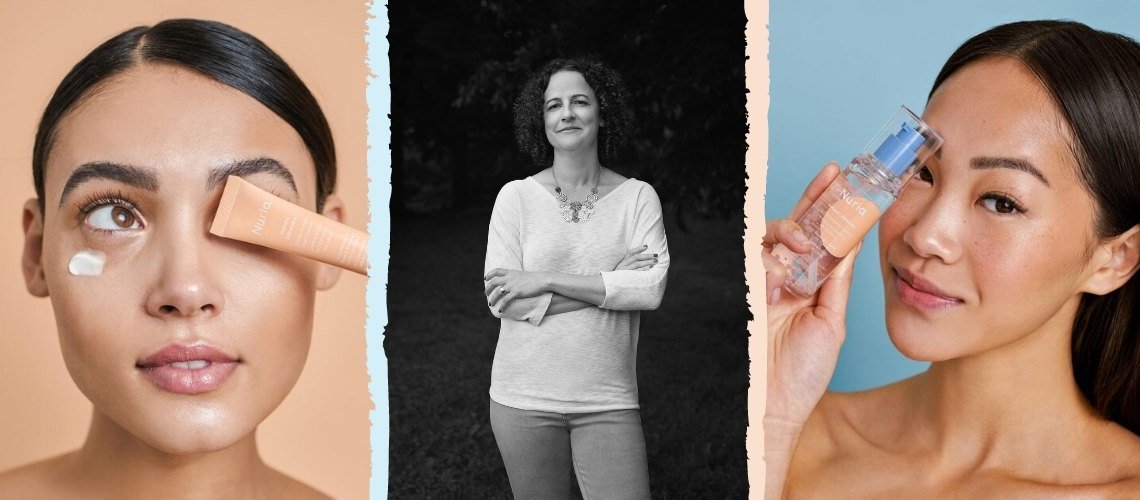 Nuria Beauty: The Beauty Brand Empowering Women Through Vegan Skincare
Nuria Beauty is a female-led vegan skincare company on a mission to change the world for women.
The company was founded by Naomi Furgiuele in 2018 after making skincare revelations abroad that changed her entire outlook on the beauty industry.
"Nuria was born out of my experiences traveling the world and speaking with women about themselves and their families," Naomi says.
"They recognized their skin health was a reflection of their lifestyle and environment, not a static skin type."
Learning skin type appeared to factor far less into these women's lives emboldened Naomi to explore healthy skincare alternatives. She found vegan skincare was often the answer.
"Europe's cold climates, or dullness due to environmental stressors in Asia, these women turned to time-tested, local, plant-based ingredients to create their own solutions based on what their skin needed to be healthy," Naomi says.
"These skin problems are truly universal, and I knew women everywhere could benefit from these gems of skincare wisdom."
But cleaner plant-based skincare wasn't the only thing that Naomi found on her travels. Many of the women whom she had learned so much from were held back by society and denied access to opportunities, often only because of their gender.
"I was frequently confronted by the reality that many women lacked equal opportunities within their culture, often stemming from a lack of education and professional development early in life," Naomi recalls.
Now, as part of Nuria Beauty's mission to help women succeed, the company works closely with the She's The First program, a non-profit that fights gender inequality by providing education to girls around the world.
"I founded Nuria with a mission to connect women globally, to share our skincare wisdom with each other, and to help girls achieve their full potential," Naomi says.
Empowering Women Through Veganism
Beyond busting myths about skin types and empowering women – spreading the vegan message is at the heart of Nuria Beauty.
Naomi says in this day and age there is simply no excuse to not provide customers with vegan products.
"When I started, I wanted our customers to know that they don't have to compromise on anything to get great results," she says.
"With the current state of technology, there is absolutely no reason to create products that are not vegan. From the start, I was committed to creating products that were only vegan-friendly."
"Our skincare choices shouldn't be at the expense of our furry friends."
All Nuria Beauty's products are both 100% vegan and cruelty-free certified.
"Nuria products are not only Leaping Bunny Vegan Action certified, allergen-free, effective, and safe, but also carbon-neutral," Naomi says.
"You can confidently use Nuria products and know that you are taking great care of yourself and the planet, while empowering the next generation of women."
Succeeding As A Female Entrepreneur
As a woman with a wealth of experience in the business world, Naomi knew she would face some challenges as a female entrepreneur starting a new business venture.
Naomi says creating a diverse and progressive workplace has been a key consideration for her developing a team.
"From past experience and from learning of the challenges faced by women who came before me, I knew how important it was to find a workplace that not only encouraged but demanded inclusivity, and that judged performance based on merit and not bias," she says.
"The main challenge I have faced as a woman in business is that I have had the added consideration of choosing partners and employers that have a history of being progressive and supportive of women."
"I have been extraordinarily lucky to work for companies with a strong history of caring and a track record of investing in their employees."
Naomi urges any woman with dreams of starting their own business to get out of their comfort zone and take the risk.
"No job looks perfect at the outset, no team is in perfect shape when you step in, no new brand has all of the answers, but the important point to realize is that you have to take a risk and say yes, and you have to test and learn and grow," she explains.
"You never know what you are fully capable of until you push yourself, and you never know what new idea will work unless you try it out."
"Saying yes doesn't always feel comfortable, but just say yes."
Naomi says there needs to be a shift in entrepreneurial mentality that recognizes women as leaders.
"Women need to make sure to recognize the entrepreneurial domain as historically belonging to them," she says.
"At Nuria, we are very proud of being one member in a global community of strong women, and for women starting their own business, it is equally important to see themselves as part of a developing history and network of businesses created and run by women.
"For many reasons right now, it is important to see and honor the paths of strength already established by women who have created their own stories of success."
Nuria Beauty features alongside various women-owned vegan brands in the Vegancuts May Beauty Box.
Discover the best clean, vegan and cruelty-free products inside your very own Vegancuts box.