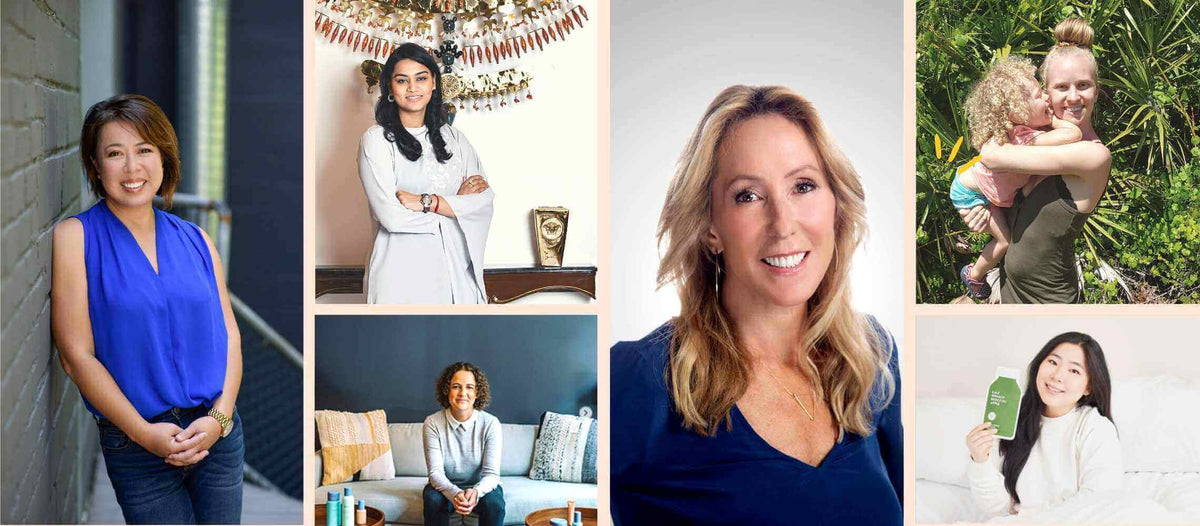 How To Become A Successful Business Woman: 8 Empowering Tips From Female Entrepreneurs
The business world could long be personified into one single vision: A well-kept, suited, white male. This image, backed by pop culture, stereotypes, and yes, politics, embedded a psychological reinforcement that a woman's place in business was to assist, not to lead.
In 2020, women-led start-ups received just 2.3% of all venture capital grants (1). But there are a number of women breaking the mold and paving the way for female entrepreneurs and women-owned businesses.
These empowering women are leading new and innovative businesses into the mainstream and bringing a passion often lacked in traditional business.
We spoke to Vegancuts' female-led business partners to get their take on becoming successful businesswomen in the modern day; what inspires them; and most of all, what tips they have for women aspiring to bring their passions to life as female business leaders.
Nothing has been more empowering than being able to run my business, and to see the growth and success from it.
8 Tips On Becoming A Successful Female Entrepreneur
1. Let Your Passion Fuel You
It might sound cliche, but remembering why you started is often the key to staying true to yourself.
The business world can get messy, financial decisions start to play bigger roles, and the reason why you started your business can become clouded.
Lotus Foods Founder Caryl Levine started out with a vision that would change how the world grows rice.
Her innovation, determination, and staying true to her passion led her to become one of the world's top 100 Women of Impact (2).
"Our first love is rice, so as we started innovating value-added products, we knew we wanted to stick to our mission of supporting family rice farmers and promoting rice biodiversity," Caryl says.
Her vision was also to support a plant-based message.
"Clearly, a more plant-based diet is important not just for animal welfare but also for human health and mitigating climate change," she says.
2. Become A 'Yes Woman'
The world is changing and opportunities for women to excel in their passions are at an all-time high.
But it's important to recognize those opportunities and say yes to them.
Nuria Beauty Founder Naomi Furgiuele urges women to take those opportunities, no matter how uncomfortable they may feel at the beginning.
"One thing that I have done consistently in my career is said yes to opportunities, and this has been even more critical when starting a new brand," Naomi says.
"No job looks perfect at the outset, no team is in perfect shape when you step in, no new brand has all of the answers, but the important point to realize is that you have to take a risk and say yes, and you have to test and learn and grow," she says.
"You never know what you are fully capable of until you push yourself, and you never know what new idea will work unless you try.
"Saying yes doesn't always feel comfortable, but just say yes."
3. Take Yourself Seriously
As a female new to the world of entrepreneurship, it can be easy to feel you don't belong. It's new ground, it's been long dominated by men.
Tropicgyal Naturals Founder Michelle Hoover says it's vital to take your brand and yourself seriously when starting out.
"As a woman in business, it's important for others to take my brand seriously. I did in-depth research of, not only my ingredients, but everything that goes into creating a business, that way I truly felt confident enough to start and continue to learn every day," she says.
"Nothing has been more empowering than being able to run my business, and to see the growth and success from it."
4. Being Female Is Not A Roadblock
As a minority in the business world, it can be easy to get in your head and feel out of place.
However, these fears can lead to taking a backseat, lacking confidence in negotiations, and not speaking up.
Bobo's Co-Founder Beryl Stafford says being female isn't a roadblock in business - it's a fear of not belonging that creates a roadblock.
"I never considered being female as a roadblock to starting a business," Beryl says.
"There were times that I felt intimidated or shy at the all-male negotiation table. There can be a lot of posturing in those situations. But that fear is in your head, and you realize it's something you have to work through," she says.
"The road to success is just conquering those small fears — and keeping them small."
Beryl created Bobo's vegan oat bars in the kitchen with her daughter, Bobo. The tasty plant-based snack bars soon became a favorite around town and the pair decided to turn it into a business venture.
Beryl adds she it's also important to believe in yourself and to network a lot.
"Stay confident and don't listen to the naysayers. If you deeply believe in your product or business, then stay the course," she says.
"Constantly network. It gives you the opportunity to learn from other experiences, shine light on new ideas or ways of going about processes, meet existing and new potential partners, and gain awareness."
5. You Can Raise A Family & Start A Business
The dated mentality that women either choose a family or career is being quelled by successful businesswomen and mothers.
In fact, some of today's most successful businesswomen have grown their business while simultaneously raising a family.
One of those women is Nutpods Founder Madeline Haydon, who was pregnant with her second child when she started the vegan creamer company.
Madeline says it's not always easy raising a family and company at the same time, but with the right support, it is possible.
"Having young children and raising a company and a brand at the same time was intense," Madeline says.
"But all were labors of love and I am thankful for
"Having young children and raising a company and a brand at the same time was intense," Madeline says.
"But all were labors of love and I am thankful for [everyone] who has supported me and my family so I could focus on my job as well as having quality family time."
6. Self Care Is Important
Running a business can be stressful, draining and burnouts are common. It's important to ensure you're not sacrificing your mental, emotional and physical health.
Nourish Mantra Founder & CEO Ritika Jayaswal advocates a holistic approach to business.
"Taking care of your mental health while running a business is very important," Ritika says.
"Every business has its own set of challenges and dealing with the stress and anxiety that comes with it is crucial."
Ritika says keeping your core values intact helps to achieve genuine happiness in business. For her, a love of animals was key.
"As an animal lover, I always knew that I wanted to make products that do not harm animals," Ritika says.
"There are some ingredients that claim to be derived from animals but without causing them any harm. When I looked into it, there was still some lack of transparency on how the animals were being treated during the procedure," she says.
"In the process, I realized that mother nature and plants have so much goodness to offer that we do not have to use animal products."
7. Adapt To The Digital World
There's no denying business looks a lot different nowadays.
The virtual movement, COVID-19, and technological advances mean more businesses are operating remotely.
Managing remote teams is a different skill in itself explains Nuria Beauty Founder
Naomi Furgiuele.
"When you aren't sharing a workspace with your team, it is easy to let all of your emails and conversations be transactional, efficient, and strictly business, and you miss out on the more casual conversations over lunch or coffee," Naomi says.
"As a team, we try to take time to share personal stories, send goofy pictures, or take a mid-day break together to chat, virtually, over coffee."
Many employers are also boosting team morale by sending remote gifts to their work-at-home staff. Since Vegancuts introduced its Corporate Box, employers have been eager to reward their team with kind and healthy gift boxes.
"Workplace culture is so important, especially in a small business. Developing trust and fostering collaboration is so critical because the success of the business depends on everyone working together under often stressful circumstances," Naomi says.
"Small businesses are a lot like families."
8. Always Be Ready For The Next Challenge
As a business owner, you'll face some challenges you're expecting, and others you're not.
Lotus Foods Founder Caryl Levine says it's essential to stay on your toes.
"The most important thing to owning a business whether you are a woman or not is to be committed, passionate and responsible to each of the challenges since there are always challenges," she says.
"The challenges of operating a business are constant and never done. Starting out, accessing finance is big. Then when you scale, it's exciting, but the responsibilities scale as well.
"So it's critical to have great advisors and mentors who believe in what you're doing and can help you adapt, innovate and grow."
The Women-Owned themed box celebrates female entrepreneurs by curating the best vegan and cruelty-free products from brands led by women.
Get your hands on a Vegancuts box and save $5.00 by using this coupon code: supportwomenowned.