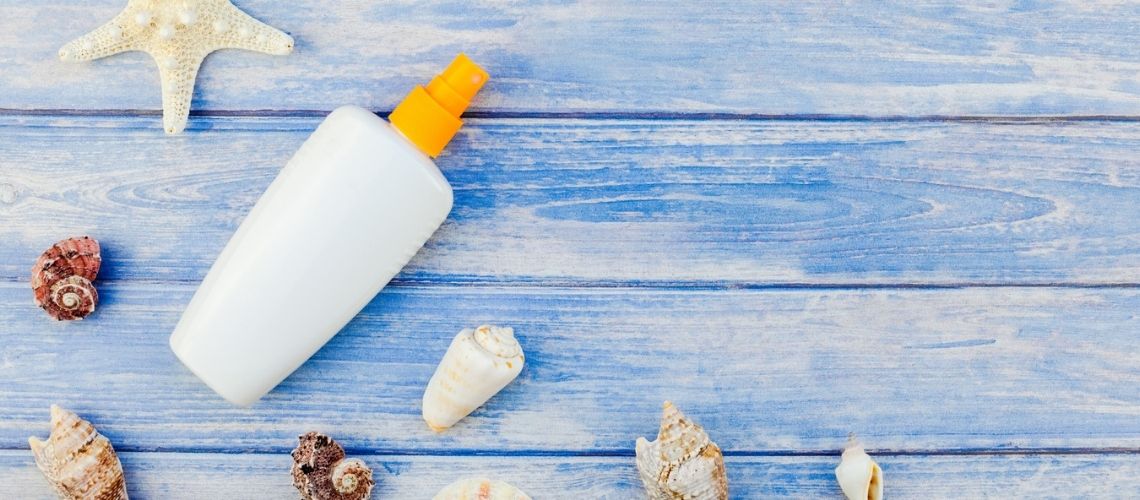 A Vegan's Guide To Sustainable Sunscreen
Vegans have been turning to eco-friendly sunscreens due to the damaging impact on the environment.
"Don't forget to put on sunscreen."
We hear this all the time. We all know the importance of sunscreen in protecting our skin against the sun's powerful UV rays. 
However, some chemicals in common sunscreens are having detrimental impacts on marine life. 
These chemicals combined with non-vegan ingredients are turning many of us to question: can sunscreen be sustainable?
Luckily, many environmentally conscious brands are turning the tables on sunscreen, producing vegan and reef-friendly sunscreens meaning you can protect your skin and the planet too.
Is Sunscreen Vegan?
Sunscreen often contains animal-derived products meaning it is not always vegan.
So, what do you do when the all-important sunscreen doesn't align with your vegan lifestyle?
The good news is there are a lot of vegan brands bringing out 100% vegan sunscreens. 
You'll want to check for vegan-friendly and cruelty-free labels, as well as perusing the ingredient list carefully.
Remember, in the skincare and cosmetics industries, 100% vegan does not always ensure cruelty-free. 
Cruelty-free means the product was not tested on animals. 
It's an often misleading subtly within the beauty industry that causes a lot of confusion. 
To learn more about vegan and cruelty-free beauty, visit our Complete Vegan Skincare Guide.
Common Non-Vegan Ingredients in Sunscreen
1. Chitlin
Chilin comes from chemicals found in algae, fish mucus, and shrimp shells. These creatures have developed "sun shields" due to sun exposure over time. These are the properties used in common sunscreens.
2. Collagen
While vegan collagen does exist, most collagen found in non-vegan sunscreens comes from animal bones, hair, skin, nails, and ligaments. Collagen is a common ingredient in many skincare products.
3. Beeswax
Beeswax is often added to sunscreens as the wax helps waterproof the lotions. Unfortunately, sunscreen chemicals often spread into the ocean and waterways regardless.
4. Elastin
There are a few kinds of elastin. The type found in cosmetics is called hydrolyzed elastin and is found in the connective tissue of animals and fish.
5. Lanolin
Lanolin is derived from secreting oil from sheep wool.
6. Stearin
For the most part, stearin comes from animal fats, particularly cows. However, there instances where stearin can be found in plants.
Sunscreen & Marine Life
While the planet's coral reefs are under threat from climate change, fishing and pollution, there is also another threat - sunscreen.
The chemicals within sunscreen are damaging to sea life and reefs reports have revealed (1).
Sunscreen is often worn before going into the ocean, making it a particularly prevalent issue.
The harmful chemicals found in sunscreen are Oxybenzone, Benzophenone-1, Benzophenone-8, OD-PABA, 4-Methyl benzylidene camphor, 3-Benzylidene camphor, nano-Titanium dioxide, nano-Zinc oxide, Octinoxate, Octocrylene (2).
How Does Sunscreen Affect Marine Life
The chemicals found in sunscreen are damaging to the marine ecosystem from coral reefs to dolphins.
Here are some of the impacts sunscreen can have on marine life:
1. Coral
Sunscreen is perhaps most damaging to coral as it accumulates in its tissue. This causes bleaching, and irrevocable damage to the coral and even kills it.
2. Fish
Sunscreen chemicals can cause infertility in fish.
3. Dolphin
Dolphins are known to collect harmful sunscreen chemicals in their tissue and pass it on to their young.
4. Algae
Negatively affects green algae's ability to grow.
5. Mussels & Sea Urchins
Some marine life such as mussels and urchins are damaged by sunscreen's toxic chemicals. This often leads to defects in their offspring and damaged immune systems.
Eco-Friendly Sun Protection
Luckily, vegan and sustainable brands are giving the world a solution to environmentally friendly sunscreen.
Eco-friendly sun protection ultimately comes down to your choices.
The two most common options for eco-friendly sun protection are:
1. Choosing sustainable sunscreens
2. Wearing sun-protective clothing like this eco-rash vest made out of recycled bottles.
Now you can protect your skin and the planet at the same time.
Eco-Friendly Sunscreen Products
As vegan beauty box curators, we work closely with some of the most innovative beauty and cosmetic brands.
Many of these companies share our values when it comes to sustainability. 
If you want to learn more about what goes into a vegan beauty box, you can check it out here.
Here are some of our favorite environmentally-friendly (and of course vegan) sunscreen products.