Glitz, glamour, gossip and… greens?
It seems vegan celebrities are sprouting up constantly nowadays.
Whether it's for health, wellness or ethics – popular vegan celebrities are transitioning veganism from sub-culture to mainstream. We feel it's important to celebrate the celebrities who are using their spotlight to shed light on the positives going vegan brings to the world.
So, whether you're a celebrity buff or critic, there's no denying vegan celebrities have an incredibly powerful role to play in the future of veganism.
Why Are Celebrities Going Vegan?
Celebrities are ditching meat, dairy and eggs for a number of reasons.
It seems health and appearance (go, figure) are one of the top reasons celebrities are turning vegan. But there's also a fair share of vegan celebrities who are truly in it for the animals – the celebrity vegan activists, if you will.
Celebrities & Plant-Based Health
You'll be hard-pressed to find a career with more scrutiny and pressure than the life of a celebrity.
Think about it. As icons of success they have a constant need to look and act (well, not always) their best. So, it's no surprise celebs are using vegan diets to improve their appearance, fuel their bodies, and care for their health [1]. Even choosing plant-based snacks can have benefits on energy levels.
Some common health reasons celebs go vegan are for:
Maintaining/losing weight

Better skin

Stronger immune system

Healthier bowel health

Increasing fitness and performance
While there's nothing wrong with shedding some pounds (and cholesterol points), vegan celebs in it for the health benefits can give people the wrong idea about what it means to be vegan. If celebrities are your only exposure to the vegan world, you might overlook that there are other reasons to go – and stay – vegan.
Celebrity Vegan Activism
There's no denying, as vegans, celebrities who use their voice for the voiceless are our favorite.
Whether it's Joaquin Phoenix eloquently taking down dairy at the Oscars [2], or Natalie Portman empowering 16,000 students in a heart-wrenching speech [3]. Vegan celebrities make differences that trickle down into our lives, often unconsciously.
Common issues vegan celebs are fighting:
Factory farming
Climate change
Fur trade
Animal testing
Regardless of why a celebrity is vegan, they hold an overwhelming amount of power to influence and shape societal views. That's why we've compiled this list of vegan celebrities who are doing incredible things for the vegan cause.
So, sit back and enjoy Vegancuts' list of the world's most influential vegan celebrities.
The World's Most Popular Vegan Celebrities
When it comes to vegan celebrities, it's hard to not think of Joaquin Phoenix.
Phoenix has been vegan since 1977, before most of the world even knew the word vegan. You know, when we still thought cow's milk was meant for humans, and eggs were a health food. Yes – that long ago!
Phoenix uses his fame to campaign on behalf of animals. Whether it's attending anti-fur rallies, speaking out against meat and dairy industries, or participating in vegan documentaries, there is no doubt Phoenix is one of Hollywood's favorite vegans.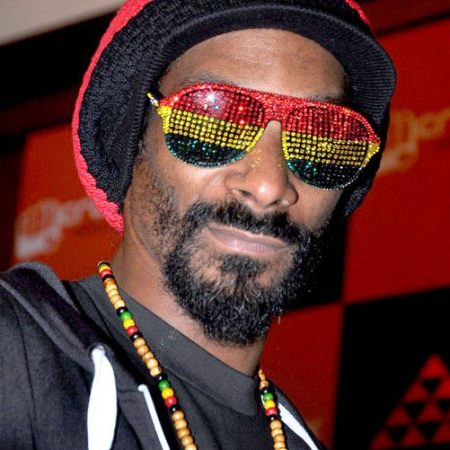 This wouldn't be a real celebrity article without a little drama – so here it is: Is Snoop Dogg vegan?
We think so. At the very least Snoop Dogg is vegan at heart.
Snoop has been making headlines for influencing KFC's decision to use the vegan meat alternative, Beyond Chicken [4]. He was also the recent face of Dunkin' Donuts' release of its vegan breakfast sandwich.
So, while we're not 100% certain Snoop is vegan – at the very least he appears to be a big advocate of the vegan lifestyle.
Perhaps his next hit will go something like: "Hey, hey, hey – eat vegan everyday!"
Natalie Portman is another vegan celebrity who is truly in it for the animals.
Portman has been vegetarian since the age of 9 when she gave up meat due to her love and compassion for animals.
As she got older and learned more about the dairy and egg industries, Portman become fully vegan – and started getting involved in activism.
Nowadays, Natalie Portman is one of Hollywood's most influential vegans.
Emily Deschanel is a longtime vegan who is also a huge animal rights activist.
Deschanel first went vegetarian in high school, and vegan soon after.
She even uses her role on the hit TV show Bones to relay messages about the importance of veganism in a subtle, non-preachy way. Her character on the show is an outspoken vegetarian, and Deschanel frequently recommends animal issues to incorporate into the show's plot.
When she's not filming, Deschanel is an ardent animal rights activist and has received several awards for her efforts.
Famous rapper Will.i.am is one of Hollywood's more recent vegans – but also one of the most outspoken.
The former Blackeyed Peas rapper first went vegan for health reasons, but soon became involved in animal rights.
He isn't afraid to speak up on behalf of animals, especially via his social media platforms where he is often found relaying the important vegan message.
Woody inspires those around him to go vegan.
Woody Harrelson has been vegan for more than 30 years.
The superstar also has a habit of turning those around him vegan. Liam Hemsworth went plant-based after working with Harrelson, and so did Sadie Sink from Stranger Things, who went vegan after being cast with Harrelson in The Glass Castle.
Not only is Woody Harrelson an incredibly talented actor, but he's the kind of vegan we all aspire to be like.
Most know Elliott for his role in the movie Juno. But Page is also a celebrity vegan with a message.
Page tries to draw light to animal compassion and conscious eating.
But what you might not know is Elliott Page also received the award as the sexiest vegan in the world in 2014.
Grey's Anatomy's star Ellen Pompeo prescribed herself and family a vegan diet after learning about the health benefits.
The connection to vegans and preventing breast cancer was a big reason Pompeo went vegan.
She has also used her platform as a vegan celebrity to speak about the detrimental environmental impacts meat consumption is having on the planet.
You could say, going vegan is just what the doctor ordered.
Nothing says you're vegan for life like… well, an actual Vegan For Life tattoo on your neck!
As an influential celebrity, Moby isn't afraid to make his views known.
And that's why the extremely gifted musician, Moby, is one of the world's most popular vegans. Moby founded a fully vegan festival called Circle V, and has publicly stated nothing is more important to him than animal rights.
Moby is truly a vegan celebrity you cannot ignore.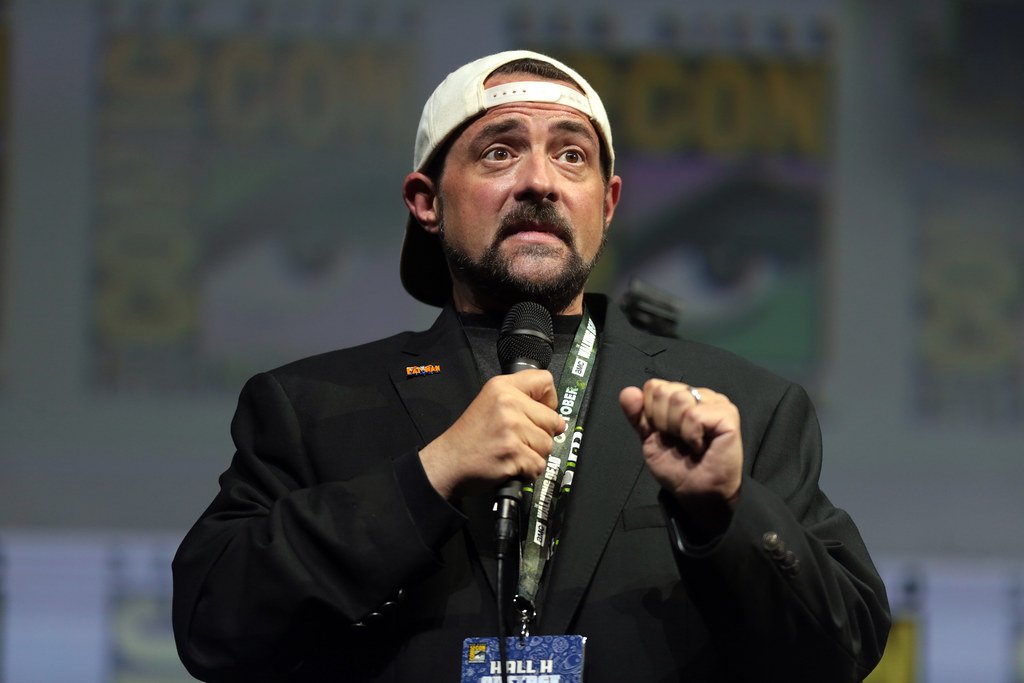 While not your typical celebrity vegan story, Kevin Smith did not go vegan for animal rights, nor to get in shape. He almost died.
That's right. Iconic filmmaker and actor, Kevin Smith, had a life-threatening heart attack in 2018 that almost cost him his life.
His only daughter Harley Quinn convinced Smith to go vegan afterwards – and the results were shocking.
Kevin Smith's health vastly improved with his blood pressure returning to normal, excess weight dropping, and he felt better than ever.
The daughter-father duo now run a vegan podcast, Vegan Abbatoir, where they discuss and debunk myths about vegan diets.
And that's why you should always listen to your daughters, Dads!
Jenna Dewan hasn't eaten animal products since the age of 10 and has since taught this kind diet to her daughter, Everly. Like many other vegans, she decided to go vegan after watching a documentary about slaughterhouses.
Dewan loves spending time at The Gentle Barn. At Vegancuts, we're also big fans of Gentle Barn – they were a part of our thriving Donation Program, where a portion of each month's box proceeds helps support Animal Sanctuaries.
Everyone loves Leo, but now vegans have even more reason to.
DiCaprio has been one of the most high-profile celebrities to speak out about climate change. He also invested in the chickpea-based vegan snack brand, Hippeas, which has featured in our Vegancuts Snack Box.
While we're not certain DiCaprio is 100% vegan, he does open the door to important discussions… and it also helps he's one of the most famous celebrities on the planet.
Popular Hollywood Actress, Jessica Chastain is famous for her roles in movies with feminist themes. But that's not her only progressive stance.
Chastain has been a vegan since 2007 when she noticed her energy levels improve on a plant-based diet. Since then she has become an influential vegan celebrity noted for her work in animal activism.
Kim Kardashian is not shy of controversy and her comments on her vegan lifestyle are par for the course.
Kim K went plant-based for her health, but did admit to consuming animal products… at first. She later states she went 100% vegan and now even has her own vegan cooking class.
No matter your thoughts on Kim Kardashian, no one can deny she has helped spread the vegan message to the masses.
Singer-Songwriter Billie Ellish is an outspoken vegan who has been vocal about her reasons for going vegan.
The artist went vegan for ethical reasons more than 7 years since learning about the animal agriculture industries.
Ellish says once you truly go vegan, you can't go back.
Peter Dinklage is a Hollywood star who is not shy to advocate for the vegan movement.
Most know Dinklage from his role as Tyrion Lannister in Game of Thrones. But he was not alone on the GoT set with a star-studded vegan cast including Maisie Williams (Arya Stark), Jerome Flynn (Bronn), Lena Headey (Cersei Lannister) and Nathalie Emmanuel (Missandei).
When the biggest show of the decade has a vegan cast like this, it's easy to see the influence veganism is having on celebrities.
Pamela Anderson has been an animal advocate since her teens and a long-time vegan.
While she is most known for her role in Baywatch, Pamela has used her fame to educate the public on animal rights issues and continues to be an influential vegan celebrity.
18. Arnold Schwarzenegger
Everyone loves Arnie, and now there's even more reason to.
While the bodybuilder/actor/politican isn't confirmed as 100% vegan, there is no doubt Schwarzenegger is advocating for a plant-based lifestyle.
Most notably, Arnie featured in the vegan documentary Game Changers, where he urged people not to buy into meat and dairy's marketing as it is deceiving consumers.
Famous director James Cameron and his wife Suzy are vegan activists who aren't afraid to reveal the truth about the impacts of meat and dairy on animals, our health, and the environment.
James has also teamed up with fellow director Peter Jackson to develop vegan 'plant meat' factories in New Zealand in efforts to reduce the country's greenhouse gas emissions.
Oscar-winning actor Jared Leto is a (mostly) vegan celebrity whose plant-based diet has been widely attributed to his 'shredded' physique.
At almost 50 years old, Leto is still in great shape, and many are following in his vegan footsteps to achieve the same goals.
There are reports that Leto is not in fact a vegan, instead just consuming a plant-based diet that sometimes includes animal products – but there is no doubt he is still (quite literally) showing the benefits plant-based can have on your body.
Want to discover vegan snacks like Leonardo DiCaprio's endorsed Hippeos?
Open the door to something new with our latest boxes.