>>This recipe uses Parma's delicious Vegan Parmesan from the Vegancuts Marketplace<<
Stuffed food just tastes better, doesn't it? It's a fun way to make a meal, especially when entertaining. These vegan stuffed zucchini boats are no exception. Piled up with good-for-you veggies and topped with drool-worthy dairy-free parmesan, these are a fancy table must-make!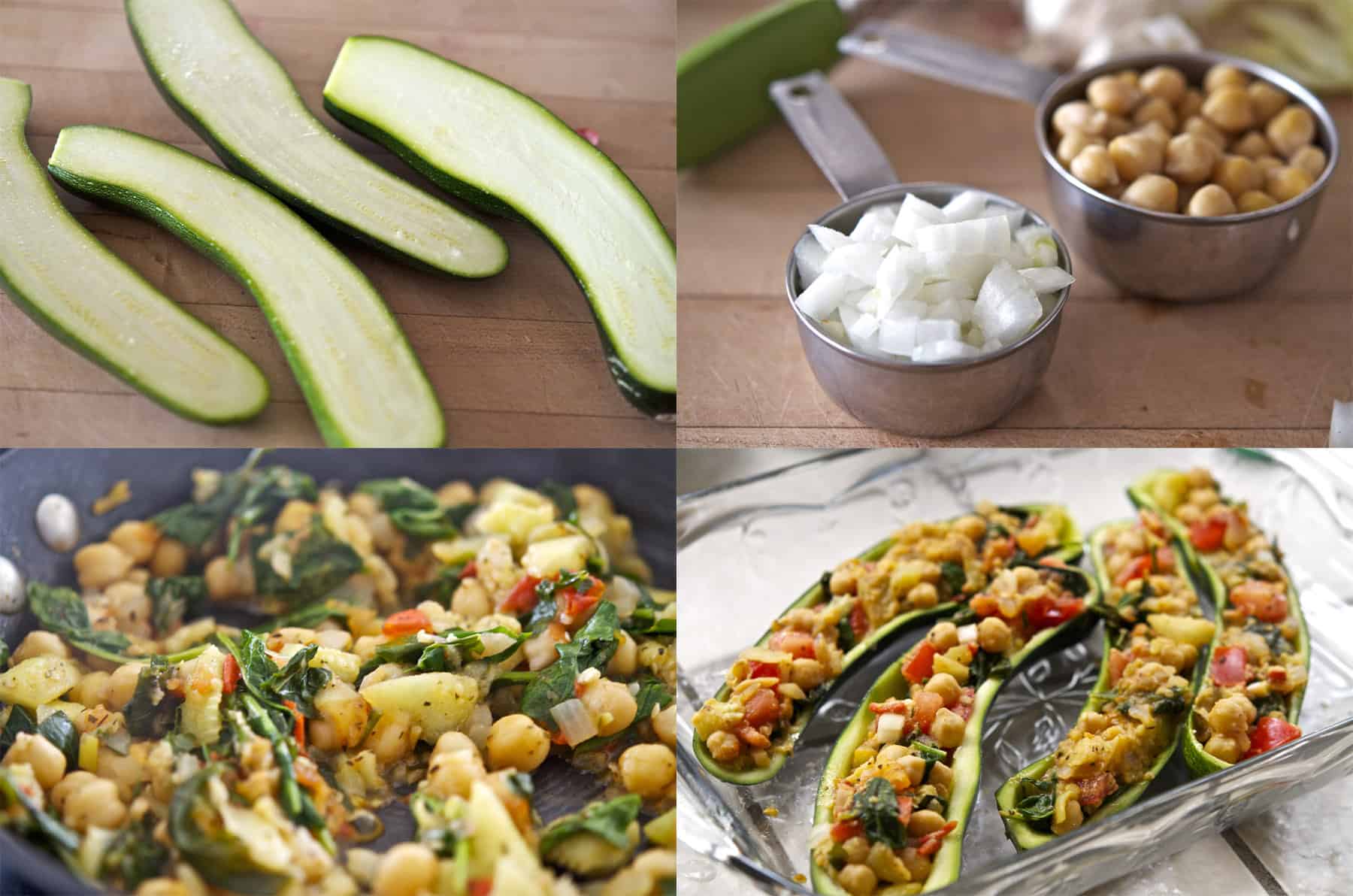 These stuffed zucchinis have an extra savory dimension with dairy-free parmesan from Parma. And just between us: they are so easy to make. Chickpeas dot the filling, adding some protein and creaminess while garlic fills your kitchen with its signature aroma.
Veggie-Filled Zucchini Boats
Servings:
2
as an entreé, 4 as a side
Ingredients
2-8″ Long Zucchini, Cut in half length-wise

1/2 tsp. Coconut Oil

1/2 Cup White Onion, Diced

1 Clove Garlic, Minced

1 Cup Tomatoes, Diced

1/2 Cup Cooked Chickpeas

1 Cup Mixed Greens, Packed (I used Spinach and Arugula)

1 1/2 Tbsp. Parma

1/4 tsp. Dried Italian Seasoning

1/4 tsp. Dried Basil

Salt and Pepper to taste
Instructions
Scoop out the insides of the four zucchini halves and chop it into small pieces. Melt the coconut oil in a large pan over medium heat.

Once the pan is hot, start sauteing the onion and garlic together until the onion starts to turn clear. Next, place the tomatoes, scooped zucchini, chickpeas, mixed greens and herbs into the pan and saute until the greens are wilted.

Preheat the oven to 350°F and get a large baking dish or sheet out.

Add the Parma to the mixture in the pan, and add salt and pepper to taste. Keep in mind that you want to add a little extra salt to the mixture, because when you fill the zucchini up, it will lose its potency.

Fill the zucchini "boats" up, with equal amounts of the filling, sprinkle some extra Parmela on top and place in the baking dish.

Bake for 15-20 minutes, and serve warm.
Another great way to use Parma is to top your favorite baked macaroni recipe with it, which would be insanely good. You can use it on a delicious homemade pizza, or even on top of a great garlic bread.
Click here to try Parma's Vegan Parmesan from the Vegancuts Marketplace
does the hard work for you every month by bringing you 10+ of the most unique and delicious Vegan foods through the Vegancuts Snack Box. Learn more about the Snack Box here.