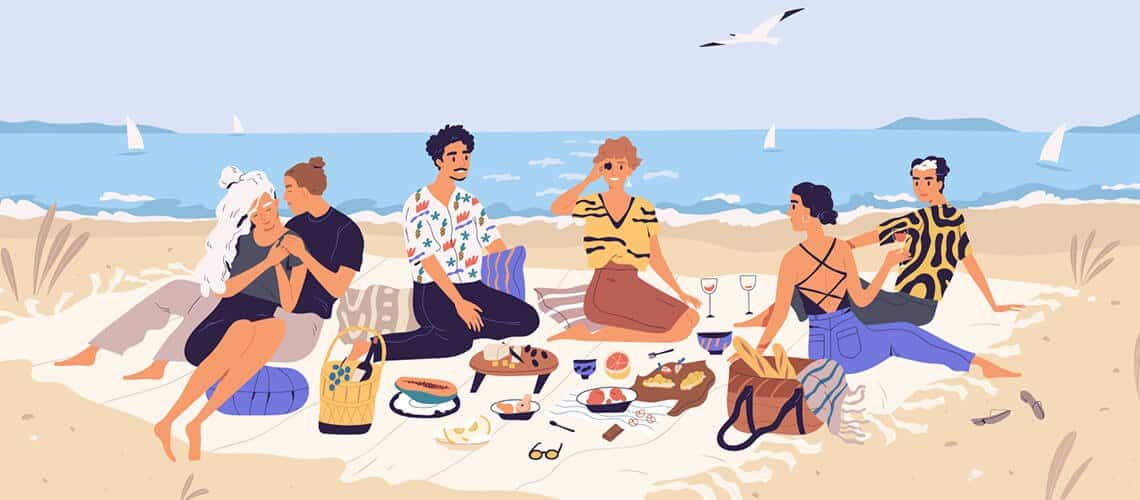 8 Fun Vegan Picnic Ideas Everyone Will Love This Summer
Looking for the best vegan picnic ideas? We've got your covered.
Gather the blankets, sunscreen, and coolers – summer is here.
Vegan picnics are the ultimate vibe, combining good weather, fresh air, and delicious vegan finger food to share with your friends and loved ones.
The team at Vegancuts is all-in on plant-based picnics, so we've created the best vegan picnic ideas you definitely need to try this summer and beyond.
Whether you're vegan or simply providing vegan picnic options, this guide is for you.
Table of Contents
Vegan Picnic Essentials
When we think about picnics, we often overlook all the things that make a picnic, well, a picnic. It's not just about the fun food and good company, but also about the comfort, games, necessities.
Here are the things you definitely need to bring with you to your next picnic.
A picnic blanket – You'll likely need one of these unless you're planning on setting up on a bench.
Cooler – Nothing beats cold beverages on a hot summer's day.
Sunscreen – Sun protection is important, but did you know not all sunscreen is vegan? Check out our vegan sunscreen guide to learn more.
Outdoor games – If you're making a day of it, you might want to provide some entertainment in the form of games like Spikeball or Cornhole.
Reusable Utensils – Don't forget to bring your utensils and avoid purchasing disposable ones.
Cups – Like utensils, bring along reusable cups to be more planet-friendly.
Repellent – No one wants mosquitos around, so try using a clean and vegan repellent to keep the bugs away.
Dog bowl and treats – If your dog is joining you, make sure they have a way to drink plenty of water and treats to keep them part of the picnic.
Best Picnic Spots
The wonderful thing about picnics is you can host them almost anywhere. The best places to have a picnic are usually grassed or flat areas, which makes parks ideal picnic spots. But if you're wanting to spice up your picnic location – try out these exciting picnic spots:
1. Parks – There's a reason why parks are the most popular places to have a picnic. You can find parks everywhere in the US. Whether you're in a major city, small town, college campus, there's a park to host a picnic.
2. The Beach – If you live on the coast, beaches make for the perfect picnic escape. Nothing beats the sound of waves while enjoying a vegan picnic. If you're picnicking in the midday heat, you might want to bring an umbrella.
3. Lakes – If you're not located on the coast, there's likely to be a lake nearby. Lakes offer a relaxing place to have a picnic and a dip at the same time.
4. Forests – Protected by canopies and hidden among trees, forests can be a great place for a secluded picnic getaway.
5. The Desert – Perhaps the desert isn't the first place that comes to mind when you think of picnics, but America's West has some of the most breathtaking desert landscapes where enjoying them with a picnic feels simply perfect.
6. A Lookout Point – For those a little more adventurous, nothing beats a picnic with a view. While you might have to hike the picnic gear, it'll be worth it when you're picnicking with an unbeatable view.
7. Caves – Not all caves are good ideas for picnics, but some offer a safe refuge to enjoy a tasty picnic hidden away from the world.
Vegan Picnic Ideas
At the forefront of a good vegan picnic is healthy (well sometimes), tasty, and creative food ideas.
Whether your picnic has a grill or just a cooler, these vegan picnic ideas are everything you need. to hold the best picnic this summer.
1. Vegan Dips
Having a variety of vegan-friendly dips is perfect for picnics as they are easy finger foods that everyone can enjoy.
The choices for dips are endless, but here are some of our vegan picnic dips recommendations:
Hummus (Any style)
Homemade Guacamole
Vegan 7-Layer Dip
Creamy spinach dips
Mexican Spicy Salsa
Vegan Nacho Cheese Dip
Dips are tastiest when made from scratch (1), but the good news is there are lots of vegan dip options available in supermarkets nowadays.
As with any dip, the "dunkers" are also important. Crackers, corn chips and veggie sticks make ideal "dip vehicles".
2. Grilled Tofu Shish Kebabs
Grilling is another tasty way to soak up the summer and can add a lot to the picnic experience.
For a delicious vegan option for the grill, tofu shish kebabs will do the trick. Separate the tofu with vegetables like bell peppers, mushrooms, and zucchini.
To ensure your tofu kebabs come out just right, make sure to get firm tofu, drain the water and marinate with soy sauce, olive oil and add corn starch for added crispiness.
3. Vegan Snack Box
Perhaps we're slightly biased, but Snack Boxes make for a great picnic treat. We often hear how our customers love taking their vegan snack boxes on their picnics.
The compact box containing 10+ unique plant-based snacks offers a ready-packed variety of treats for any style of vegan picnic.
If you're interested in learning more about a Vegancuts Snack Box, you can visit our Snack Box page. (Use the code VeganPicnic to get a $5 discount).
4. Vegan Cheese Board
Who says vegans can't enjoy cheese?
Plant-based cheese has come a long way in the last few years thanks to innovative brands like female-led Miyoko's Creamery, which has embedded itself as a tasty vegan cheese option for many.
Vegans can now find plant-based brie, mozzarella, cheddar, feta and so much more. Combine your favorites for an exciting vegan cheese twist to your picnic.
Why not add some vegan wine to the mix too?
5. Vegan Flatbread Pizza
Did someone say pizza, but healthier?
Flatbreads are made for vegan picnics, and the beauty is they aren't too difficult to prepare.
Just layer some herbs, spices, vegan cheese (or nutritional yeast), and your favorite veggies onto flatbread and you're set. If you want to get creative, try adding fruits or nuts to the pizza.
Make sure to not overdo it. Flatbread pizzas are often best when kept simple.
6. Chickpea Quinoa Salad
No picnic is truly complete without a side salad.
There are so many options when choosing a salad for your picnic, but we recommend a chickpea quinoa salad, which goes well with a pinch of zest.
The healthy salad will be a real crowd-pleaser on the picnic blanket.
7. Fruit & Veggies
Fruit and vegetables are a staple for any picnic, but it doesn't mean you can't spice them up a little.
When it comes to fruit, why not make a fruit salad, or make watermelon sticks.
Chopped fresh veggies also work really well as "dunkers" if you have some dips and hummus available.
8. Vegan Picnic Pie
If you have a little time to prepare, a picnic pie could be the standout food at your vegan picnic.
A picnic pie is a puffy pastry dish that is ideal for snacking on at a picnic or lunch. It is basically a smaller pot pie. There are many ways to veganize a picnic pie, and they can get as creative as you want them.
Some tasty vegan picnic pie ideas are:
Tip – making your picnic pies small, means they will be better finger foods and easier to eat at the picnic blanket.
Vegan Picnic Tips
Holding a vegan picnic means being more conscious about the foods provided, but also about minimizing waste and impact on the environment that hosts you.
Here are our best tips for holding a picnic.
Use Mason Jars for storing foods and drinks. If you don't have Mason Jars handy, reuse glass pantry items like jelly containers.
Don't forget about the doggo. If you're bringing your dog along, make sure they have water, bowl, snacks and toys to be them entertained.
Carry everything with reusable bags.
Stay away from disposable utensils and plates. Bring along metal utensils that can be cleaned later.
Don't leave a trace. Leave the area better than you found it.