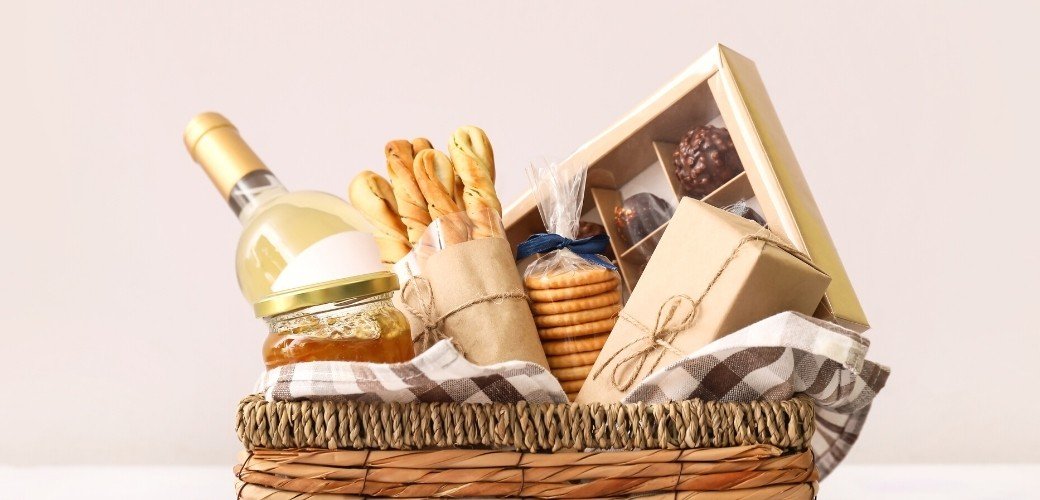 The Best Vegan Gift Baskets For All Occasions
Vegan gift baskets are some of the most thoughtful and useful gift ideas for friends, colleagues, and relatives.
Whether full of tasty vegan snacks or eco-friendly products, vegan gift baskets spread the message of love and compassion.
As vegan snack and beauty box curators, we know a thing or two about vegan products.
Here's our take on the best vegan gift baskets that'll impress on any occasion.
What To Put In A Vegan Gift Basket?
Deciding to gift a vegan basket, box or care package does take a little thought.
Firstly, it's important to establish what kind of gift basket it will be.
Some common vegan gift baskets are:
Vegan food baskets - This could be vegan snacks, fruit, cooking products, or herbs and spices
Eco-gift baskets - These baskets contain sustainable products that are planet-friendly.
Beauty gift baskets - Vegan beauty baskets contain everything from skincare, makeup, and cosmetic products.
Holiday gift baskets - Themed baskets are popular around Christmas, Easter, and many other holiday dates.
Secondly, it's very important these gift baskets are 100% vegan and cruelty-free. 
This can become difficult when choosing beauty products, as not all vegan products are also cruelty-free and vice versa. 
Don't know the difference? 
Check out this vegan skincare guide to help you choose the right beauty products.
Lastly, you'll want to curate these vegan and cruelty-free products into a single basket that matches the theme and fits perfectly before gifting it to your giftee.
The Best Vegan Gift Baskets
1. A Vegan Snack Basket
Who doesn't love snacks - especially when they are better for you and the planet too?
Curating a vegan snack can take a bit of time, and require a lot of trips to supermarkets and health food stores to find good plant-based snacks or simply gift a Vegancuts Snack box, which comes with 10+ unique snacks from all over the world.
This hassle-free option saves you time and money.
Check out the Vegancuts Snack Boxes here.
2. A Vegan Wine Basket
Did you know not all wine is vegan?
When curating a vegan wine basket you'll want to ensure the wine wasn't sifted with contain animal-derived products like gelatin and casein.
This vegan wine guide is useful for those looking to purchase vegan-friendly wine for their gift baskets.
3. A Cruelty-Free Beauty Basket
Shopping for vegan beauty products takes some knowledge and often a little patience. 
But that means your cruelty-free beauty basket will have much more impact on the receiver.
When shopping for vegan beauty products ensure the products do not contain any pesky animal bi-products and were also not tested on animals.
Some vegan beauty products that fit well in a cruelty-free basket are: skincare and haircare products, cosmetics and sunscreens.
Curating vegan beauty boxes can be hard work. 
Vegancuts curate a monthly beauty box that is 100% cruelty-free and clean.
Check out Vegancuts Beauty Boxes here.
4. A Fruit & Nut Basket
Fruits and nuts are easy to find, cheap to purchase, and naturally 100% vegan-friendly.
This means fruit and nut baskets make handy gift baskets for vegans, especially when you're short on time.
Dried fruits, trail mixes, and even tropical fruits can add a bit of flair to the gift basket.
5. An Eco-Friendly Gift Basket
Veganism is always about ethics and health. 
The environmental impact of non-vegan consumption is a big reason for many to choose the vegan lifestyle.
This means an eco-conscious gift basket makes a perfect gift for vegans. The great thing about these baskets is you can really get creative with them.
Some good ideas for a sustainable gift box might be reusable straws and other non-plastic items. 
This basket could also include earth-friendly snacks and beauty products too.
Vegancuts' subscription boxes often highlight sustainability by curating environmentally-friendly products from eco-conscious brands.
6. A Holiday Gift Basket
Gift baskets are ideal for holidays - especially Christmas, Valentine's, Easter or Mother's Day.
Theming your holiday gift basket is essential to making it stand out. 
In Vegancuts special Mother's Day Gift Box, beauty and cosmetic products were curated to create an ultimate pampering experience for vegan Moms.
Using these themes goes a long way to creating the perfect holiday gift basket.
7. A Mock-Meat Lover's Gift Basket
It's hard to believe the number of meat alternatives that have hit the market that actually taste like meat - but with the adding benefits of being kinder to animals and better for the planet.
A meat substitute gift basket is perfect for both vegans and non-vegans as it can be a great way to showcase how far veganism has come.
You can get vegan sausages, burgers, wings - you name it. 
You could also throw in some high-quality vegan cheese as well.
8. A Vegan Care Basket
There are times when you want to send your love and thoughts to someone who needs it.
A vegan care basket does just that showing compassion all around. 
Make sure to personalize the care package to the individual based on what they enjoy.
Care packages can vary in theme but make sure it includes a heartfelt card or note - because after all, words speak to the heart better than anything material. 
Oh, and don't forget the flowers.
9. A Plant-Based Gourmet Basket
On the fancier side of veganism, a gourmet basket will delight fine diners.
Vegan pantry items and plant-based cookbooks go into a gift basket nicely alongside a variety of ingredients to cook up some tasty dinners.
You might want to include a bottle of vegan wine if suitable for the occasion.
10. A Corporate Gift Basket
Gifting your employees or colleagues is a great way to thank them for their support and hard work.
A lot of businesses are opting for healthier alternatives to gifts which means vegan gift baskets have increased in popularity lately.
Common items to put in a workplace gift basket are: snacks, pantry items, coffee, desk calendars, and reusable mugs.
Due to the growing demand for workplace gift baskets, Vegancuts created a Corporate Gift Box to take the work off the gifting off employers.
You might also like