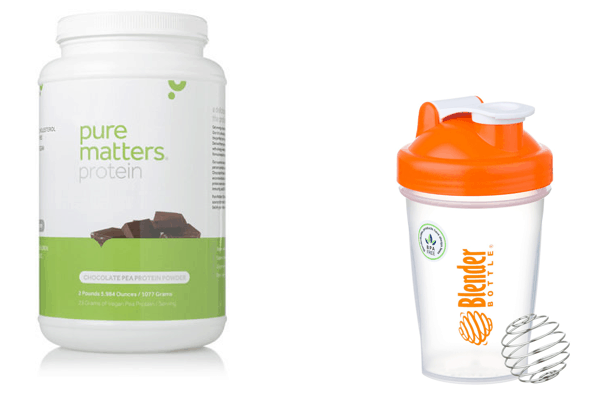 Review + Giveaway: Pure Matters Chocolate Protein Powder
Let me start off by saying that I've tried quite a few different vegan protein powders. It's not that I'm a body builder, or super athlete, but I am active and sometimes I need a little boost in my morning smoothie to keep me going through intense workouts. Some protein powders tout great ingredients but taste awful and gritty, while others are intensely sweet and have questionable additions. Pure Matters Chocolate Pea Protein Powder is neither of these, which is such a relief!
When I was grading Pure Matter's performance, I first used it as it was intended; with cold water and nothing else. After shaking the mixture for a few seconds, I had what appeared to be a cousin of chocolate milk. I took a hesitant sip expecting a chalky, bland beverage, but was pleasantly surprised with the smooth finish and the subtly sweet chocolate flavor of the powder. I was relieved that it wasn't too sweet, but wondered if it could be just a tad sweeter. Really, that's nothing that blending it with a banana won't fix; yay, extra potassium!
I wanted to try the protein powder out in a recipe as well, but did not make the Pea Protein Balls shown on their site. Instead, I tried out my own recipe! One which is super easy to make, definitely delicious and filled with protein; No-Bake Chocolate Almond Protein Bars, mmm.
No-Bake Chocolate Almond Protein Bars
Ingredients:
1 Cup Raw Almonds, Soaked for 1-2 hours

1 1/2 C. Dates, Pitted

3 Tbsp. Raw Hulled Hemp Seeds

1 1/2 Scoops Pure Matters Chocolate Pea Protein Powder

1/4 C. Water
Directions:
Place all ingredients into a food processor and pulse until the mixture becomes tacky and turns into a large chunk.

Press the mixture out on a baking sheet or into a small baking dish, until it is roughly 3/8″-1/2″ thick.

Cut it into 8 rectangles and place in the freezer for a couple of hours, then snack on after workouts! You can also place them in your dehydrator for 8 hours at 110F to make them more portable.
Overall, I give this protein powder an A and would definitely recommend it to family and friends (and anyone else) that is looking for a protein powder to supplement their plant-based diet.
Giveaway – Win 1 of 5 Chocolate Pea Protein & Shaker Sets
Want to try Pure Matters Protein Powder for yourself? They're giving 5 lucky Vegan Cuts readers a tub of their Vegan Chocolate Pea Protein and a Shaker Bottle. Sign up here to win.